We're Stitching Pink!
For more than twenty years, health organizations around the world have come together for the month of October to campaign for increased awareness of breast cancer.
Last year, we created Stitch Pink to help with that, in large part because the Moda family has been touched by breast cancer. While we reminded each other of the importance of mammograms and early detection, and educated ourselves regarding risk factors, we did a little bit of stitching together.

This year, we want to do a little more.  So we're sharing a Sampler Quilt, one block each day for the month of October.  The whole month - thirty blocks, and then the Final Assembly on Saturday, October 31.
To receive the blocks via e-mail - Subscribe to Inspiration+Resources.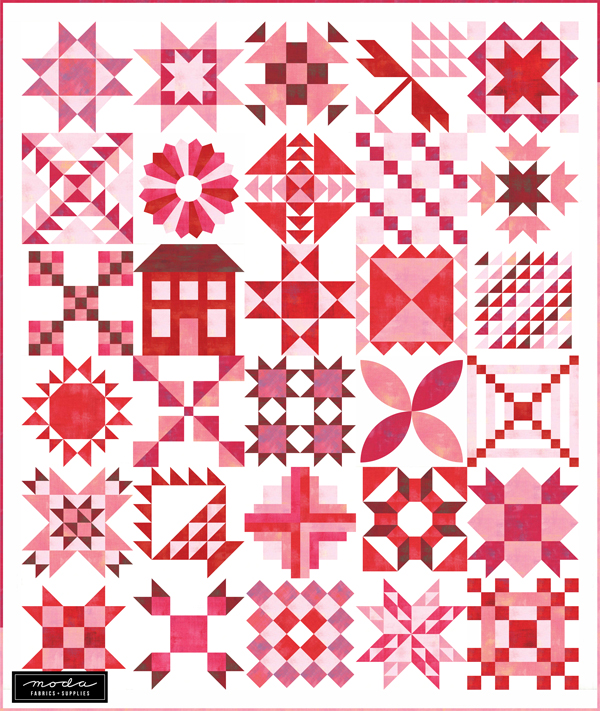 Finishing at 64" x 76", the quilt is made with thirty blocks that finish at 12" x 12".  We made this version using the Stitch Pink Grunge Assortment.  (If you want to make this same quilt, check online as many shops are offering kits using these fabrics.)
A portion of Moda's proceeds from the Stitch Pink Grunge collection will go to the National Breast Cancer Organization. 

The yardages for the Grunge kit are:
Grunge 30150 101 – White Paper/Background - 3-3/4 to 4 yards

Grunge 30150 64 – Duchess - 1 yard

Grunge 30150 327 – Calypso Coral - 1/4 yard

Grunge 30150 253 – Raspberry - 1 yard (also used for binding)

Grunge 30150 377 – Peony - 1/2 yard

Grunge 30150 82 – Maraschino Cherry - 1/2 yard

Grunge 30150 325 – Apple Blossom - 3/4 yard (also used for binding)

Grunge 30150 365 – Scarlet - 1/2 yard

Grunge 30150 332 – Rocacco - 1/2 yard

Grunge 30150 328 – Paradise Pink - 1/2 yard


Grunge 30150 254 – Flamingo - 1/2 yard
Note: These yardages have been upped a tiny amount from the original list after hearing from a few shops that some of the cutting was a bit tight. 
But what if pink isn't your thing?  Can this be made with something else?  And if so... what?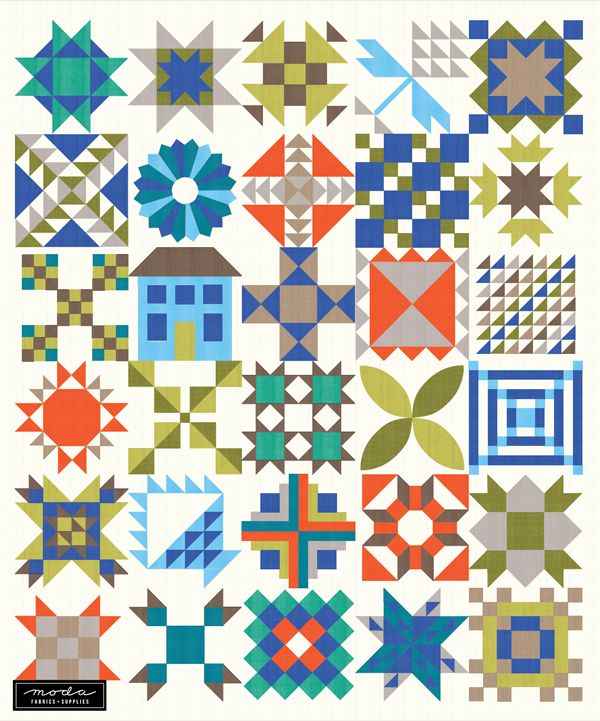 This was colored by Robin Pickens using pieces from her Thatched collection.
Multi-color!  Scraps?  Prints!  They'll all work.  How much yardage will you need?  For a single background, get 3-3/4 to 4 yards, and approx. 6 yards or 24 Fat Quarters for the prints-colors.
Materials?  Tools?  Technically, all you need is a rotary cutter and one or two rulers as the patterns were written using "old-fashioned" techniques that don't require special rulers or tools.  But we're quilters, and we like any tool that gives us better results. 
To that end, here are a few tools that we'll be using to make our blocks.
Square rulers for cutting.  If you have a 4.5" x 4.5" ruler, you'll probably use this the most.  If you don't have that, a 6.5" x 6.5" will work just as well.  A 9.5" x 9.5" will get some use, and there are two blocks where a 12.5" x 12.5" would be useful.
Bloc-Loc Half-Square Triangle ruler.  If you have one, you'll use it.  Just size the squares cut by at least 1/8".  (A 1/4" is better.)
Antler Quilt Designs Simple Folded Corner Ruler.  (AQDR1 and AQDR2)  While I prefer the Mini size, the larger one works too.  (I cut the squares for the corner triangles larger and trim the pieced unit to size.) 
Impressions Orange Peel Set by It's Sew Emma (ISE 719).  While there is a template included in the pattern, this set makes it easier to trace.  Just remember that the templates aren't heat-resistant.
Pellon Wash N Gone or Rinsaway.  This is a lightweight, wash-away stabilizer that makes the orange peels easy.
Sewline Glue Pens.  One of our favorites.  (My favorite.)  I used this for a few blocks.
Easy Dresden Ruler-Template.  (No. 8829306A)  There is a template included in the pattern but this does make cutting easier.  If you already have a Dresden ruler, use that!
Quilt-along?  You betcha!  There is a quilt-along starting Thursday, October 1 with Susan Ache, Carrie Straka, Linda Hrcka, Judy Adams and Greg Jones.  All five are accomplished quilters, and at least two of the following - author, award-winning quilter, quilt teacher and social media influencer.  They're also a lot of fun.
Their quilts range from "scrappy, Halloween theme" to Redwork Gatherings by Primitive Gatherings.  There's a "holiday mash-up" with Christmas Figs II and Holliberry, and two different Zen Chic collections, Just Red and Quotation.
We'll also be sharing two embroidery projects and two cross-stitch projects. 
#ModaStitchPink! 
So. get ready, the stitching starts on Thursday, October 1.