Midnight Moon QAL - Week 4
Midnight Moon QAL - Week 4
There's a lot to share today so let's get started with the first block this week - Bear's Tracks.
This variation on a Bear's Paw block has a four-patch for the paw that can be planned, or scrappy.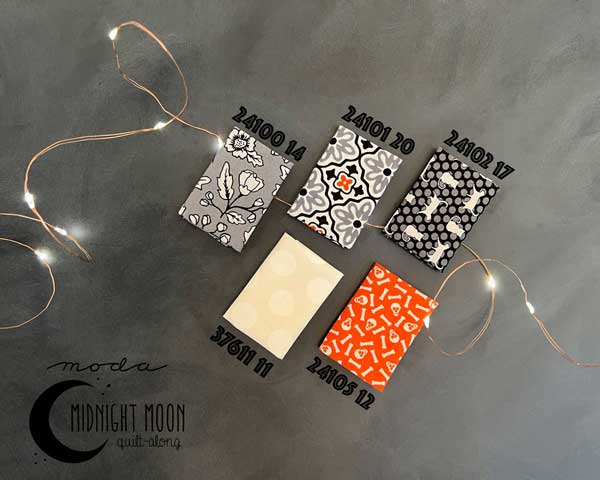 Bear's Tracks Fabrics - the big polka dot cream-on-cream background is perfect!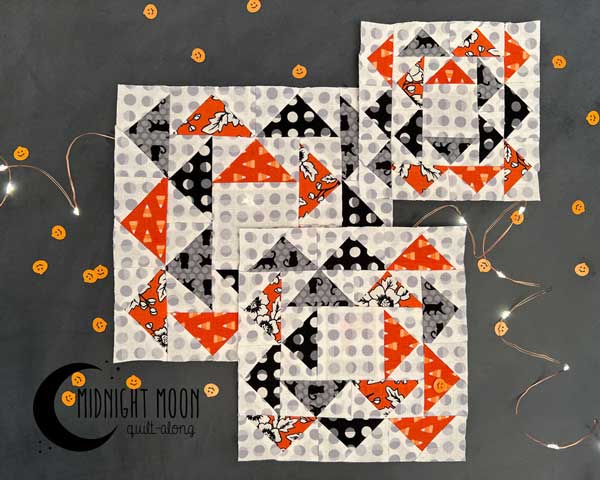 Buzzard's Roost.  That is the name of the base block, with an extra row of flying geese.  (No. 3219 in Barbara Brackman's Encyclopedia of Pieced Quilt Patterns, 3rd Edition.)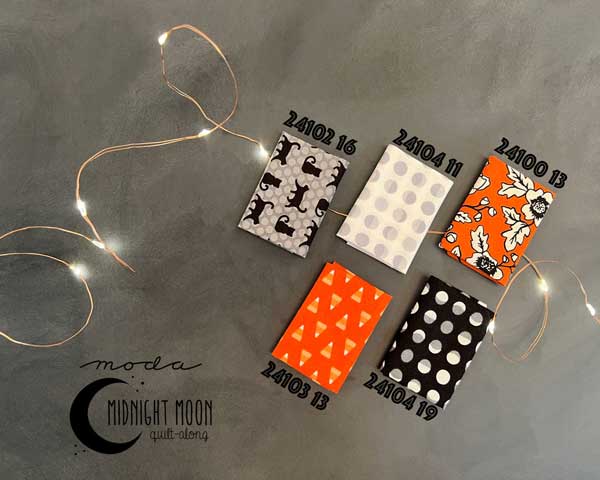 Buzzard's Roost fabrics.
With these posts, Tammy and I wanted to be able to share some of what we've learned over the years.  We both started quilting at the same time, and have a similar background.  Tammy owned a quilt shop, and I managed one before coming to work at Moda.  But we still do some things very differently, and we both believe that quilters should try as many new techniques and tools as possible to see what works best for them.  There isn't just one way to do something, and there aren't any right or wrong answers.
So in the coming weeks and months, we're going to share some of what we've learned over the thirty-plus years we've both been quilting.  As for the topics, we went over the questions we're asked most in classes and lectures, and in publications, and put together a list.  If there is anything you'd like us to talk about, be sure to leave a comment.    
Let's start with fabric prep.  We've just pulled out fabric for a project, what is the next step?  E.g., pre-washing, starching, pressing.
Lissa: I have never been a pre-washer, and I've not had any bad experiences with that so long as I use high quality fabrics.  But I recently became a "starcher".  While I also like to jump in and start sewing, I have had such great results with starching that I now encourage everyone to try it, especially new quilters.  I like that it pre-shrinks my fabrics, and I love the precision I get in both cutting and sewing.  I've also found that I don't have any thread ravels with starched fabric. 
Lots - most? - of my projects start with precuts.  I mix and match different lines to create variety, and then add additional backgrounds to finish the bridge of colors.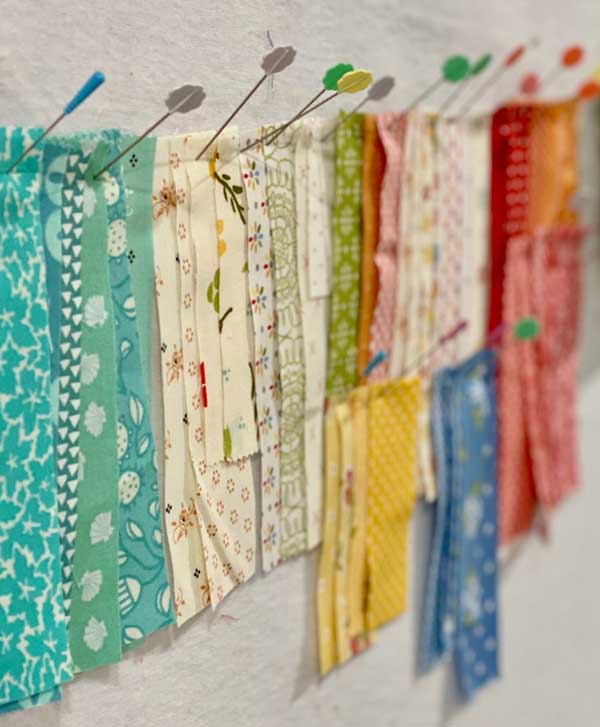 My process for mixing fabrics for a quilt.
Tammy: There's no special prep for me.  When an idea hits me, I want to sew right away.  I use a lot of fat quarters and pre-cuts, and I'm always digging into my scraps.    
Tammy's quilt Winning Combination.  This was on the cover of American Patchwork & Quilting, April 2016, and hung at the APQ Exhibit at International Quilt Festival in Houston, Texas, featuring twenty-five of it's best-loved cover quilts.
For cutting a project other than a sampler like this one...
Lissa: 
I like to make a test block out of different fabrics so I can test the value. This helps me understand the piecing of the block and make sure I am totally happy with the fabric placement. I know some people cut out the entire quilt before sewing anything, but I am a bit impatient to do this unless I am following directions from a book or pattern that gives me all the info.  Most of the time, I am working on the project before the directions are completed.
Tammy:  I'm usually testing a pattern so I like to make one block to see if the sizes are correct, so I cut the pieces for just one block.  I also cut strips parallel to the selvage as I find it less wasteful to cut it this way.  Even though I have degrees in Math and Engineering, I don't know why this almost always leaves me with bigger pieces at the end, and bigger pieces means bigger scraps.
When I cut strips, I usually don't cut all the pieces, as I prefer to have strips leftover, not odd size squares and rectangles.  I use a foam board covered with batting, and I pin my strips to the board according to size, from smallest to biggest.  If I need more, the strips are right there, easy to find.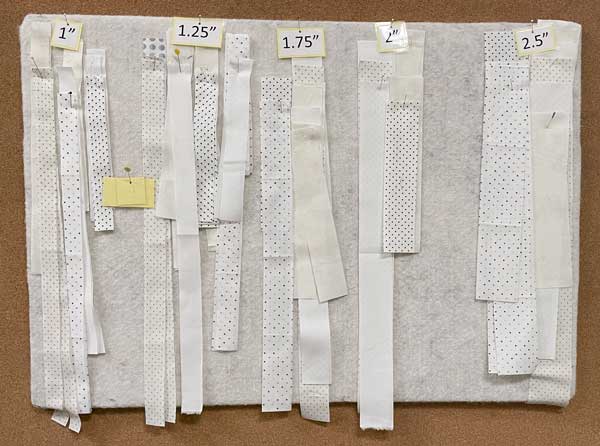 Tammy's method of saving strips from cutting while working on a project - Midnight Moon.
Stacking layers of fabric?  
Tammy: I'm a stacker for sure - as many as eight (8) layers at a time!  I can't remember when I started stacking layers, but I'm pretty sure it was early on.  I really do want to get to the sewing part! 
Lissa: I am all about production and time-efficiency so I am a stacker too.  It's the best!  Just remember to change your rotary cutting blade often.
Rotary cutters and rulers!
Tammy:  My favorite is the Olfa 45mm Quick-Change cutter.  I got used to the size because for a long time, rotary cutters only came in that size.  My tip here is to use a Sharpie to write the date on the blade so I know when it was last changed.  For rulers, I use a variety of rulers, often trying new rulers that Moda/United Notions stocks.  I particularly love the small rulers, especially those with 1/8" markings like the Omnigrid Gridded 4.5" x 4.5" ruler, and the 4" x 8" Ruler with Grid.  (R45G and R48G.)
Lissa: I had been using a large 60m Olfa rotary cutter due to the quantity of fabrics that I cut.  However I recently switched to an Olfa 45m cutter so I could use the High Endurance blade, and I love it! (Olfa RB45H-1 Endurance Blade.)  For the cutter, I use the Olfa 45mm Splash Rotary Cutter in Navy.    
Rulers!  I have always tried to work with as few rulers as possible, but I've finally accepted that having the right ruler for the job makes the process so much more enjoyable. I use an Olfa Frosted 6" x 12" ruler often because the lines are easy to see, and it has lots of angle-quides.  I also like the Omnigrid 10.5" x 10.5" ruler. 
My Indian Blanket quilt from Oh Scrap!
Tammy and I both love scraps, and we're both known for using them in our quilts.  So we're asked about what we save.
Lissa:
I definitely save my scraps but mine really start at the beginning of cutting.  As I am squaring-up my fabric, I cut a strip to add to the scrap bin as my first cut, not as my last. These measurements vary from 1½", 2½" and 3½".  If I know there's enough fabric to cut a 5" strip, I will cut that too.
Tammy: Even though I love tiny piecing, I don't save every tiny piece.  A lot of my scraps are strips, so I save those, and I sort them by size.  My favorite sizes are 1", 1¼", 1½", 2" and 2½".  
If you're on Instagram and/or Facebook, we'll be sharing blocks using the hashtag - #modamidnightmoonqal.
We'll see you next Saturday!
------------------------------------
If you missed any posts about the Midnight Moon Quilt-along: