Midnight Moon QAL - Week 3
Midnight Moon QAL - Week 3
Let's start this off with April Rosenthal!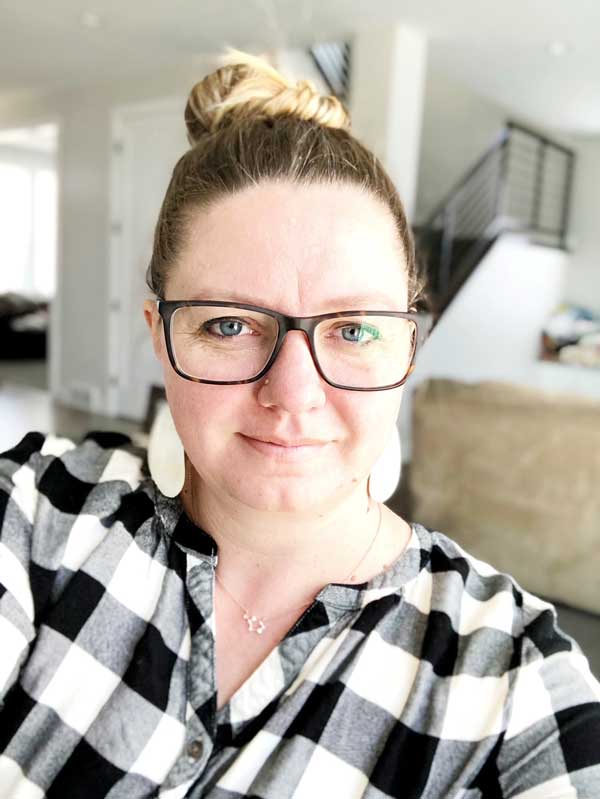 April has been a Moda Designer since 2014, and she's done thirteen collections.  Midnight Magic 2 was her tenth.  (Be sure to look for her first Christmas collection, Candy Cane Lane, this summer.)
April!  We're excited to be working with you on this quilt-along, so can you tell us how this collection began?  
Midnight Magic 2 is a follow-up to my original Midnight Magic collection.  But this time, I set out expand on the vibe of the first collection by adding a bit more whimsy with iconic Halloween motifs.  Whether you love it or hate it, everyone knows candy corn was bound to show up!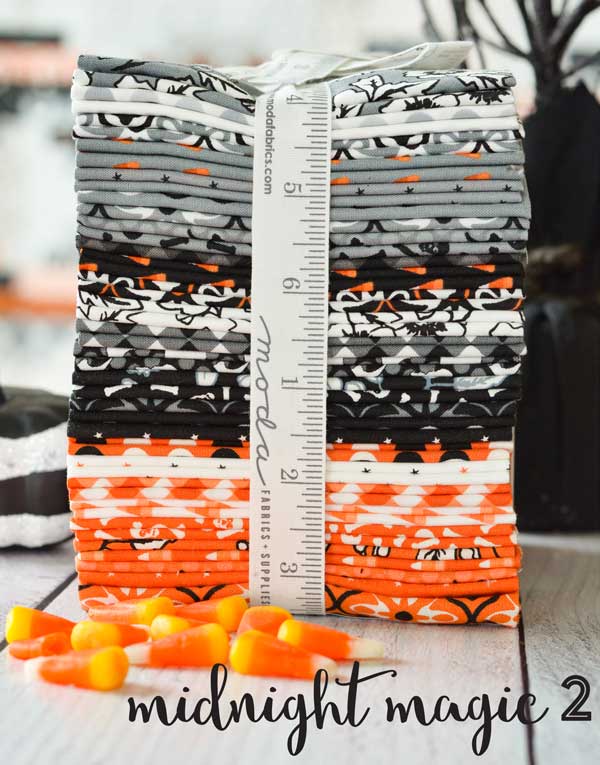 Everybody loves candy corn!  
My goal with these fabrics was to create a Halloween collection that wasn't yucky, gross, full of spiders - see YUCKY - or in colors I didn't want to see for an entire month! My husband and kids love Halloween, and I think the cute parts are pretty fun.  But I've never cared for the gross or garish, so I wanted this to have a look that would please all of us.  
I like that the two collections mix together, but still have a different feel.  Midnight Magic is heavy on the black, white, and grey, with some fun orange prints thrown in, and more familiar characters.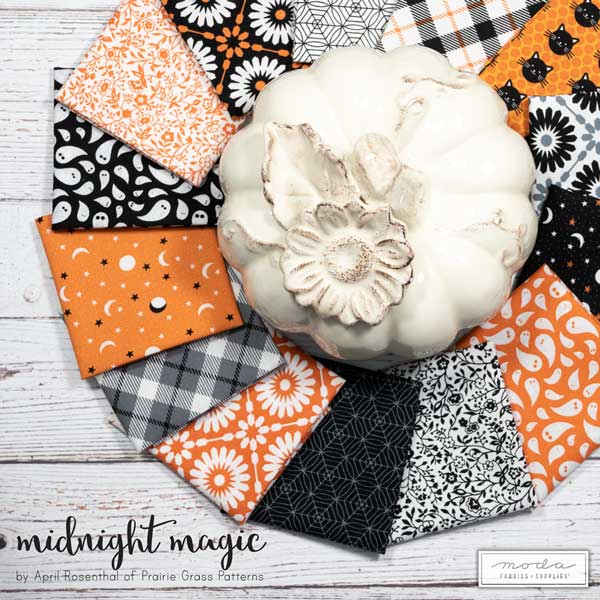 This is Midnight Magic, the original collection.
Fun fact: Orange is my FAVORITE color!
Mine too!
So I absolutely LOVE using both collections together - the oranges aren't exactly the same, and there is more tonal variation in the greys.  That creates so much scrappy depth when the two shades are used together!  
I'm so excited to make this Midnight Moon quilt! I've made my first 6 blocks, and here's a picture of my progress on the next block.  I need to catch up with you and Tammy!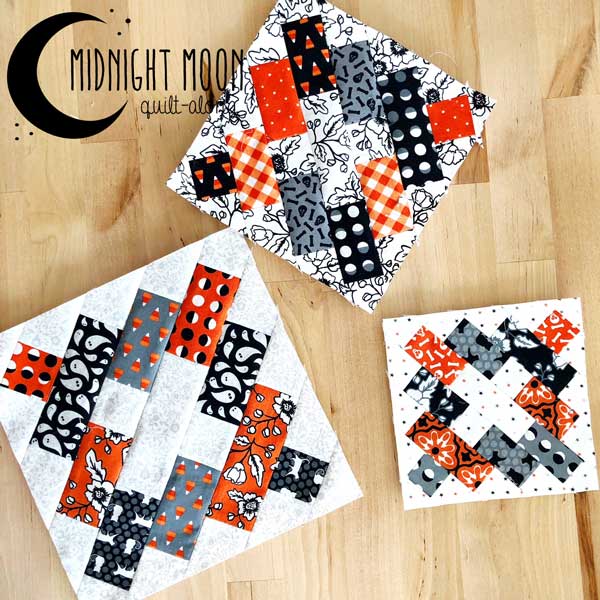 My Album blocks - they're a bit scrappier than the book.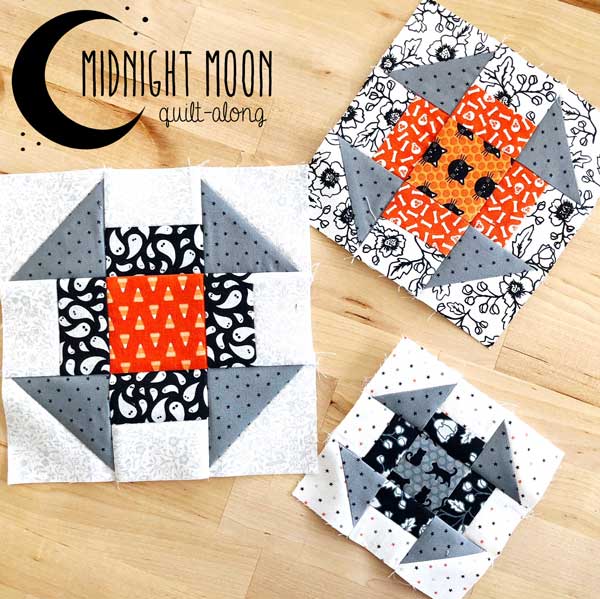 And my Churn Dash blocks.  As you can see, I'm mixing both collections.  (I have a lot of scraps.)
I'm sure I'll be mixing it up a bit more with the Bonus blocks I've designed.  (When is the first one of those being released?)
May 6!  The first SPOOKY Bonus block will be posted here as a Free Download.  
First?  Hahaha. That's right, this is still a bit of a Mystery quilt so a few surprises are in order.  
Until then - Thank you so much to the friends and shops carrying Midnight Magic 2!  And if your shop doesn't have it, it's not too late to get some.  Halloween isn't that far away.
Thank you, April!  We love this Midnight Magic 2 collection, and we're so happy you're quilting-along with us.
This week's blocks are Hidden Star and Pinwheel Geese.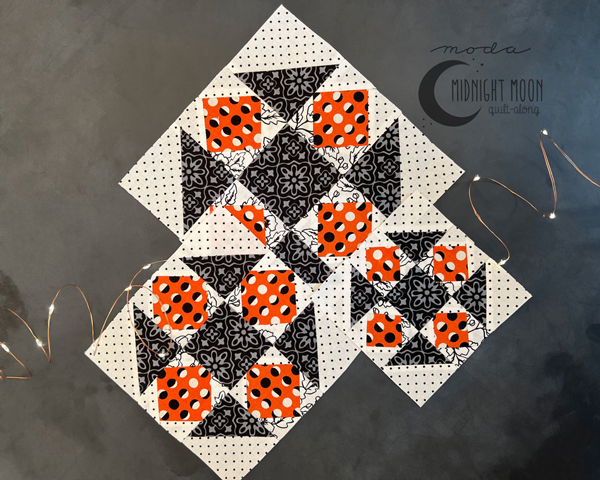 Hidden Star.  The "hidden star" is very subtle with these fabrics, so if you're using different colors and fabrics, that is something that could be emphasized.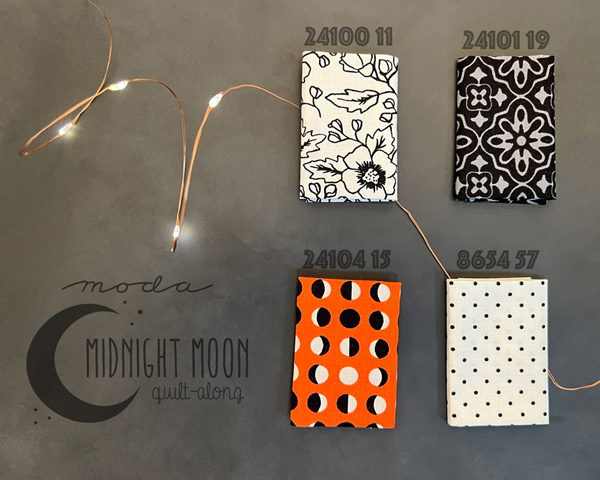 These are the fabrics.  The circle/moon print is a bit directional, but that's only noticeable in big pieces.  
To make the square-in-a-square units for this block, one of the options is the Square In A Square Foundation Paper by It's Sew Emma.
For the three sizes of blocks, we used the Square In A Square Foundation Papers for these finished sizes:  1½" finished - ISE785 / 2" finished - ISE778 / 2½" finished - ISE786.
Pinwheel Geese.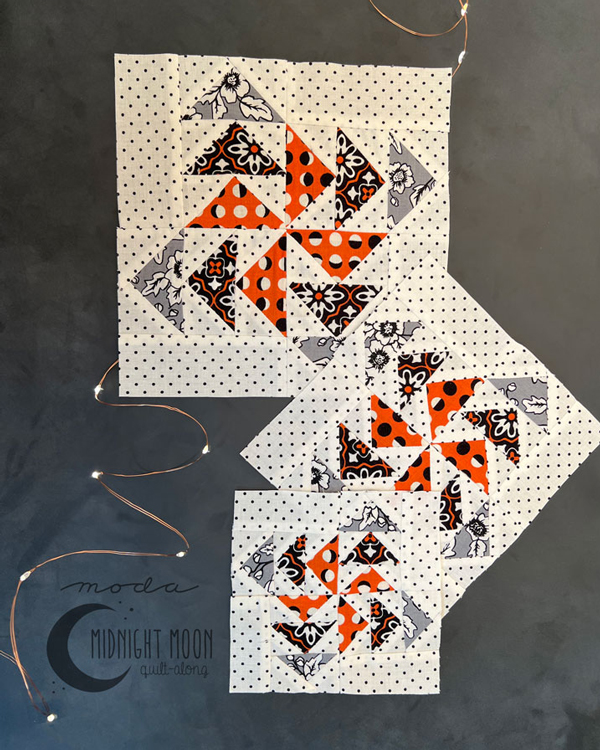 These are the fabrics for these blocks.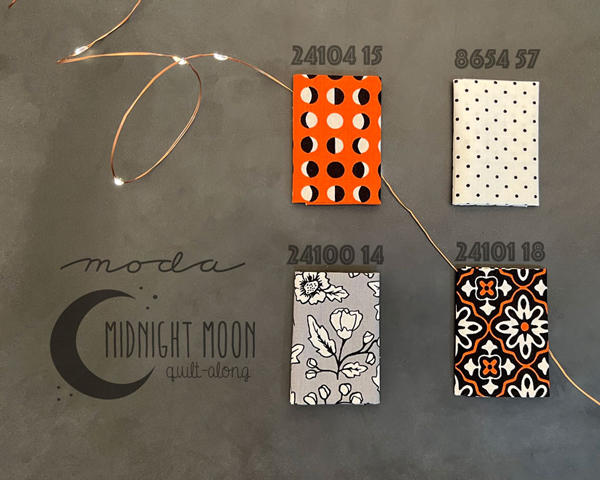 As for making the geese, and assembling these blocks, Tammy's Week 1 advice of starting with the biggest block and working down to the smallest is the way to go.
If you have one, using a stiletto to keep seams flat and help guide the fabric under the presser foot will help.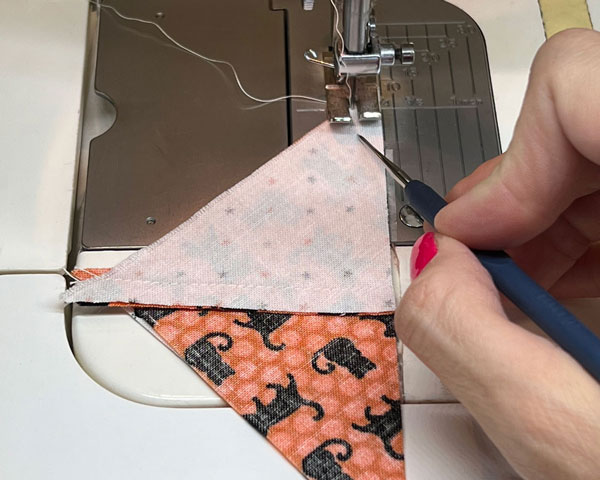 Use the stiletto to guide the piece under the presser foot.  This is particularly useful when there isn't much for the feed dogs to grab, like on the point of a triangle.
The tip of a stiletto will also keep seams flat, whether they're pressed open, or in one direction.  
After you finish this week's blocks, take a moment to pat yourself on the back.  Because this is what you've accomplished in three weeks.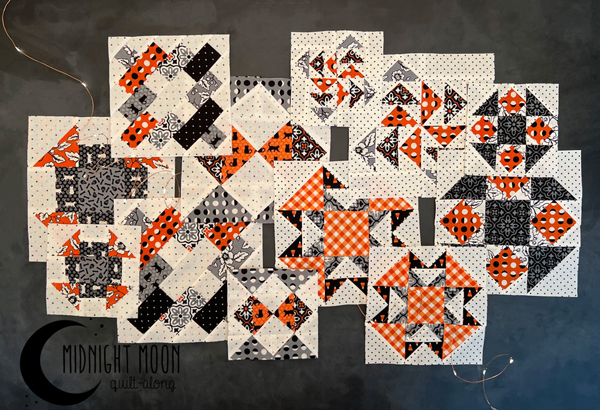 Six blocks, each one in three sizes, for a total of eighteen blocks.
If you're on Instagram and/or Facebook, we'll be sharing blocks using the hashtag - #modamidnightmoonqal.
We'll see you next Saturday!
------------------------------------
If you missed any posts about the Midnight Moon Quilt-along: