Building A Business - Craftedmoon
Building A Business - Craftedmoon
Have you ever thought about running your own business?  What would it be like to turn your ideas into products, to make your own decisions, and to build something that speaks to who you are?  As rewarding and exhilarating as it can be, there are also challenges and risks.  
On Tuesday, we introduced you to Sarah Watts of Craftedmoon, her background and artwork, and how Craftedmoon came about.  This family-owned business creates art prints and gifts for quilters, sewists and crafty homebodies, and every order plants a tree.  Today, it's a bit more about the business side of it.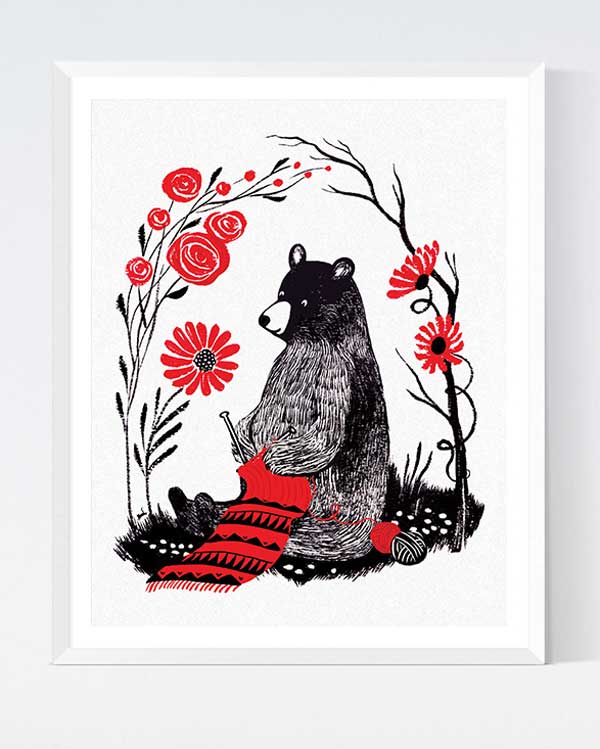 From a business standpoint, what was the biggest challenge when it came to starting your business? 
Learning how to work with the inventory. It gets really tricky to balance the flow of items when there are both retail and wholesale orders that go out at the same time as orders from suppliers coming in. We had to learn software that tracks everything and makes sure that the inventory flow stays organized. That was a whole new world for me! It was awesome to learn because it showed me that there is a solution to everything if you are willing to put the time in to learn it. It's very empowering when you don't have the training for something like that already. 
How scary was the process?
The scariest part of the business came a year into it when we got busy enough for Scott to quit his job. He had a full-time job with benefits, but Craftedmoon really needed help. So we took the leap. That was the hardest part. Not having that stability and consistency of his income anymore and truly believing in the business enough to take that risk was when it got really real. But, IT WORKED. Of course, everything is tricky right now with the current Covid-19 events. We have shifted focus to online teaching and digital content so that we can weather the uncertainty of goods not coming in consistently from our suppliers. 
Sarah and Scott at QuiltCon in 2019.
Tell me about the online class - your School for Misfit Makers.
I describe it as art and design techniques demystified.  I use ProCreate on my iPad Pro and Illustrator on my computer, and the classes are designed to help beginners learn the programs.  In addition to the lessons, each class comes with a live Q&A session to answer questions and get help on specific topics or problems.  There are new classes added every week.  Be sure to see the Message from the Professor.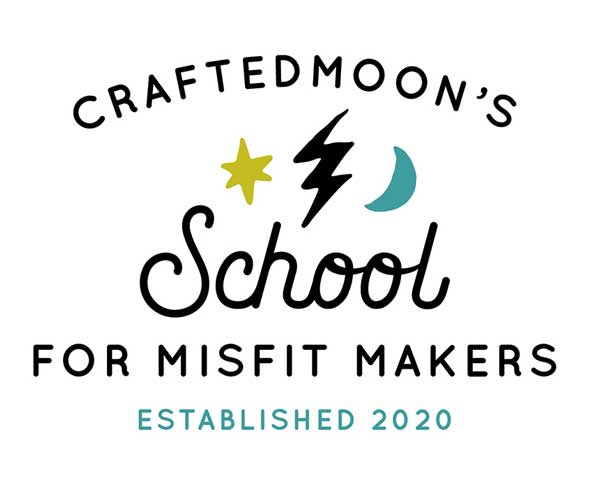 Be sure to see the Message from the Professor. 
Do you have a sense of what is going to work - be a best-seller - or is some of it guess-work?
I think our sewing themed work does the best since that is where most of our initial followers' interests are. We launched at Quiltcon so our first following came from the sewing and quilting world.  But we hear from the knitters and crocheters, that they want art and gifts for that. 
When did you know Craftedmoon was going to succeed - was there a moment, call or show where you realized you'd really succeeded? 
I think that I felt like it was going to work when we launched at QuiltCon. The response was overwhelmingly positive and it gave me the confidence that we were onto something if we keep pushing it. The second clue is that I love doing it so much. I think that people can sense the love behind a brand, and if that love is there, then they are more likely to want what the brand offers.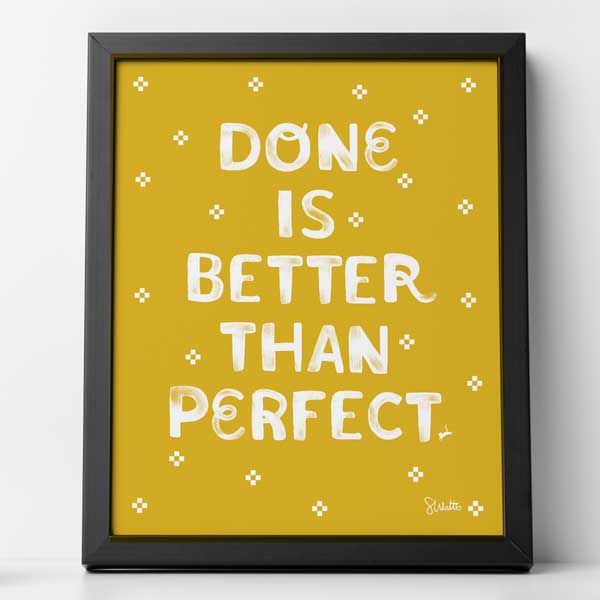 What is the best advice you received about running your own business? 
Keep your overhead as low as possible! We have been really good at this. We don't do any sort of lofty spending for the business, and we tend to take baby steps into new products. While I want a really big light-filled space to work at for Craftedmoon, we have a 500 square-foot office that we will only upgrade when the funds are there to support it. I have a lot of ideas, and I would like to hire more help, but we'll have to wait until the timing is right. 
What about the worst advice you received? 
Some personal advice that we got, in general, is that we should always have one person in the household with a steady paycheck. While this is definitely smart advice, it didn't work for us. I believe deeply that if we are not happy in our work, then we should change it, no matter how hard it gets.  The process of making it work is hard, and not without challenges.  But it's worth it in the end. 
The reason for this is that when I really stop and think about my life, it could end at any given time. My mom passed right before my first baby was born and it was so surprising, it really put things into perspective for me. It is such a precious thing to exist. I don't want to spend my life being sad or uninspired. I want to feel fulfilled. It is human nature to be curious and to grow and learn. If I am doing something that keeps me down, I have to change it. My husband had a really hard time at his job towards the end, and Craftedmoon really needed his expertise in so many ways. He was spending a lot of time at his full-time job and then he would come home and go to work at Craftedmoon. We never got to see him and we were all feeling that weight. So we made the decision for him to come to work at Craftedmoon full-time and he's never looked back.  I wanted him to be happy as much as anyone else in our house, even if having him quit his job was scary at first. I think our whole family is better off when we are working on something that brings us joy and challenges us. It is what works for us and our personalities. I also grew up in a family of rule-breakers and it's hard to shake that need to go against the grain a bit!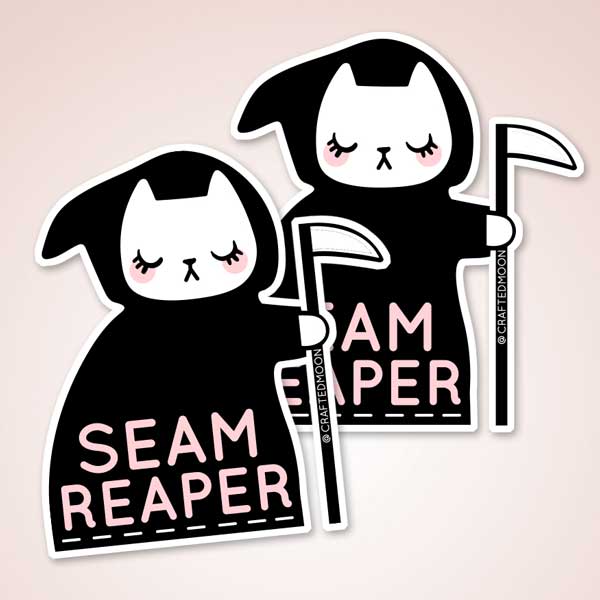 What is the best lesson you've learned since you started Craftedmoon?  
Keep pushing if you love it and be willing to pivot if something isn't working. We are two years in and we insist on pushing forward no matter how hard it gets. I have seen us grow, and I recall the times when it was really hard but we didn't give up. I've seen ideas fall apart, and instead of thinking we failed, we took it as a lesson to learn something and move on. 
What was the hardest lesson?  
Two things. First, we have had some hard lessons in anticipating the correct shipping rates and we've lost money on that. Second, it is hard when something I'm excited about doesn't meet expectations.  I make products that I love, and there are products that I think will sell really well.  When they don't and I have to move through inventory, that's difficult.  But it teaches us what works and what doesn't, and those lessons will help us grow our skills and get better at managing our expectations in the long run.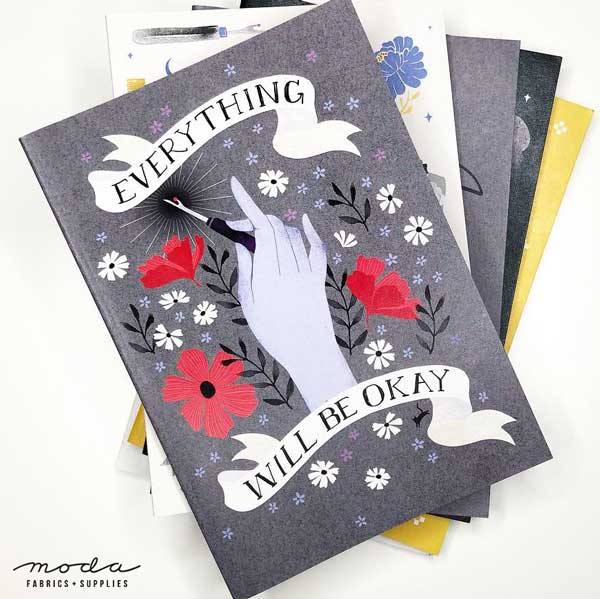 What has your experience been with Covid-19 and Craftedmoon plans? 
Right now, our sales have dropped. We also have the kids home and are balancing the business with just the two of us. But, this is not an end of Craftedmoon goods, we believe it is just temporary. We have also decided to pivot our offerings. We were already playing with the idea of an education platform with Craftedmoon, so we decided to move that to the front of our priorities. If we can offer more of our digital content then maybe that will keep us going until everything gets better. We recently launched Craftedmoon's School for Misfit Makers with the goal of teaching creative techniques with the main purpose of learning for joy. We also started offering SVG files for cut machines and I became a Cricut affiliate to create content for crafting. We are fortunate that my husband is a videographer, and I used to teach so we put these skills together to help supplement the dip we've had in sales during the quarantine. It is going well so far!
What is the worst part of your "job"? 
Inconsistent hours and feeling the constant reminder that perhaps, you can be doing something different or better. Also, not always having the incoming sales to support the ideas that you know would make the business grow more. We are getting the hang of this, but it's tough! 
And finally, what is the best part of your "job"? 
Knowing that I have full control over what to do next. I love that I can do something different and that I can make products and change directions quickly because we are a small company.  This ability to adapt means I can change the fate of things instead of depending on someone else to do this. I like feeling like I am fully responsible for my future, even though that is also scary.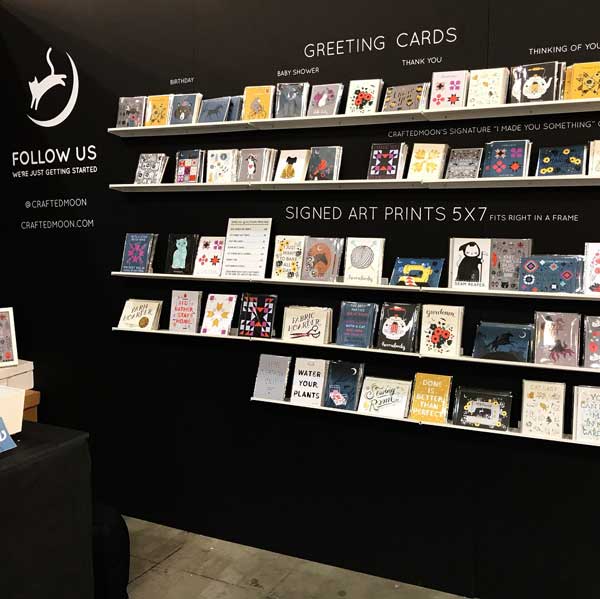 To see more of the Craftedmoon products that Moda Fabric+Supplies stocks - Craftedmoon.
For the Craftedmoon website - Craftedmoon.com
And finally, Sarah drew artwork for a Craftedmoon memory game that you can print from home on a color printer.  It's a free PDF download with instructions for how to print and play the game.  (Note - when you click the link below, you won't see the images in the download, just the link for the Download.)  
A huge thank you to Sarah for sharing her journey as an entrepreneur and business-owner.  
We look forward to 2063 when we can celebrate the 45th Anniversary of Craftedmoon - to when the kids are running the business.  
Have a terrific Friday and stay safe.