Creating A Business - Craftedmoon
Creating A Business - Craftedmoon
With 2020 being the 45th Anniversary of Moda Fabrics, we wanted to celebrate women in the industry who were following their own dreams and building a business.  Sarah Watts of Craftedmoon was one of the first people we thought of, in part because we love her work, and mostly because she's one of our favorite people.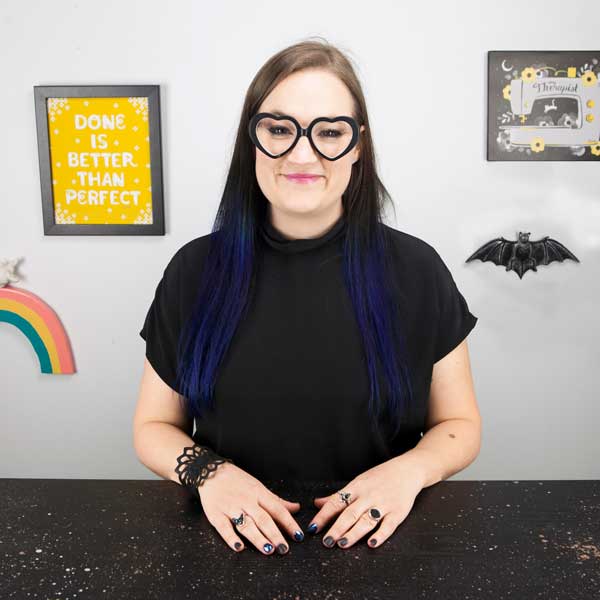 We wanted to introduce you to Sarah so we asked her a slew of questions about her artwork, starting her business and some of the challenges she faces, especially right now.  Because she was so generous with her time, we're going to share everything in two posts.  Today, it's "get to know Sarah", and on Friday, we'll share some of what she's learned since launching Craftedmoon.
So what is Craftedmoon?  The easy answer is art prints and gifts for the crafty homebody.  It's also cards, stickers, pins, temporary tattoos, zipper and tote bags, and now there are computer classes!  Sarah has launched the Craftedmoon School for Misfit Makers - Beginning classes for Adobe Illustrator and ProCreate.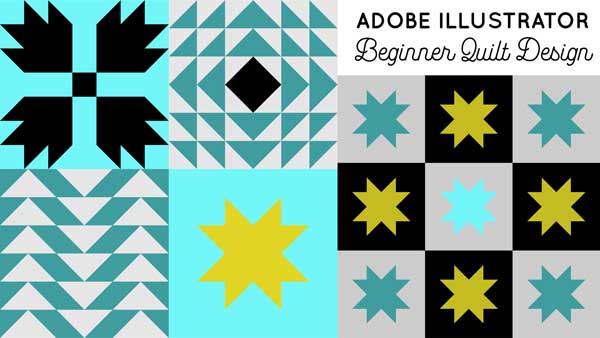 Sarah's classes demystify art and design techniques in computer programs.  Each class comes with a live Q & A group session to get help with the course.  And new classes are being added every week.  For more information - School of Misfit Makers.
Launched at QuiltCon in February 2018, Craftedmoon is a family-owned business with a social and environmental conscience.  All of the paper goods are printed on recycled paper, the clear packaging sleeves are biodegradable, and every order plants a tree.  (Craftedmoon has partnered with OneTreePlanted and $1.00 from each order goes to the organization for a tree.)
So let's get to what we asked Sarah.  
Did you draw and create when you were a wee, small child?
I sure did!  We were always equipped with drawing materials.  I recall sitting at my grandmother's table with my brothers, drawing into coloring books.  I would often give the characters accessories, or spruce them up a bit by adding scenes.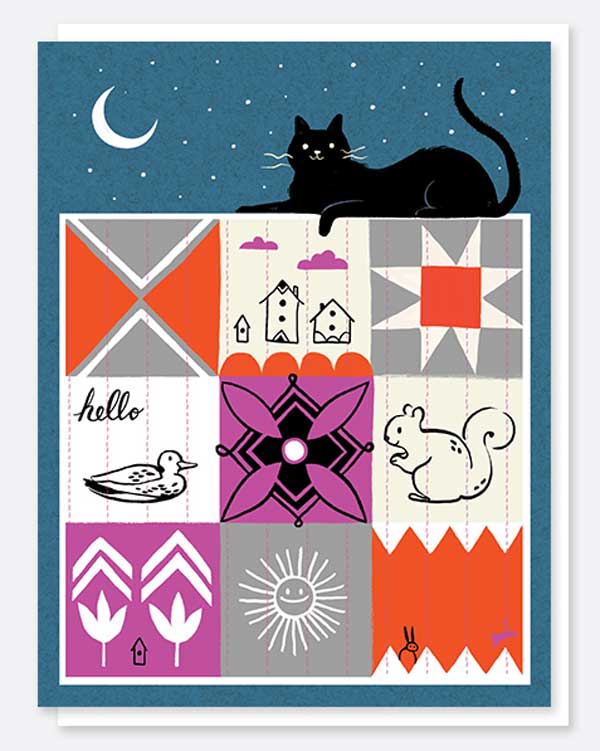 What is your favorite medium to work with when it comes to your artwork - e.g., painting, drawing, etc.?  
My current favorite medium is drawing on my iPad in the ProCreate program.  I think it is the closest thing to real drawing that you can find in a digital program.  It is also so user-friendly that even my toddler knows how to poke around in it and draw.  If I had to choose a favorite traditional medium, it would have to be pen and ink.  I love playing with liquid inks, dropping them into water to see the ink flow in unique patterns.
Do you come from a family of artists?  
Yes!  My grandmother learned how to paint when she lived in Japan.  She taught my dad, and he always drew while I was little, he was always doing many different types of creative projects.  He was in a serious motorcycle accident that enhanced a pre-existing diagnosis of Bipolar Disorder.  This combination left him with a strong need to express himself creatively, and that really influenced me and my brothers.  We didn't always have a television so my dad would tell stories or play his guitar to entertain us.  My mom did cross-stitch, and she loved to read, so that played into my craft curiosity and imagination.  I would steal her books and go read them up in a tree so no one could get to me.  My grandmother was a sewist and would alter dresses from thrift stores to fit me so I could play dress-up with my cousin.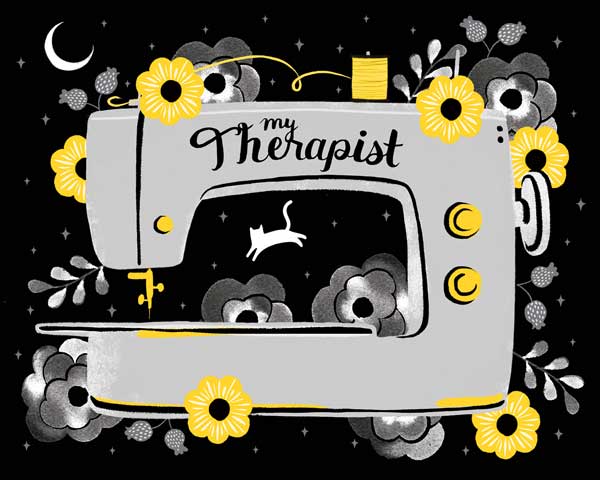 When did Craftedmoon start?  And how did it start?  
I was feeling very inspired after I had my first baby and wanted to start something that my family and I could own and build together.  My husband, Scott, and I came up with the idea for Craftedmoon while on a long road trip to Universal Studios in 2017.  We had eight hours in the car from Atlanta to Orlando, and we just planned and incubated the idea.  We wondered what it would look like if there was a brand that made art that spoke directly to homebodies and people who craft.  We could make art specifically for their creative spaces, and make greeting cards to give alongside their handmade gifts.  I have a strong love for inspirational quotes that stems from my grandmother as she has a quote for every hardship in life.  We made sure to incorporate this and a bunch of other passions into the concept.  We want to make everyone feel like they can decorate their homes and studios with fun things that speak to them.
Did it start with a different idea and evolve into the artwork you do now?  Or did you always know the sewing and quilting themes would work?  
I think from the start, I wanted it to be specific to makers.  I knew from years of watching from the behind the scenes and doing a lot of marketing research that people are drawn to brands that are really specific, that sing to them.  I thought that the best approach to this was to make the kind of art that I would want in my own craft room and go from there.  Because I tend to work in many styles, I felt like the specific focus could be on the content of the art and not the look of it.  If our brand could cater to specific interests, then the artwork could play around in different looks and still do the same job.  This allowed me the creative freedom to play with a variety of styles, and with different tastes visually.  The best part is that I get to make work that I would use so the concept feels personal and special to me.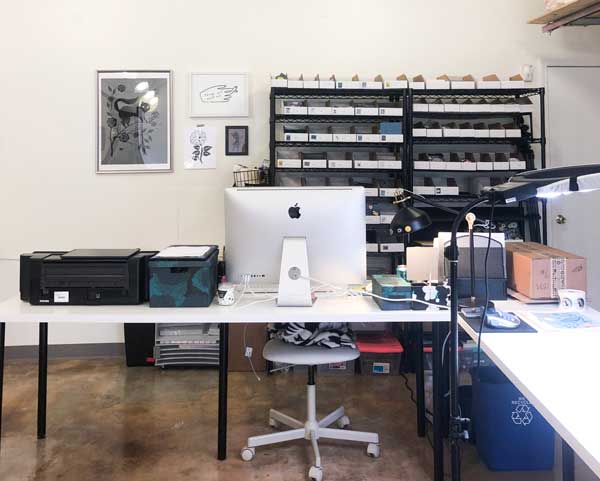 Do you sew?  Quilt?  And if you do, when did you learn?  How did you learn?  And what kind of projects do you make?
I do sew!  I sort of taught myself to sew while in high school.  I wanted my portfolio to have stitched fabric in it so I learned how to play around with an old Kenmore sewing machine that my parents got me.  When I moved to Atlanta, a close friend taught me how to sew the right way.  After I did my first fabric collection with another company, I fell in love with sewing and playing with my fabrics.  I have gotten better and better over the years after being surrounded by the Ruby Star women.  (They're amazing.)  They inspire me to make things, and to learn more and more about sewing.  I have made a few quilts, garments and bags.  My favorite thing to make are bags - they are typically fast and very satisfying.
Which came first for you - drawing or painting?
Definitely drawing.  We moved a lot when I was growing up, and things would get lost along the way so it was the easiest medium for me to keep around.  I could always find a pen and paper.  I even made some extra money in middle and high school by drawing custom pictures for friends and painting holiday windows for businesses.  I was always an entrepreneur with my art.  I was also fortunate that I loved the process so much, it didn't matter to me what I was drawing.  Now though, I really need to love what I am making to prevent burnout since our family depends on my art for income.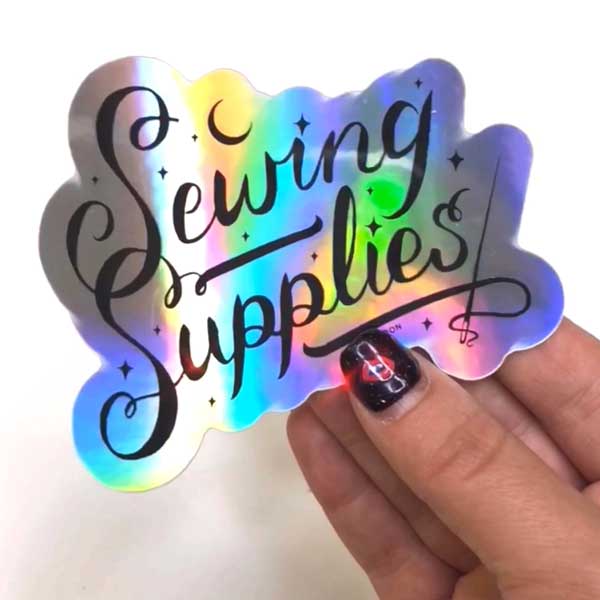 Sarah drew artwork for a Craftedmoon memory game that you can print from home on a color printer.  It's a free PDF download with instructions for how to print and play the game.  (Note - when you click the link below, you won't see the images in the download, just the link for the Download.)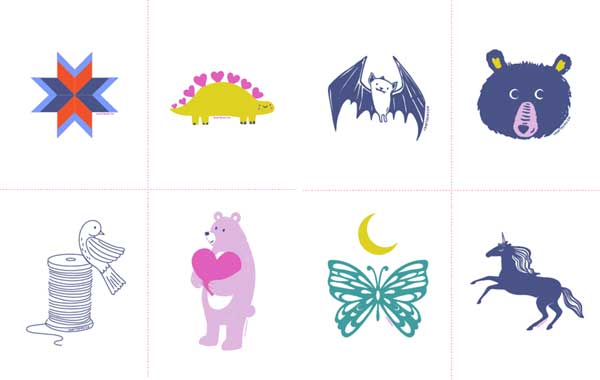 These are some of the cards in the game.  
Have a good Tuesday and we'll be back with more from Sarah on Friday.