BH3 Block 25 - Corner Garden
BH3 Block 25 - Corner Garden
We've got a block, some beautiful color studies, and a giveaway.  So let me get to it. 
This is Corner Garden by Robin Pickens - Block Heads 3 Block 25.  The instructions can be found here -  Robin Pickens Blog.
Robin's block can be made in four sizes - 4", 6", 8" and 12" finished.  (All block images are by Robin Pickens.)
Have you seen the Color Study's that Robin has been sharing on social media?
These are Robin's color ideas for Vanessa Goertzen's Block 23 - Lucky Penny.
Hen & Chicks - Laurie Simpson's Block 22.  Simply mixing up the colors and value placement completely changes the look of the block.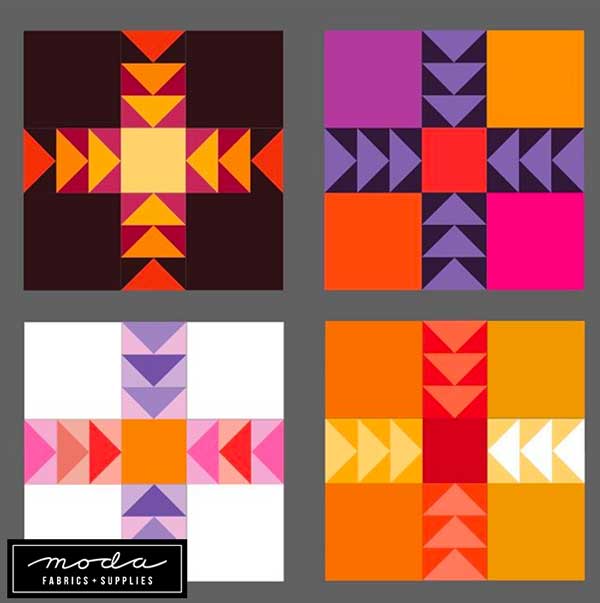 Block 17 - Crossroads by Betsy Chutchian.  Any one of these would make a spectacular quilt - especially using Robin's Thatched collection.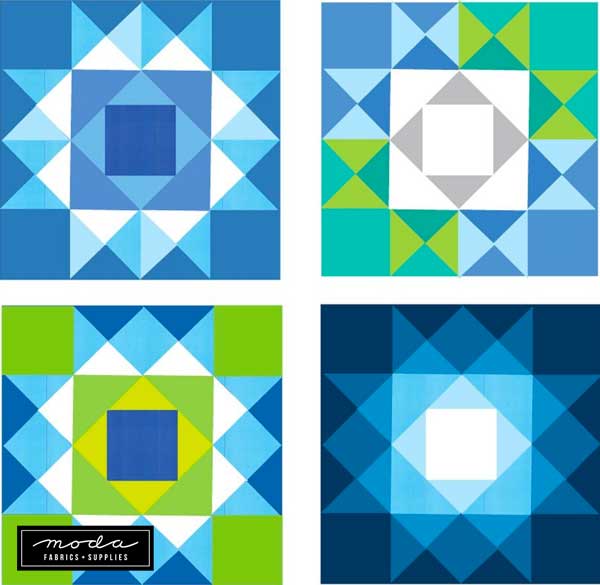 Wouldn't a quilt made with these blocks be gorgeous?  This is Block 15 by Corey Yoder - Starry Eyed.
All of the Moda Block Heads are All-Stars.  Do you know the Moda All-Star books?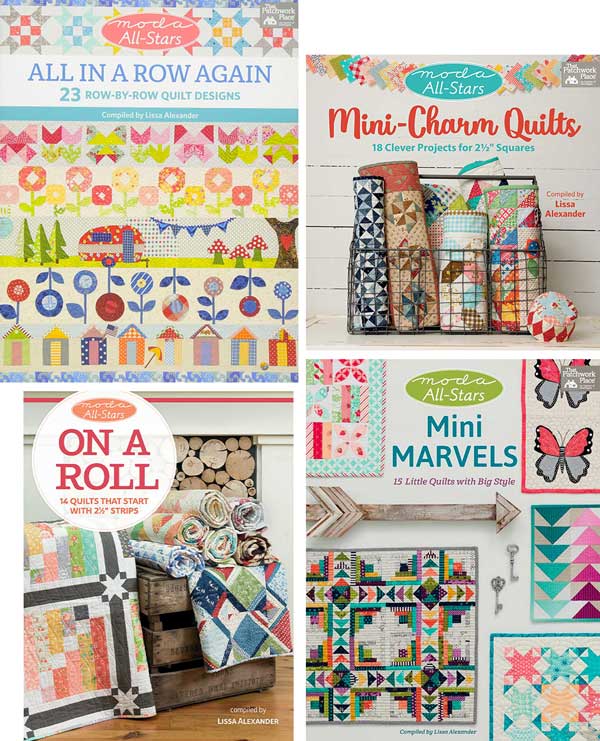 There have been nine books since the first one in 2015.  Each book has a theme and at least a dozen projects, and each one benefits a charity.  The books and charities are:
All In A Row – No Kid Hungry
Scraps Made Simple – Alzheimer's Association
Mini Marvels – Texas Rite Scottish Hospital
All In A Row Again – Give Kids the World
Lucky Charm Quilts – Alex's Lemonade Stand
Merry Makers – Marine Toys For Tots
Mini Charm Quilts – Lutheran Church Charities K-9 Comfort Dogs
On A Roll – School on Wheels
Mix It Up – Feeding America
Two, Four, Six, Eight – Special Olympics
Together with the nice folks at Martingale, we're giving away two sets of books - each includes four different Moda All-Stars books and an assortment of Designer Charm Packs.  We've also got two e-books of the Moda All Stars Two, Four, Six, Eight to share.  Just leave a comment by Midnight CST on Friday, July 3, and you're entered to win.  
Just tell us if you're sewing a long with Block Heads 3, and if you're caught up with blocks.  (You're still entered in the contest if the answers to one or both questions is "yeah, right..." following by laughing emojis.)
Just in case you were distracted by Robin's beautiful color studies, the instructions for Corner Garden can be found here - Robin Pickens Blog
And if you need the instructions for any other blocks - Block Heads 3 Archive.  (It is updated every Wednesday and Friday.)
Be sure to check out what the other Block Heads are sharing - there are sure to be a few tips and variations:
Be sure to check out the Block Heads Facebook Group and look for Block Heads 3 on Instagram - #modablockheads and #modablockheads3.
Have a good Wednesday - maybe do a little gardening.