UnBoxed - Tochi
Hi Everyone! This is Debbie Maddy from Tiori Designs here.
I am very excited to tell you a little about me and my latest line with Moda - Tochi.
First a little about me just in case you do not know me. I am what you might call a multi-tasking creator of fun things. Or as some might say "I am into a lot of different things for my art and sewing." I started sewing garments when I was very young and still love that. I have been quilting almost 40 years. I did my first quilt pattern 19 years ago and have not stopped. My big passion now is hand dyeing fabrics, especially indigo dyeing and Tochi is my latest line based on my hand dyed samples. I love learning new things and adore teaching others that are interested in what I love, mainly quilting and shibori stitching and indigo dyeing.
The Tochi line was actually reproduced in three colorways. First there is the indigo blue, then a gorgeous golden yellow and very fashionable grey.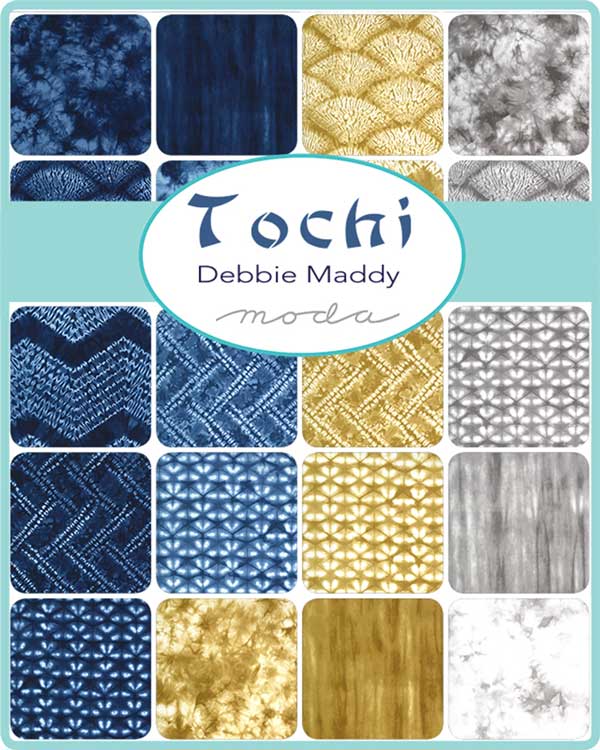 The collection is available as Moda pre-cuts - Fat Quarter bundle, Jelly Roll, Layer Cake, Charm Packs, Mini Charms and a Tochi Kit.
There is also a very special panel in all three colorways.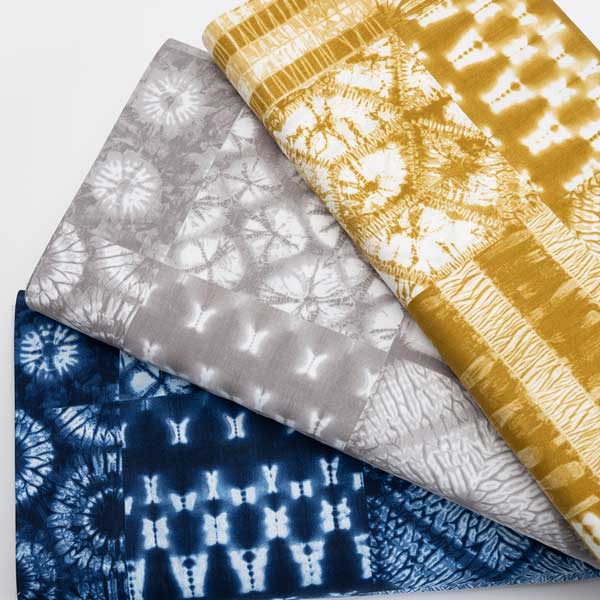 The panel design is titled koraju, it means collage.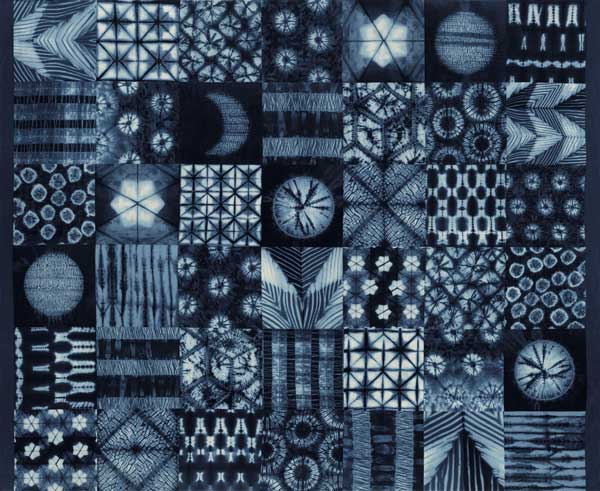 Titled Koraju Sora, this is the Indigo panel.  (Sora is sky in Japanese.)
It is made up of 5 ¾" X 6" rectangles of many of my designs, the full panel measures 36" x 44".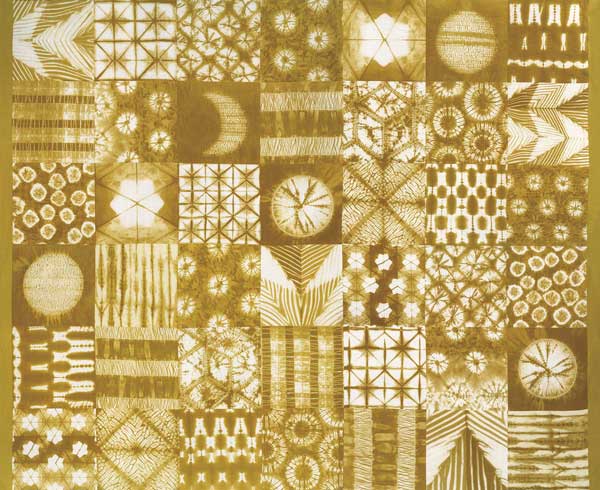 Koraju Wara - the panel in Gold or straw.
And Koraju Kaishi - the panel in Grey, also beginning.
It is perfect for quilts, garments like dresses and the latest quilted jackets or just for home décor.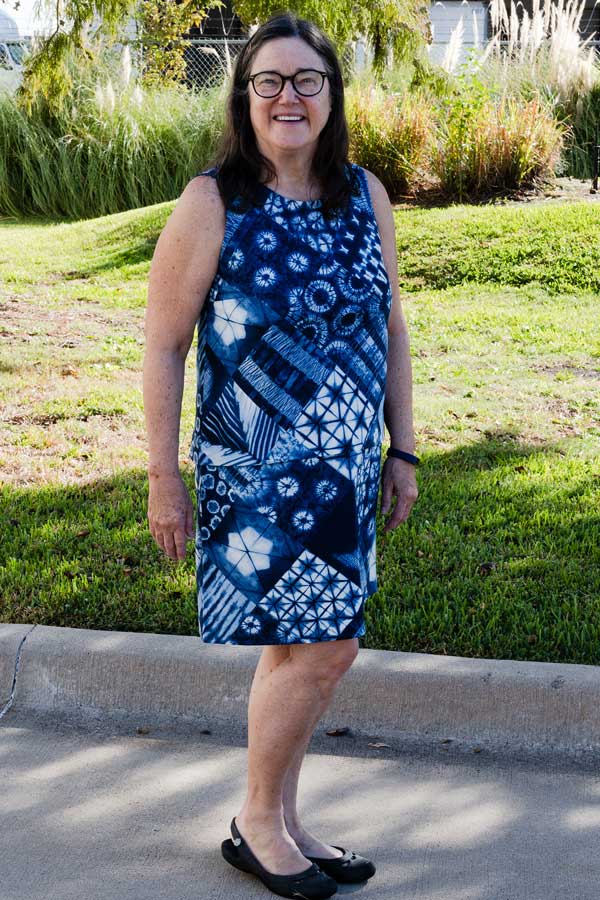 Moda's Tammy V made this simple dress using the panel - isn't it perfect for summer?  The pattern is Willow Tank Dress by Grainline Studio - GS 13002.
After making the dress, Tammy got the idea to machine-quilt the panel for a quilted jacket.  (They're very popular right now.)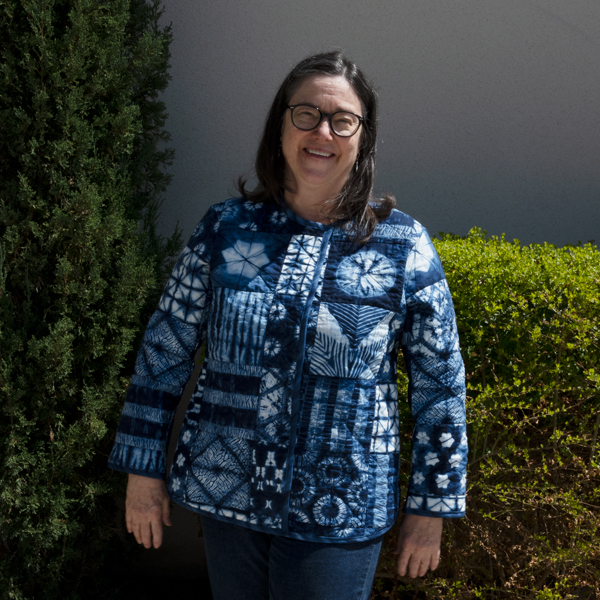 This is the Tamarack Jacket, also by Grainline Studio.  It is GS 16002.
I designed two free patterns using the panels for quilt shops to use and share with their customers.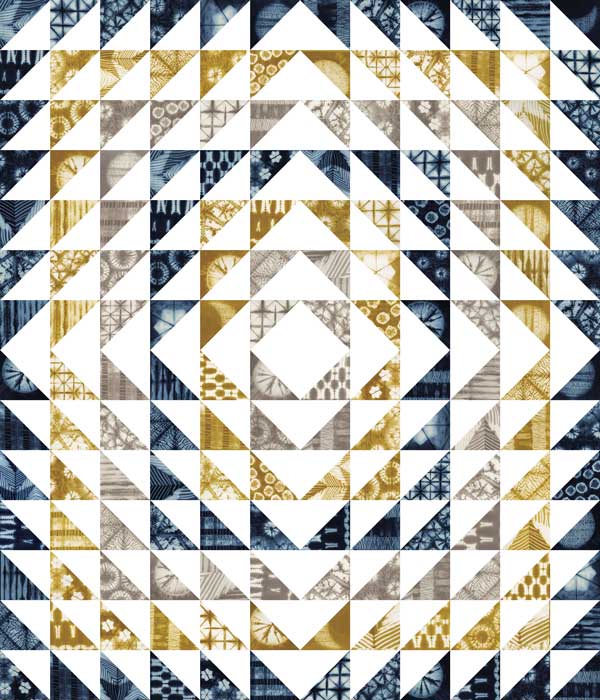 This is Halfway Around the World - the background is Bella Solid 9900 98 - White Bleached.  It finishes at 60" x 70".
With the addition of Grey and Gold to Tochi, I wanted to see how this would look with a black background - Bella Solid 9900 99 - Black.  The Indigo panel creates a beautiful shadowy-effect that I love.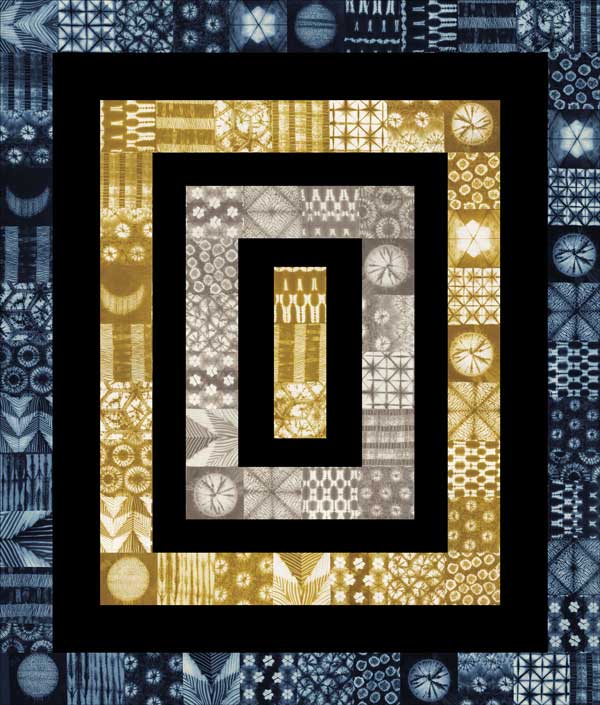 This is Fields of Color, a simple quilt that finishes at 63" x 74".  (Bella Solid 9900 99 - Black.)
There is a video class for Halfway Around the World.  Be sure to ask your local quilt shop about these two patterns and the video class.
I then designed two patterns specifically for Tochi.  But both would be great in other fabric lines as well.
The first pattern is called Geese in the Lillies - CCQD 177. It is a fabulous pattern for making flying geese four at a time, and for showcasing some very simple machine applique. There are four sizes included in the pattern so you can make the size that appeals to you.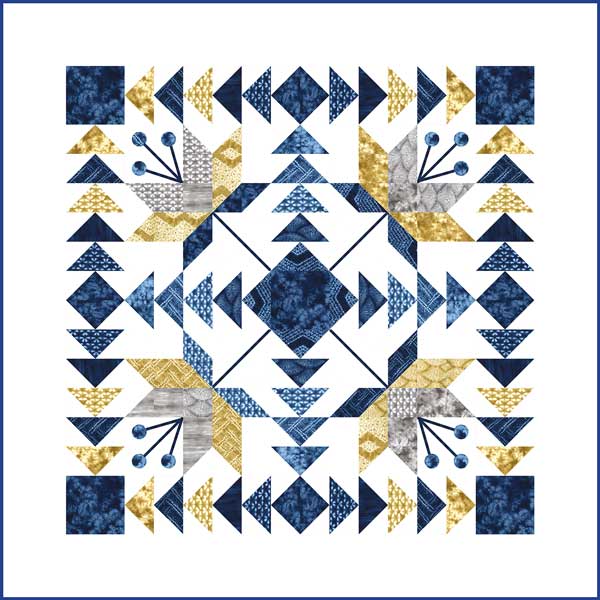 The lap size is 62" X 62" and is made with one Layer Cake and yardage for the background and borders.  When I use a white background, it's Bella Solid 9900 98 - White Bleached.
The twin-size quilt is on the cover of the pattern, and I made two versions of this one.
I made the cover version using the same fabric for the background and border. I think it gives it a fresh modern look. The twin size is 62" X 83" so it is great for a dorm bed. The geese and flowers are made with two Tochi Layer Cakes.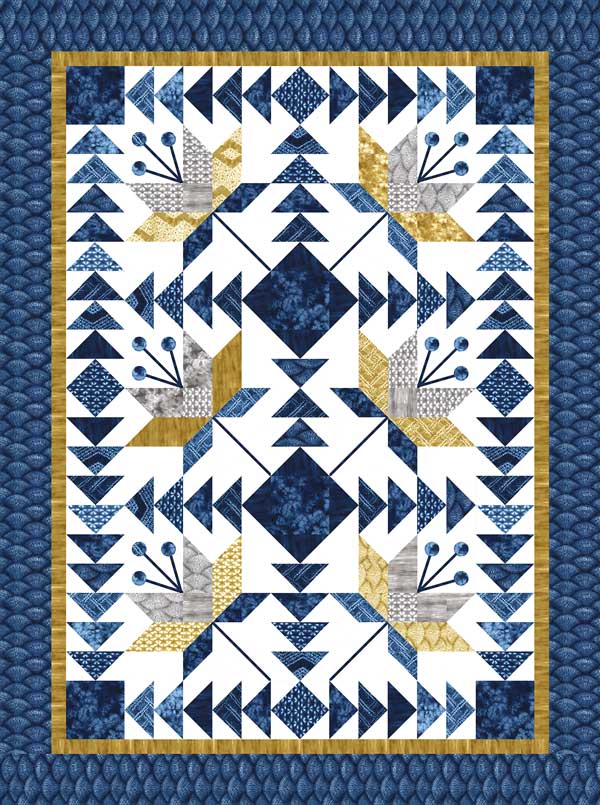 This is the queen-size quilt version with a more traditional border, it finishes at 84" x 108".  It too is made with two Tochi Layer Cakes for the geese and flowers.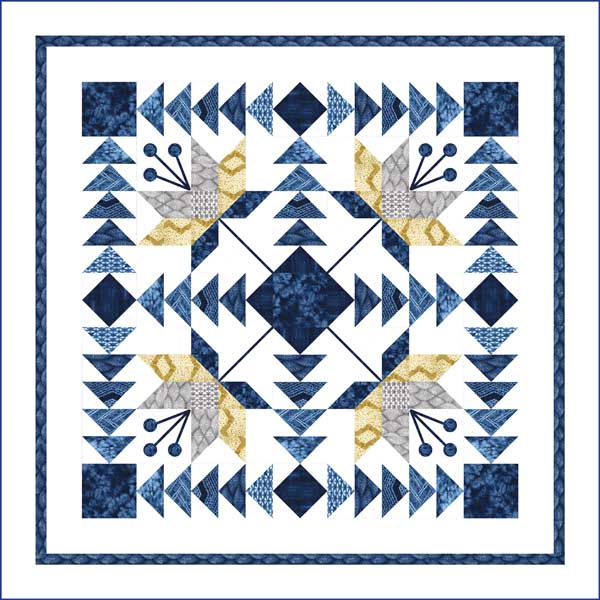 The king size is 110" X 110" and is made entirely with yardage. It is unique in that the flower blocks are all identical. The larger pieces make it easy to piece a king size quilt in less time.  Geese in the Lillies is CCQD 177 by Calico Carriage.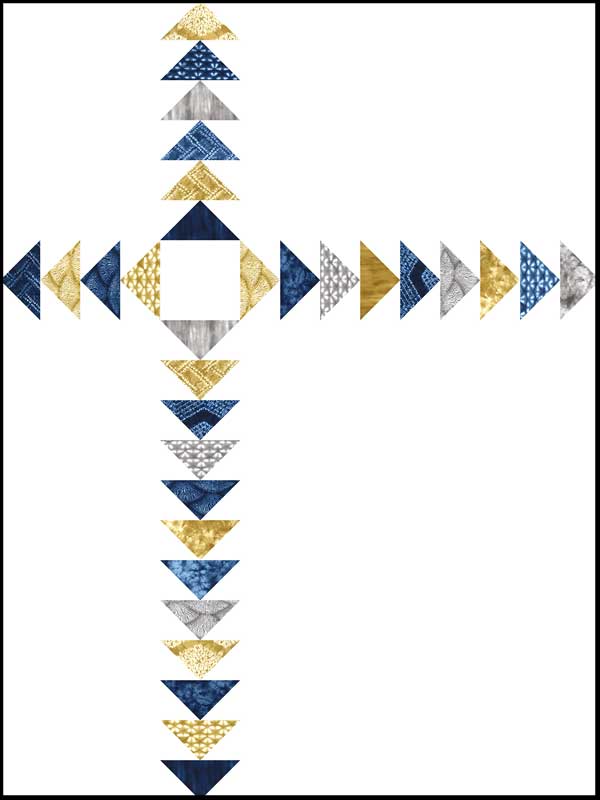 My second new pattern for Tochi is called Flight of Fancy and is also made with Layer Cakes. There are two views or layouts for the flying geese blocks.  (It is CCQD 176.)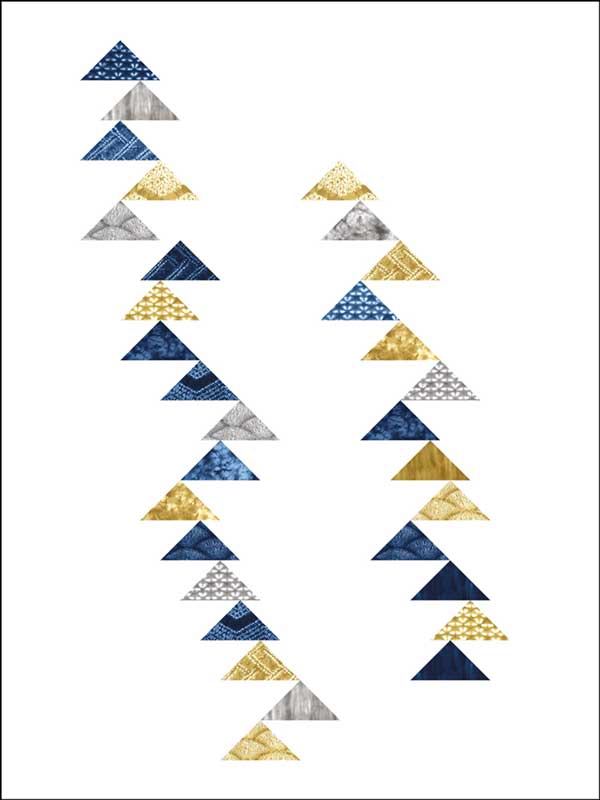 Both Flight of Fancy quilts are 60" X 80" finished, and both make great couch quilts.  If you want a bigger quilt, simply adding borders will make this quilt queen-size.  
As I wrote earlier I love to teach, and I do travel extensively to teach both quilting and my shibori/indigo dyeing. Check my calendar for my schedule or invite me to teach for your special group, guild or shop. You can also sign up for my newsletter on my website.
I hope to meet many of you in the future.
Debbie
Ask for Tochi at your local quilt shop.
For more with Debbie Maddy:
All images are by Debbie Maddy.