UnBoxed - Smoke & Rust
There is something sacred about being in the mountains.
Walk along the misty trail and fall in love with colors intensified by an overcast sky. In my desert home, much of the earth is framed with rust-colored mountains and majestic stone cliffs. Some have been brushed with strokes of charcoal to match the richness of the lava fields. Autumn often arrives late, and if you're lucky, you may get a glimpse of a drying leaf with the lightest dusting of snow. The birds flying through the mist are silent… like me, they feel the reverence of being in such a mesmerizing place. Nature has many kinds of beauty; the Smoke & Rust collection evokes the colors and textures of my beloved home and is designed for masculine and modern tastes alike.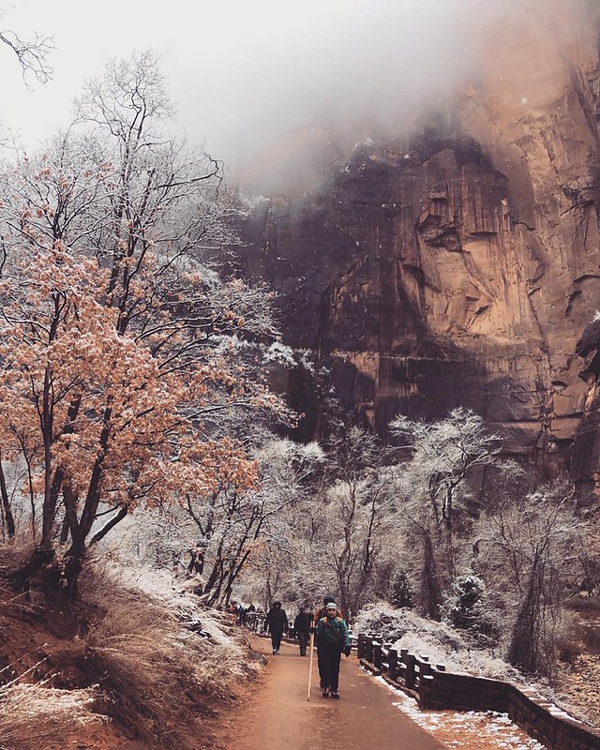 I'm Vanessa Goertzen - the designer behind Lella Boutique and this Smoke & Rust collection. I wrote those words about my home in southern Utah, approximately 45 minutes from Zion National Park. It's one of my most treasured places to visit. Inspiration for Smoke & Rust struck one particular snowy afternoon in December, 2019, as I was walking on the Narrows Trail. I don't usually visit Zion when it's snowing, and was completely taken with the striking colors Mother Nature had cooked up that day.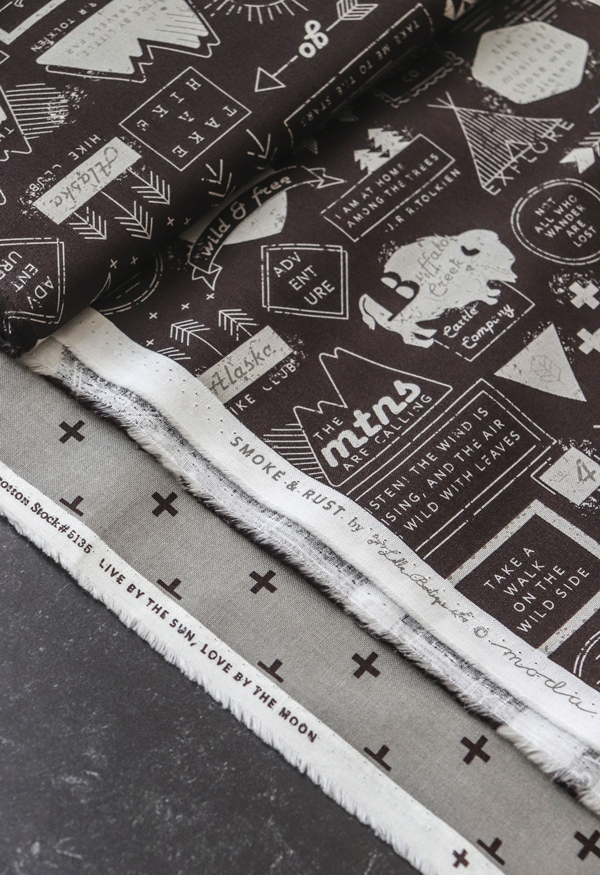 The Smoke & Rust collection is different from the flowery collections you may know me for. I like to switch things up and this time around, I wanted to design a collection for everyone—especially fellas—who are sometimes hard to shop and make things for. There are four new quilt patterns for the collection - plus two pattern reprints that were begging to get dressed up in Smoke & Rust.
Fracture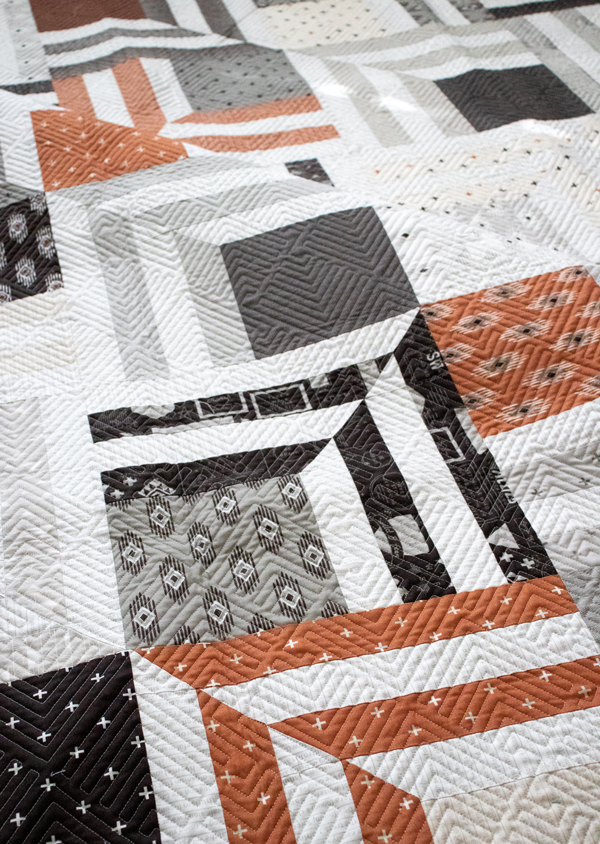 Fracture is a modern log cabin quilt design made from fat quarters or fat eighths - depending on how much variety you want.  It is LB195 - finishes at 60" x 72".
Mountainside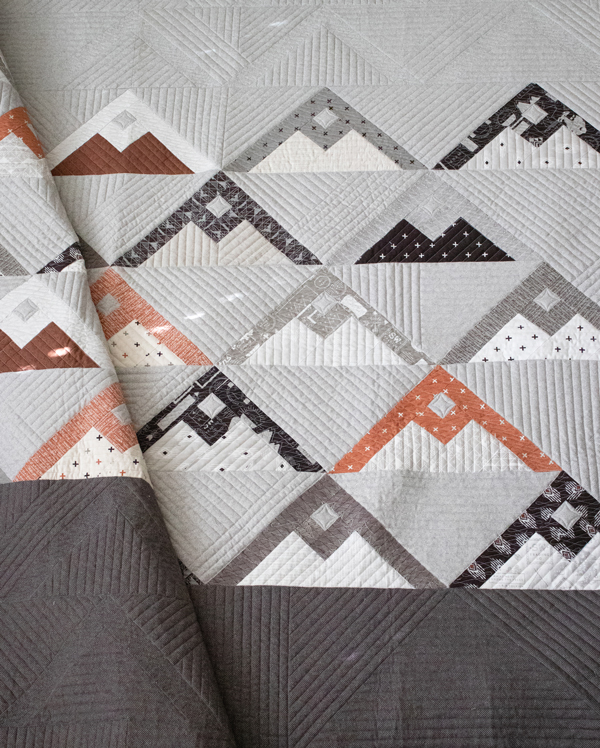 This mountain quilt has lived in my heart for a very long time. Mountainside is a fat-eighth quilt and can be made two different ways - with an accent stripe at the bottom...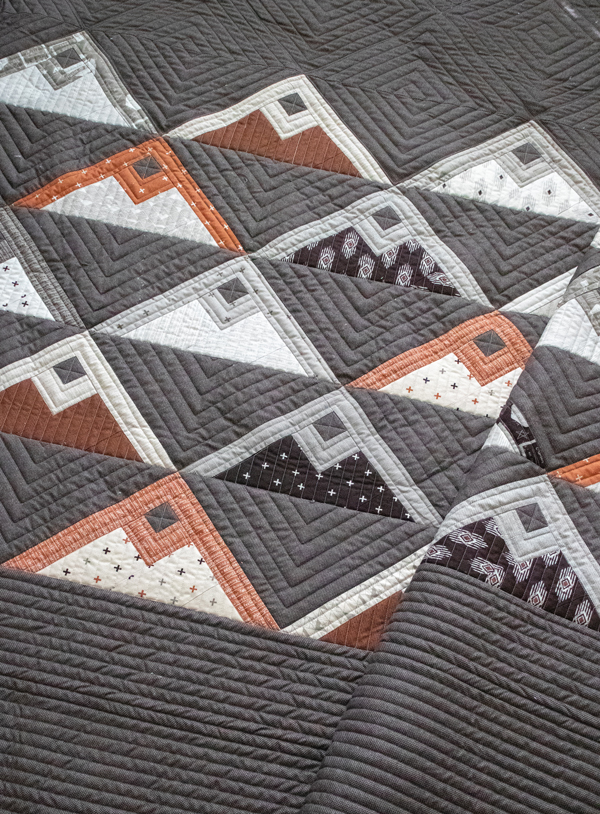 Or with a single-print background. I couldn't decide which version I liked best, so I pieced both, and wrote the Mountainside pattern for the two options. LB196 - 68" x 72".
Moonwake
Moonwake is made with sixteen (16) fat quarters. I picked out just charcoals, greys, and a few creams for this one. LB197 - 71" x 71".
Concord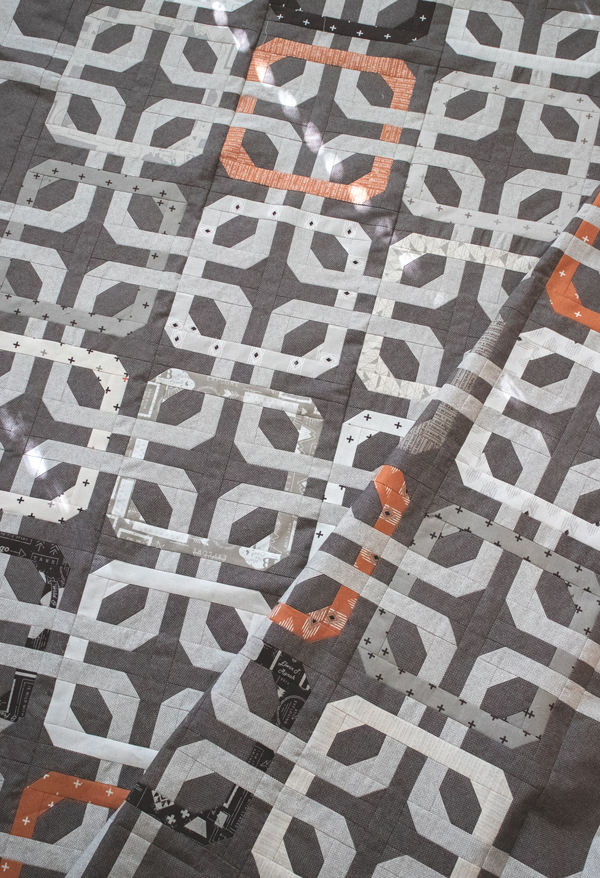 Concord is made with 1 Honey Bun (1.5" x 42" wof strips) of Smoke & Rust. The blocks give the illusion of overlapping and are fun to look at. LB198 - 69" x 69".
Hot Cross Buns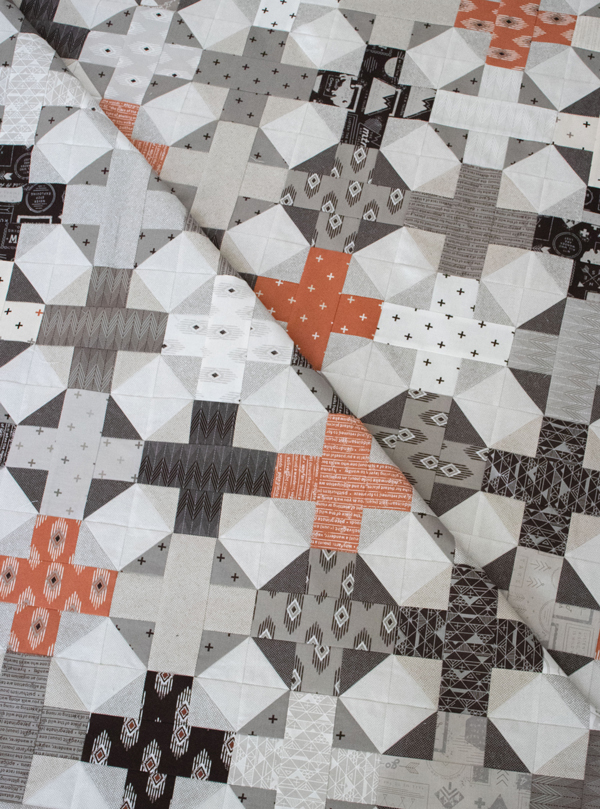 Hot Cross Buns is one of the pattern reprints and a bestseller in my shop. Hot Cross Buns can be made with 1 Jelly Roll (2.5" x 42" wof strips) or 1 Layer Cake (10" squares). LB130 - 65.5" x 75.5".
Trinkets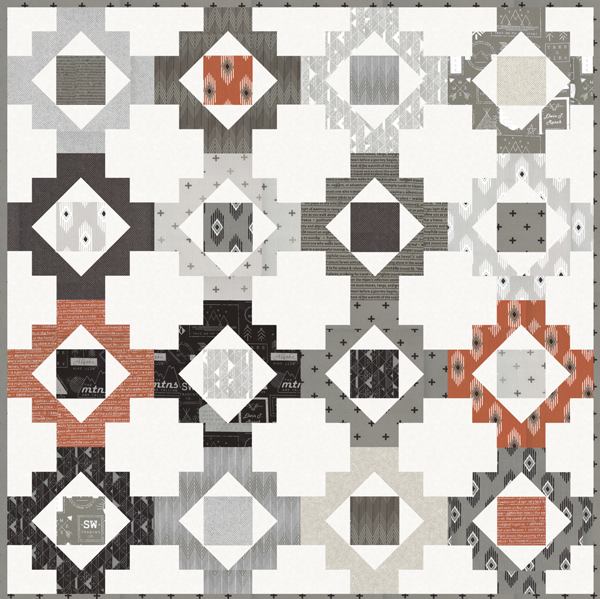 I haven't had time to piece this one yet, but Trinkets is another pattern reprint. The geometric quilt blocks make it a great pattern to show off any fabric collection - but especially Smoke & Rust. LB162 - 72" x 72"
Coordinating Solids
A quick word about solid coordinates. Keep in mind there is already a near-solid print within the Smoke & Rust collection called "Crackle" for each color - it's what I used for all the backgrounds of the quilts shown.  It reads as solid overall but adds the illusion of texture. I recommend stocking up on "Crackle" for backgrounds when purchasing this collection as they will sell out quickly.
That being said, here is a list of the best Moda Bella solid + BasicGrey Grunge coordinates I could find. (I couldn't find a match for every color.)
30150 310 - "Expresso" Grunge
30150 163 - "Grey Couture" Grunge
30150 278 - "Gris" Grunge
30150 91 - "Vanilla" Grunge
9900 285 - "Unbleached" Bella
9900 98 - "White Bleached" Bella
I hope you enjoy this collection. To see what I'm working on, come hop over to my blog, and find me on Instagram - @lellaboutique.
Vanessa
Be sure to ask about Smoke & Rust at your favorite quilt shop.
For more with Vanessa Goertzen -