Summer in the Country: Lemonade
Summer in the Country: Lemonade
Inspired by relaxing with friends on a lazy summer afternoon, porch swings, iced tea and laughter, Summer in the Country is here.  Using Back Porch by Me & My Sister Designs, this collection will be in shops in August.
Lemonade uses templates. Read through the instructions and then print out the templates from the Printer Friendly file and the end of the post.

YIELD
12" finished block
INGREDIENTS
FROM FABRIC A, CUT:
* 4 template A1 pieces
* 4 template A2 pieces
FROM FABRIC B, CUT:
* 4 template B pieces
FROM FABRIC C, CUT:
* 8 template C pieces
FROM FABRIC D, CUT:
* 4 template D pieces
INSTRUCTIONS
Step 1: Star Points Units
Using 1 template A1 piece, 1 template A2 piece, and 1 template C piece, make 1 unit as shown.

Repeat these steps to make a total of 4 units.
Step 2: Block Center
Using 2 template D pieces and 2 template C pieces, make 1 half square unit, shown. Sew a D to a C, then sew on a D, then fi nally sew on a C. 

Repeat these steps to make a total of 2 half square units. Join the two units to make the block center.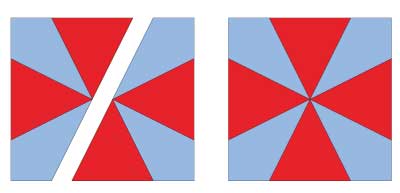 ASSEMBLE THE BLOCK
Join block units as shown. Trim block to 12½" unfinished size.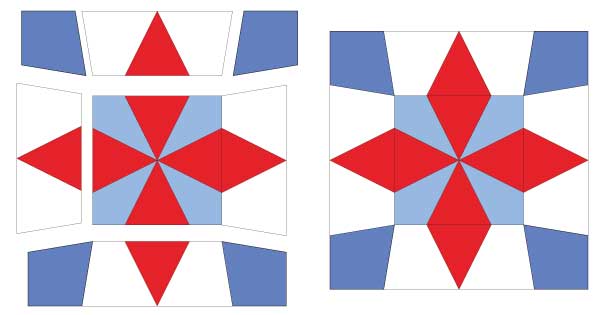 Jessica Dayon