Stitch Pink Block 8
Geese.  Flying.  Home?  Maybe it's the red, it reminds me of "ruby slippers"... there's no place like home.
Fly Away Home is also a movie I liked.  It dramatized the story of Canadian arist and naturalist, William Lishman, who became the first person to lead a flight of Canadian geese with an aircraft.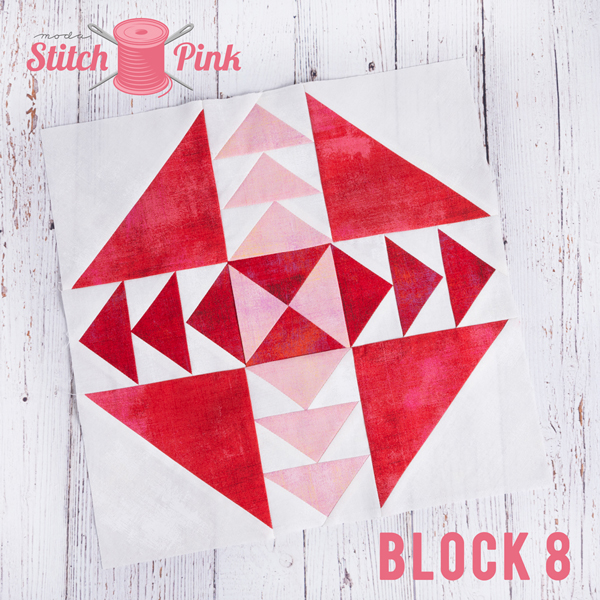 Click Here for the Instructions >> Block 8 - Fly Away Home.

If you're using a Stitch Pink Grunge Kit, the kind folks in Quality Control have added a notation to cut a 10-1/4" square of Grunge #30150 254 for Block 14 before cutting the B square.
Are you a fan of Bloc-Loc rulers?  This block would use the Bloc-Loc Flying Geese ruler for 1-1/2" x 3" Finished size.  The C, D, and E squares will be cut a bit larger - 1/4" for D and E, and 3/8" larger for C.  The Simple Folded Corner ruler also works here, especially if you over-size the small triangles.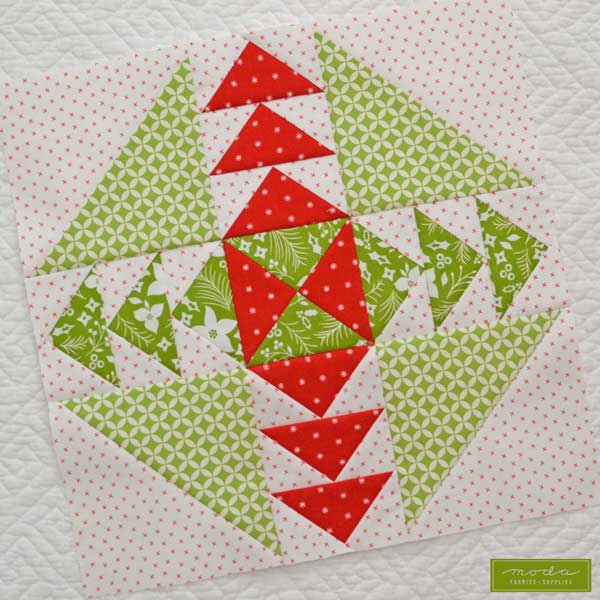 I think I'm going to need a Stitch Christmas quilt.  Soon.  This is Greg's block, mixing Fig Tree's Christmas Figs II and Corey Yoder's Holliberry.  Both collections are in shops now.
And a Stitch Susan.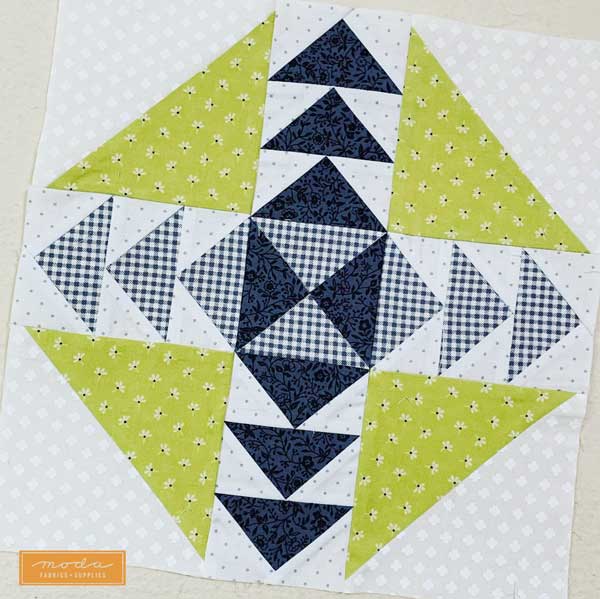 The fabrics Susan pulled for her quilt were inspired by Halloween, and her blocks include a mix of Black, Green, Orange, and Gray.  I love that she used two backgrounds, one for the geese and one for the large HTSs. 
#ModaStitchPink on Facebook and Instagram - you know about that, right?  We hope you're sharing your blocks too.
Do you want to receive these blocks via e-mail?  We can't add you, but you can subscribe to the Moda Inspiration+Resources blogs - E-mail Sign-Up.
If you've missed anything we've shared so far - Stitch Pink Archive.
The last thought to share today, from What Happened to Goodbye by Sarah Dessen.
Home wasn't a set house, or a single town on a map.  It was wherever the people who loved you were, whenever you were together.  Not a place, but a moment, and then another, building on each other like bricks to create a solid shelter that you take with you for your entire life, wherever you may go.
I hope you're home today.
Stay well and we'll be back tomorrow.