Stitch Pink Block 4
This is Block 4 - Flower Power. 
Knowledge is power, and when it comes to beating breast cancer, education and awareness is key.
The first thing to share today is a huge Thank You.  I have loved reading your comments, and I wish I could answer all of them.  To everyone who is, or knows, a cancer survivor, we're so happy you're here.  Two of my dearest friends are survivors, and I know many others.  I often feel powerless on how to support them, to be there for them, as this has not been my lived experience.  So I stand in humble awe at the strength and resilience of every woman - and man - who has battled breast cancer.  And any kind of cancer.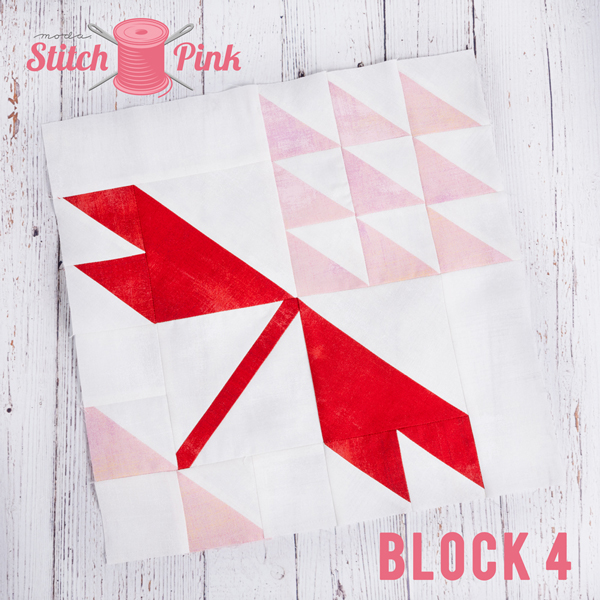 For the block instructions >> Block 4 - Flower Power.
Cutting.  When you're cutting strips for the blocks, cut your strips on the lengthwise grain - parallel to the selvage.  
I've been told that folks in the office cut out the entire quilt from the kit yesterday, and they'll be letting me know if there are additional changes to the cutting or instructions. 
The one thing to mention for this block is the stem.  The rectangle is long enough that it should extend all the way to the trimmed point on both ends.  But don't worry too much if it doesn't, it only matters that it's within the seam allowance after the sections are pieced.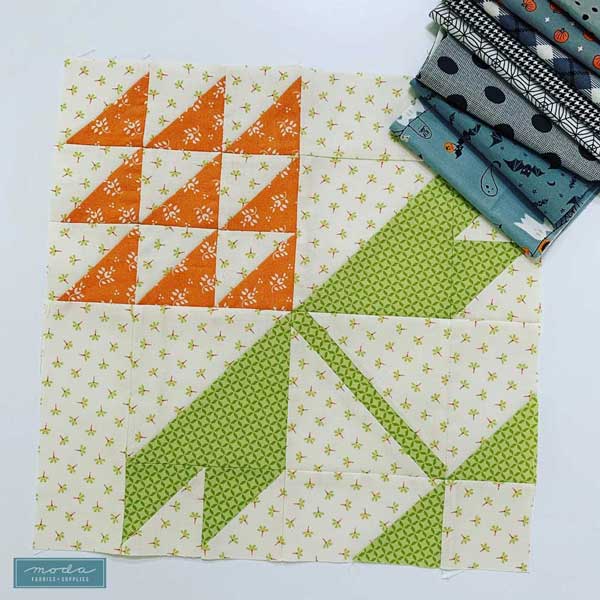 Susan Ache is quilting-along for Stitch Pink, and she's using a funky mash-up of Halloween-inspired colors. 
This is another of Judy's blocks.  While I've shared two blocks that both had a darker background, many of her blocks have a light background.  You'll have to wait and see how it turns out. 
E-mail Update.  We can't add you to the e-mail list for blocks or for blog posts.  You must sign-up yourself.  To do that, here is the link to the sign-up >> E-mail Sign-Up.
Spam?  To avoid triggering a spam filter, the e-mails with the links to the blog post and pattern must be sent in batches.  With the number of e-mails being sent out, that is taking several hours, and the process doesn't start until after the blog post publishes.  Starting this week, the posts are scheduled to post before 6:00 am CST.  The techies are trying to speed up the process to deliver the blocks more quickly.  
Be sure to take a peek at the Stitch Pink quilt-along on Facebook and Instagram - #ModaStitchPink.  And don't forget to share your blocks!
If you've missed any blocks - Stitch Pink Archive.
For General information about yardage - We're Stitching Pink.
Block 5?  That's tomorrow.
And later in the day, we will have something else to share.
Stay well.