Stitch Pink Block 16
Just Call Me A Diva.  One of Moda's favorite designers is a Diva - a Patchwork Diva.  This block was used for one of their exchanges.
(If you're curious, look up 19th Century Patchwork Divas Treasury of Quilts by Betsy Chutchian and Carol Staehle, published by Martingale.)
A true diva is graceful, and talented, and strong, and fearless and brave, and someone with humility.  Beyonce.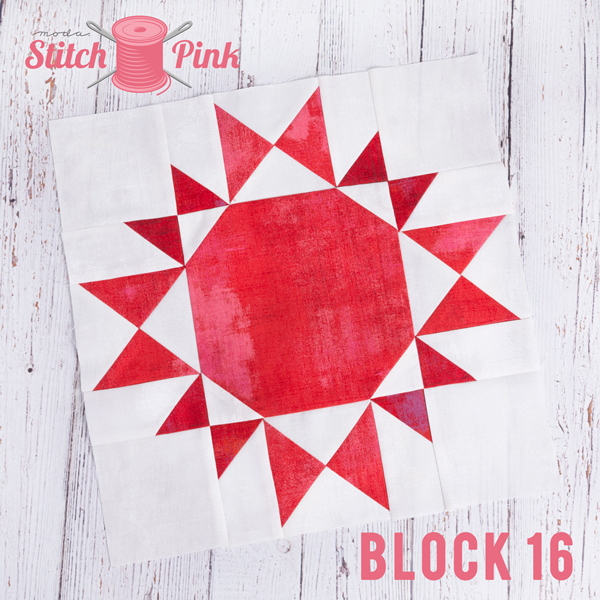 Block Instructions >> Block 16 - Just Call Me A Diva.
Useful tools for this block - the Simple Folded Corners Ruler by Antler Quilt Design for the folded corners, and a small square ruler for trimming the quarter-triangle squares.
This is another one of my favorite blocks that looks more complicated than it really is.  As for options, use a third fabric for the D and G squares to create a "corona" around the center square.  And of course, scrappy.  Use one fabric for the B squares, another for the E squares, and a third for the center F square.  (Do you see a quilt made with just this block in my future?  I do.)
Block 14.  A few folks are struggling with Along Came Mary, so I'll be updating the blog post in a few days to share a few tips that I hope will help. 
As always, all the blocks and info about this Sampler can be found here - Stitch Pink Archive.
For inspiration and color options, we're using the hashtag - #ModaStitchPink - to share blocks on Facebook and Instagram.  (We hope you do too.)
As you're stitching these blocks, I hope you know you're making art.  Art is "the expression or application of human creative skill and imagination."  It's as simple as that.  Even if you're following a pattern, and using a kit, you're still expressing yourself. 

Art is... making people think that for that precise moment in time, there is only one way - one voice.  Yours.  Maria Callas. 
Have a happy, safe Friday.