Seeing = Sewing
As we adjust to a different kind of daily life, many of us are finding a bit of comfort in our sewing rooms.  We might be finishing quilts for family, and making face masks for those in need.
With different schedules and responsibilities at home, when we get to sew might have changed.  Sweet friends who were able to sew a few hours every morning are now sewing in the evening, sometimes late at night.  So our lighting needs have changed as well.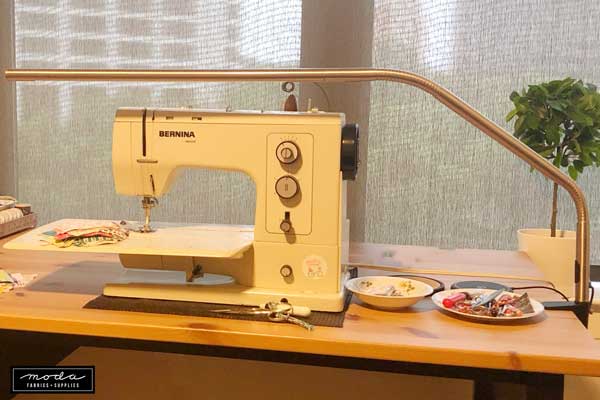 There's another change that probably needs to be acknowledged.  That aging thing.  Our eyesight isn't quite what it used to be.
I have experience with that.  Ten years ago, after patting myself on the back for closing in on a "big" birthday without needing glasses, threading needles became more difficult.  I thought it was the result of a conspiracy perpetrated by the needle and lighting companies.  The eyes of needles were smaller - even on packages of needles I'd bought a year or two before - and light bulbs weren't as bright as they had been.  A bit dramatic?  Of course it was.  An eye exam and a couple of pairs of readers helped.  Brighter bulbs in the overhead lighting and a good sewing/craft lamp for my sewing table made an even bigger difference.  You might call it a game-changer.    
It was eye-opening.
What was an even bigger surprise was that the mild headaches I was getting after sewing for many hours disappeared.  As did the itchy eyes I attributed to allergies.  Eye strain.  Who knew?
Good lighting matters.
With these notions posts, our goal is to share a variety of options.  Only you know what your needs are, and what will work for your sewing space.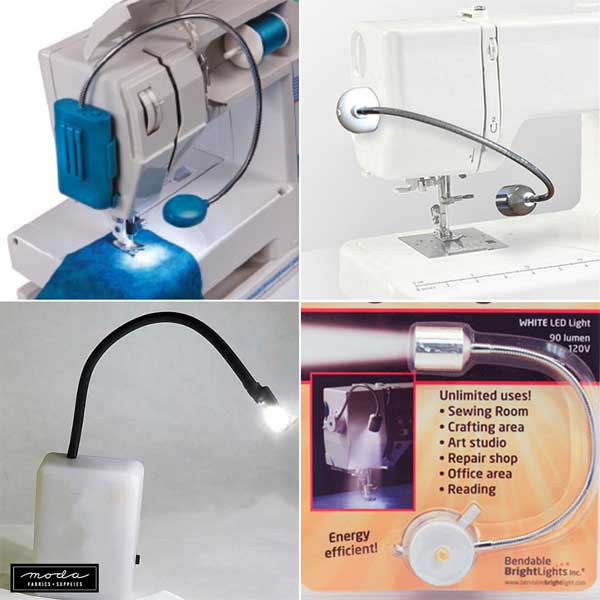 Let's start with small lights that can be attached to your sewing machine to shine light where you need it most.  
Clockwise from upper-left:
If you need flexibility and portability, this set of two LED Cordless Desk Lamps are bright, compact - 7.5" tall - and they also work in an emergency.  Each requires 3 AA batteries.
This Stella Two Desk Lamp is bright and versatile.  It works on the table you use for machine and hand-sewing, cutting and trimming, and in offices.  The Stella Two Desk Lamp comes in Black and White.  Stella also makes a terrific floor lamp in this style - Stella Sky Two Floor Light in White and Stella Sky Two Floor Light in Black.
If you need a magnifier, this Halo Table Magnifier from the Daylight Company is a good option.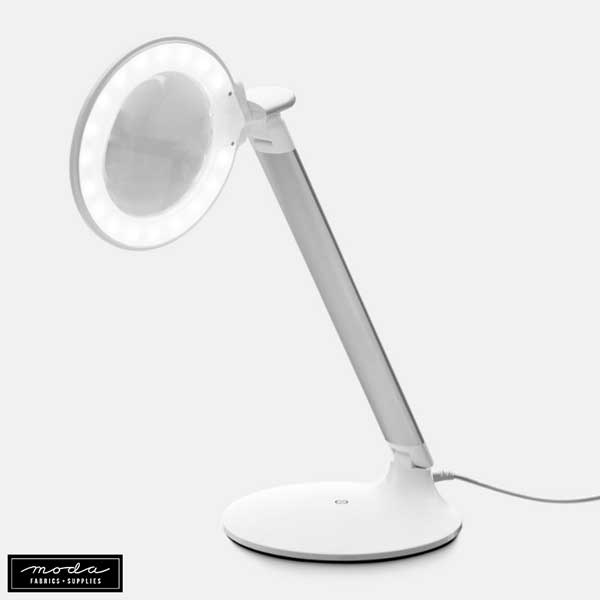 This Halo Table lamp is a daylight-bright LED light with a 2.25x magnification, and a 4x magnification insert.  It is 13" tall with a 5" diameter light/lens and 6" diameter base, and it folds flat when not in use. It plugs into a wall socket for power.  
The last light to mention is this one - it's also in the first picture.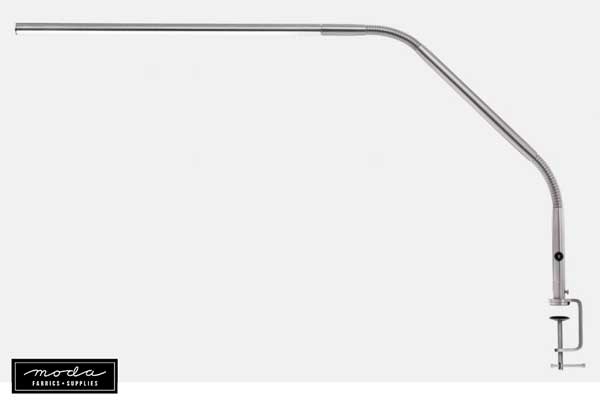 The Daylight Slimline 3 LED Table Lamp.  The Slimline Table lamp comes in Brushed Steel - shown above and Rose Gold.  The lamp comes with a clamp that attaches to the side of a table to keep the sewing space clear.  If the table doesn't allow for that, there is a base available to convert the lamp into a table model.  (The base is only available in Brushed Steel.)  There is also a Slimline 3 LED Floor Lamp. 
This is the style lamp I have used for more than three years.  (Maybe four.)  My lamp is an earlier model so while it does not have four different levels of brightness of the Slimline 3, it has the same flexible joints that allow me to move and position the 15" of lighting just above my machine for a low profile - it illuminates my sewing machine without being in my line of vision.  
So what are your lighting needs? Do you have a favorite lamp?
Leave a comment by Midnight on Sunday, April 12, CST, sharing that with us and you'll be entered to win a Daylight Halo Go Lamp and some Moda goodies.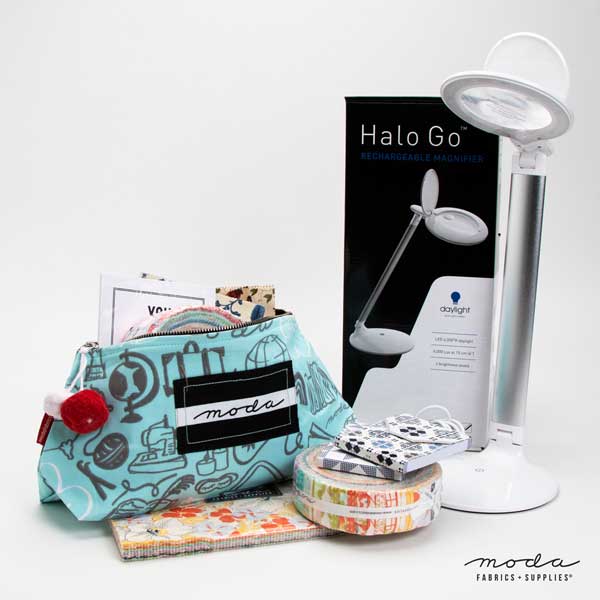 There is a Layer Cake, Jelly Roll, charm packs, mini notes, a large Market zipper bag and maybe a few other little things tucked in.  
Have a good day and stay safe.