Sampler Spree QAL - Week 1
Sampler Spree QAL - Week 1
Color.  Blocks.  And a chart to keep track!  We've got several things to share this week.
We're diving into our Blue scrap bin this week - medium blue.  Not aqua.  And not navy.  Cornflower.  Delft.  Powder. 
American Jane.  Stacy Iest Hsu.  Me & My Sister.  Should we use them all?
There are ten blue Sampler Spree blocks.
#3 - Susan's Chain
#17 - Propeller
#34 - Buoy
#42 - Building Blocks
#55 - Good Vibrations
#68 - Mixed Nine-Patch
#80 - Rocky Road to California
#86 - Double V
#91 - Grandma Knows Best
#99 - Fancy Frame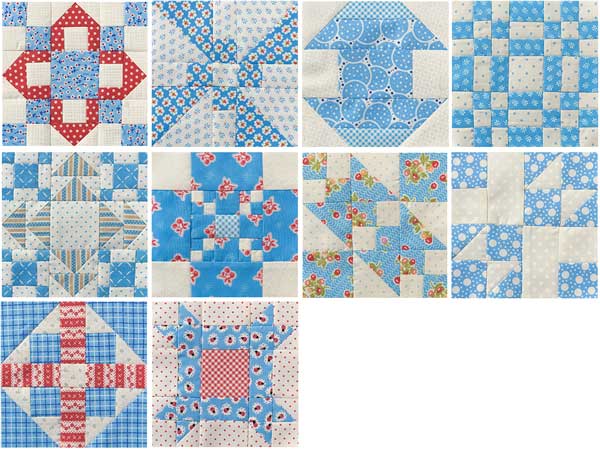 If you make all ten blocks by next Wednesday - good on you!  If you make just one - good on you too!  And if you just save the list, pull out some blue fabric and dream about pretty blocks, you're my people!
Our sweet friends at Martingale put together a slide-show of the blocks.
Keeping track!  One of our quilting-along friends is Susan Vaughan, and when she shared a chart her daughter, Sophie, had made for her to keep track of each week's blocks, we wanted one too!  So we asked Sophie if maybe she might... could she possibly... make one that we could use?  She created two - a Sampler Spree Quilt-along Checklist, and a Weekly Sampler Spree Checklist.  And could she please sign them?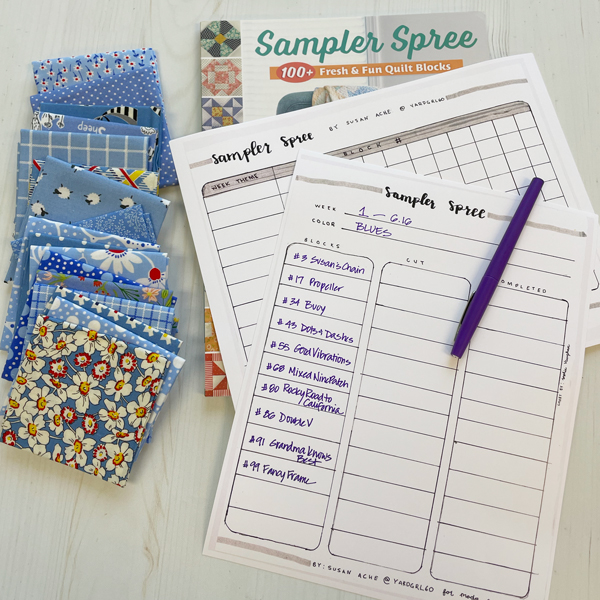 How perfect are these? 
One of my favorite things about quilts, and making them, is that they tell stories.  Janet Clare wrote in her book, The Wordsmith, "I read somewhere that life is a quilt, with each individual day being a seam in a large, pieced cloth.  Some seams are awful, some are nice, a few are close to perfect, but if you chose to worry over each tiny detail you miss how colourful, interesting and just plain marvellous the whole blooming thing is."
I love that Sophie and her chart will be a part of my Sampler Spree quilt story.
If you'd like to make it part of your quilt story: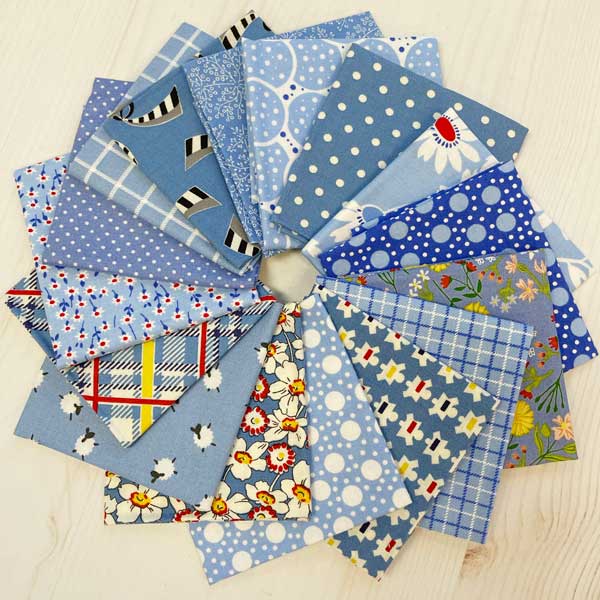 More blue.  Just because. 
Have a terrific week!
For a PDF of this post - Sampler Spree QAL - Week 1
And if you missed any of the Sampler Spree blog posts - Sampler Spree Quilt-Along