Quilters Take a Moment
While we're going to miss going to New York City in September, we're excited to share the 2020 Quilters Take a Moment event because it will be a bit easier to attend.
If you're not familiar with the event, it is the bi-ennial fundraising event held by The Quilt Alliance.  The Alliance was formed in 1993 to centralize infomation about quilts and quiltmaking, and to preseve it.  The organization grew to include a distinguished group of quilt scholars, artists, experts, and enthusiasts whose purpose was to gather and share the tremendous body of information about quilts, and especially about quiltmakers. 
We shared the Quilters Take Manhattan event in 2014 - Quilters Take Manhattan - and in 2016 - Quilts. Stories. New York City.  (We were there in September 2015 - the event was so big, Pope Francis was in town but couldn't get a ticket.)
Mark Dunn and Moda Fabrics have a longstanding relationship with the Quilt Alliance, with Mr. Dunn serving as Vice President of the organization.  Moda Fabrics is a supporter of the Alliance, and the Presenting Sponsor for this year's Quilters Take a Moment.
The program that had been planned for this September in New York City will now be presented online - presentations, interviews, panel discussions, a gallery tour and new, interactive breakout sessions.  This means we can attend from the comfort of our living rooms, and we can wear our "Zoom shirts"!  (It really is a "thing".)
This year, Josh Dunn will Emcee the festivities.  The Keynote Speaker this year is Anna Maria Horner, presenting "The Lifespan of a Quilt", a look at one of her quilts from inspiration to the final label.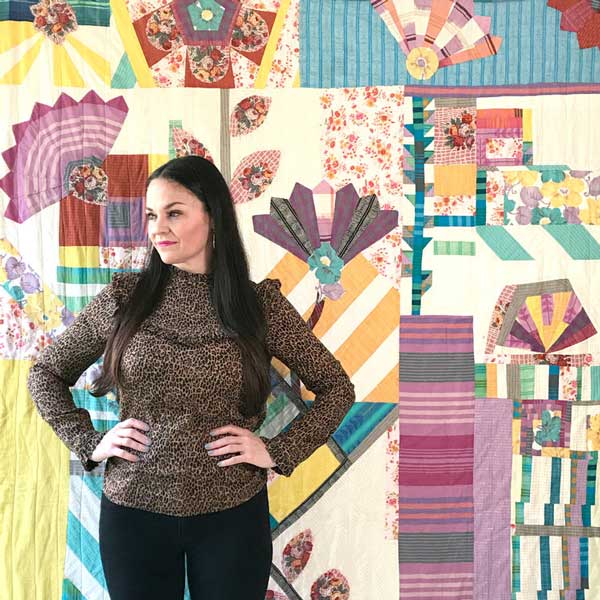 A recorded panel discussion "The Quilt Keepers" will be followed with a live question-and-answer period so attendees can ask questions.  The panel will be moderated by Janneken Smucker, and will include Emily Bode, Dr. Carolyn Mazloomi, Julie Silber, Merikay Waldvogel and John M. Walsh III.  For more information - 2020 Speakers and Presenters.
Quilter's S.O.S. Save Our Stories will present an oral history interview with Dindga McCannon, an African-American artist, fiber artist, muralist, teacher author and illustrator.  She started working as an artist in the 1960s and her work mixes traditional needlework and fine art mixed media techniques.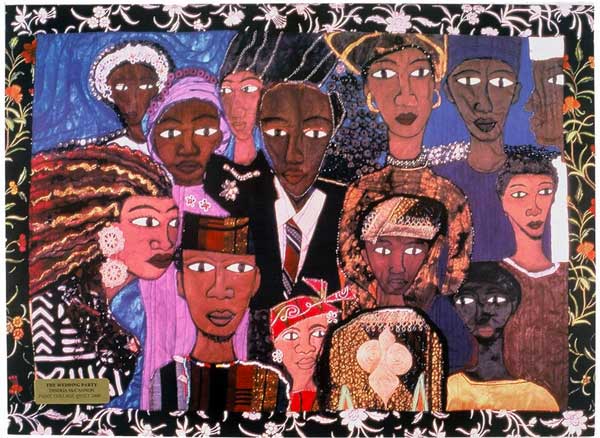 The Wedding Party by Dindga McCannon.
The interview will be conducted by Dr. Carolyn Mazloomi, an American author, curator and quilter.  As a strong advocate for presenting and documenting African-American-made quilts, Dr. Mazloomi's quilts tell the stories about African American heritage and contemporary experiences.  She is the founder of the Women of Color Quilters' Network and on the Board of Directors for the Quilt Alliance.
Quilters Take a Moment will also debut the exhibit Known & Unknown: Revealing Quilt Stories.  Twenty-five quilts from three centuries, with stories ranging from subtle to sappy, owned by collectors, dealers, families and makers from around the United States will be shared virtually.  Each quilt will include a video abou the quilt recorded by the maker or owner.

For more information about the Event - Quilters Take a Moment.
Quilters Take a Moment will take place on Friday, September 25 and Saturday, September 26. 
Live-streamed events will be recorded and available after the event for ticketholders to view at any time.
We'll be there and we hope you will be too.