Make & Take - Christmas Village Pillow
Make & Take - Christmas Village Pillow
I'll Be Home For Christmas.  Home for the Holidays.  Deck the Halls.  
The first title is one of my favorite carols, though it always feels more like an actual song to me than a "Christmas carol".  The Little Drummer Boy and Good King Wenceslas - those are carols.
Back to the subject at hand... so much of the holidays is about being home.  It's one of the reasons we decorate, even if it's just for ourselves.  That's why I love this Village pillow made with Christmas fabric.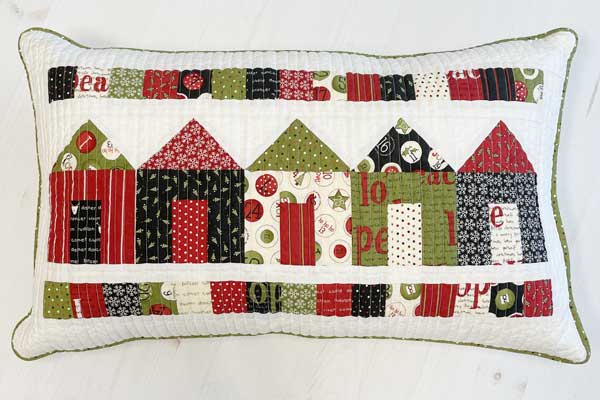 This pillow was made many years ago using Sweetwater's Countdown to Christmas collection - circa 2011.  (It was a favorite collection for many.)
We have three new versions of this "in the works", and we'll share those soon.  They've been pieced, and are currently being quilted.  (The collections we used are the in-shops-now Me & My Sister Designs' Merry & Bright and Lella Boutique's Christmas Morning. BasicGrey's Hustle & Bustle is the third collection, it will be in shops the end of August.)  
We shared this a few years ago, but it's been updated.  It still uses the same house block as the Moda Village quilt, but there is a different construction method for the roof as there are only five houses to make. 
Christmas Village Instructions
I also want to share the finishing for this pillow as it's an older technique that you might not be familiar with.  I first ran across it almost twenty years ago, and I believe the idea originated with Lynette Jensen of Thimbleberries fame.  Since she had many, many cool ideas, and the pillow I saw was one of hers, that's who I am crediting.
Binding.  Seriously, that's all it is.  The front and back of the pillow are layered with wrong sides together - right sides out - and bound like a quilt.  If you cut your binding strips at 2½", you're good to go with a ¼" seam allowance.  Since I usually cut a 2" binding, I cut my strips at 2¼" to allow for that extra layer of fabric.  (I also use a thin batting on pillows.)
The binding on this pillow cover was stitched to the front, folded to the back, and hand-stitched.  
If your go-to method for binding is machine-stitched, go for it!
Rounded corners?  I use a mug, bowl or plate to draw the curve - whatever is handy, and gives me the curvature I want.  
When I made this pillow almost ten years ago, I was experimenting with different methods of closure, so this pillow has an envelope closure with buttons.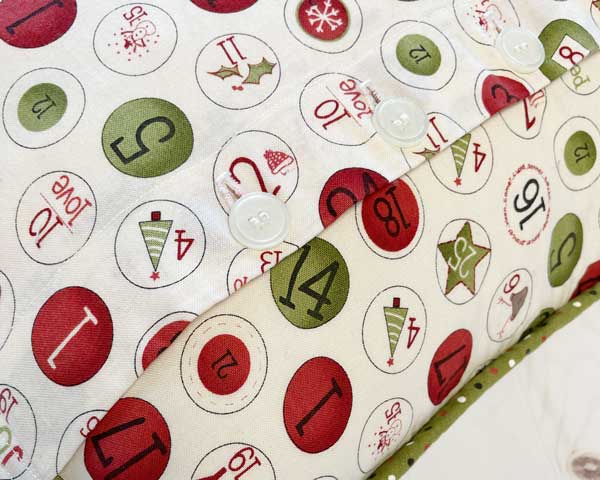 Buttons mean buttonholes, so if that doesn't rank highly on your to-do list, use your preferred method of closure.  
Just in case you missed it - Christmas Village Instructions
It goes without saying that a Halloween, Thanksgiving and/or Valentine Village would also work.  As would a patriotic color scheme, and something very scrappy.  Or maybe just a really happy, colorful Village for your kids and grands. 
If you're not familiar with the Village Quilt, you can find those instructions here as a Free Download - Village Quilt Pattern.
Village was published in 2015.  Using as assortment of ten charm packs inspired by an array of fabrics laid out before Spring Market 2015, the quilt was based on the Full House Schnibbles pattern by Miss Rosie's Quilt Co.  The Village pattern quickly became one of the best-selling patterns at Moda Fabrics/United Notions, and it was used for several quilt-alongs over the years.  During last year's lockdown, Moda released the pattern as a Free Download.  You can read more about that here - One Village ~ Together.
We're back soon with more Christmas Make & Takes.