Letters to Santa QAL - Sept 25
Letters to Santa QAL - Sept 25
Merry 25th of September!  This is our third check-in post for the Letters to Santa QAL.  Read on for sashing/assembly instructions for a batch of 5 words from the main Moda quilt, 2 filler block patterns, and instructions to make a CHEER-ful pillow using elements from the QAL.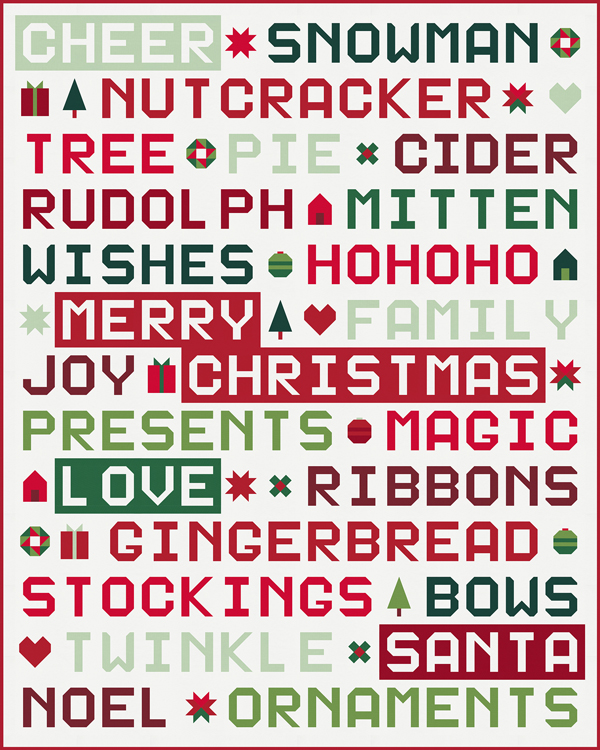 For a reminder of all the details about the Letters to Santa QAL, see the Intro blog post here about the quilt-along, and get the previous QAL posts from July here and August here.  This is a 'relaxed fit' quilt along, where we just want to have some fun with Christmas words with all our extended Moda family!  We have our quilts planned, but feel free to jump in with whatever words you like best!  The main Moda quilt will finish 75"x94", and include 25 words and 27 filler blocks total.  The lettering pattern used is the Mini Alphabet Quilt by Primitive Gatherings, which you can find at your local quilt shop.
THE BLOCKS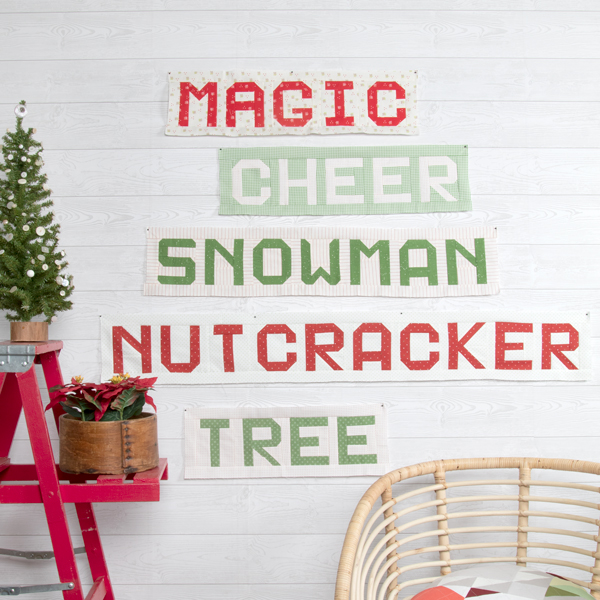 There are 25 words total in Moda's quilt, which means we're sharing the setting instructions for 5 blocks at a time.  Download a PDF with all the piecing details for September's words here.
The blocks shown are from Moda's Lissa Alexander's version of the quilt, made using scrappy reds, greens, and low volumes. And Lissa is adding even more fun blocks you can see on Instagram https://www.instagram.com/modalissa/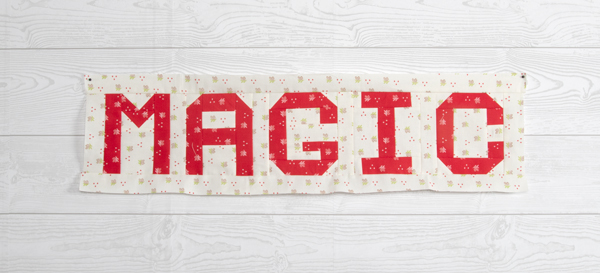 MAGIC
CHEER
SNOWMAN
NUTCRACKER*
*Make sure to download the block instructions for this month, because we've included simplified cutting & piecing for the K, N & R that should be a big help on Nutcracker in particular!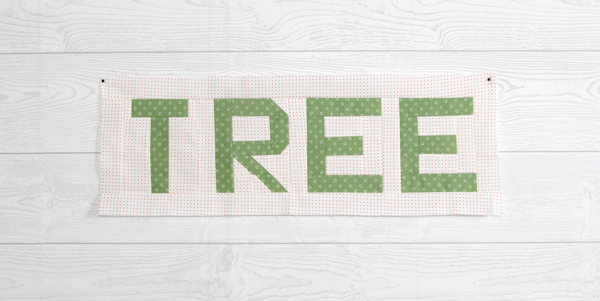 TREE
FILLER BLOCKS 6 & 7
There are also two filler block patterns to share this month. Like the blocks from last month, these are made by Moda's Tammy V. using Candy Cane Lane fabric by April Rosenthal (with a bit of Bella Solids).
If you're making the Moda version of this project, you'll make 3 EACH of each filler block.  Click the links for each below to download.
You can see here where all of these blocks fall in the Moda quilt layout: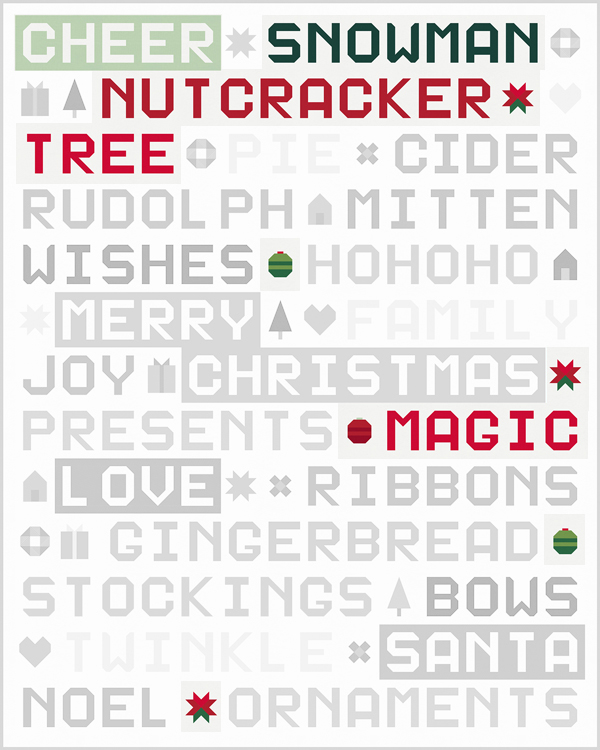 Not to fear, the exact Bella Solids shown in this quilt mockup are listed in each of the pattern downloads!
BONUS PROJECT:  CHEER PILLOW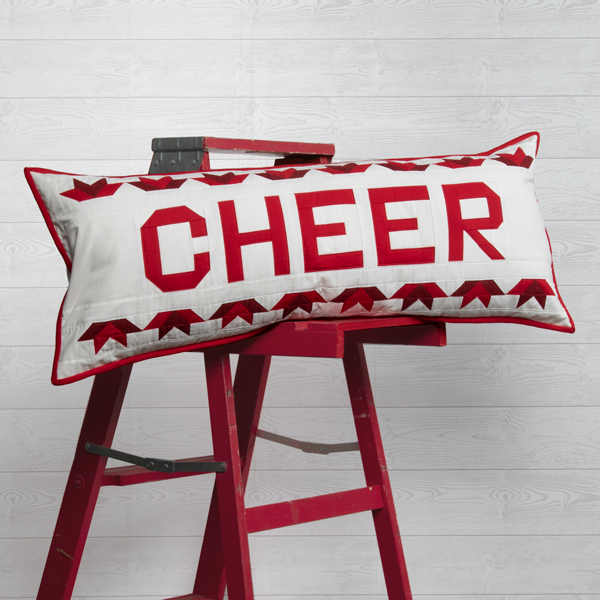 The bonus project for this month is this super CHEER-ful pillow!  Not only would it make a festive addition to your pillows during the holidays, but a couple people in the Moda offices couldn't help but think it would make a great gift for any cheerleaders in the family, with the right color changes!
The pillow cover measures 14"x36", and fits just right on a 16"x38" bench pillow form like this one.  The design elements included use one CHEER block, and then elements from the Poinsettia Star Filler Block from this post.
Download the instructions for this cheery pillow here.
A FEW MORE EXTRAS...
Whether you're making the letters banner from our July post, or maybe had Miracle on 34th Street to add to your Christmas Movies quilt, you may be looking for numbers to fit with the Mini Alphabet lettering.  Well you're in luck!  Moda's Tammy V. did all the math for us, and you can download the numbers instructions here.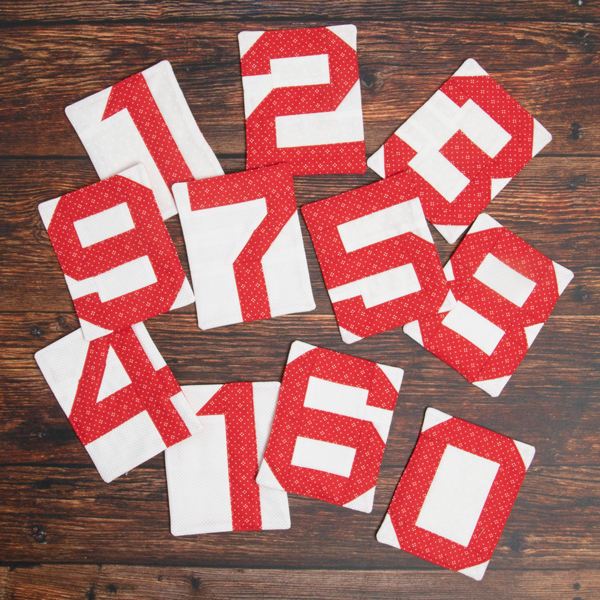 If you missed the note above, we've included alternate simplified piecing in the word finishing instructions this month, for the K, N & R blocks.  Link again here!
Happy sewing to all, and to all a good night!  This is everything for us this month for the QAL, with more to come!  If you missed any of the pattern links in the post:
- Month 3 Word Blocks Settings
- Filler Block 6: Poinsettia Star

- Filler Block 7: My Favorite Ornament
- Numbers
And also a reminder that the lettering pattern itself is a purchase-pattern, available from your local quilt shop or online retailer!  Mini Alphabet Quilt by Primitive Gatherings (PRI 442).
Make sure to share your progress using the hashtag #LetterstoSantaQAL on social media so we can see and share your work! We'll be checking back on the 25th of every month through November with the next batch of blocks, tips & other project ideas.