Letters to Santa QAL - Intro
Letters to Santa QAL - Intro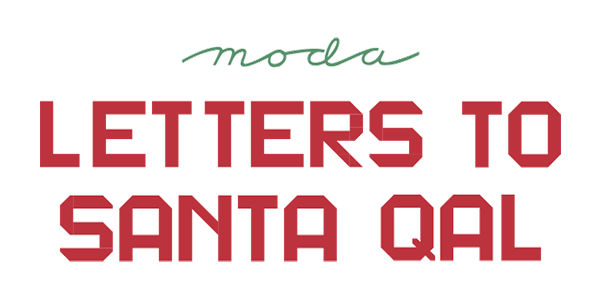 The Moda elves in Santa's workshop have been busy behind the scenes working up a new quilt along...
We're making our (vocabulary) list.
Checking it twice (for spelling, there's no autocorrect on the sewing machine!)
Gonna find out who's naughty or nice (just kidding, we know ALL quilters are nice, right?)
LETTERS TO SANTA is coming to town!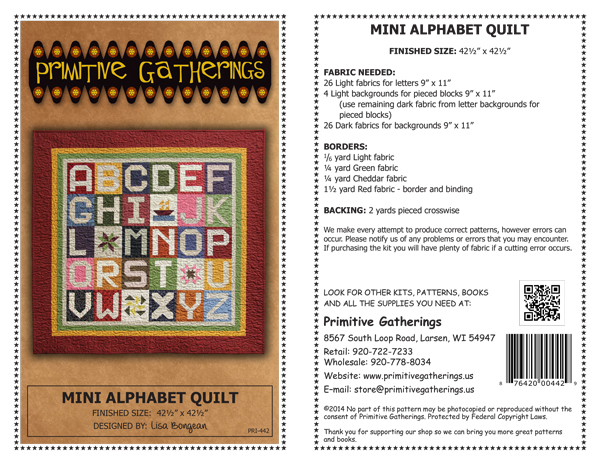 The pattern:  Mini Alphabet Quilt by Primitive Gatherings (PRI 442). Available at your local quilt shop!
WHAT IS THIS QAL?
Letters to Santa is a choose-your-own-adventure style quiltalong using lettering from the Mini Alphabet Quilt by Primitive Gatherings (PRI 442), a few new festive filler blocks, and any holiday words you can imagine.  Moda has a version of the quilt dreamed up that we'll be sewing along with, that has 25 words, 9 filler block designs (each used x3), and a final layout measuring 75"x94".  You'll need to purchase the lettering pattern from your favorite quilt shop, and Moda will help you with the rest!
This is the main Moda Letters to Santa quilt, shown using Bella Solids.  It finishes at 75"x94".
We know how creative quilters are, so this quilt is really just a starting point for whatever you can dream up for your perfect Christmas words!  Alison Dale will be making more of a religious-oriented quilt (preview of her planning-in-progress below), and Moda Michelle will be listing all of her favorite Christmas movies.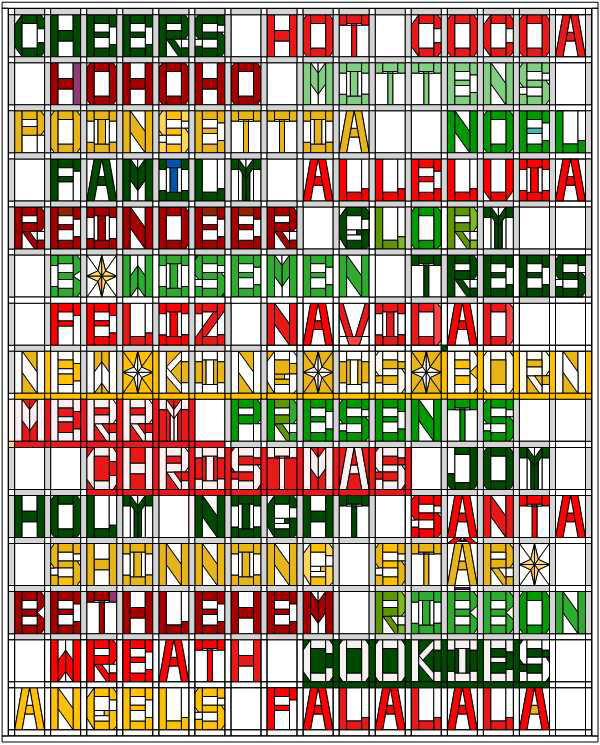 Moda's Alison Dale is working on her idea for a more religious-based Christmas quilt, and let us share her layout-in-development.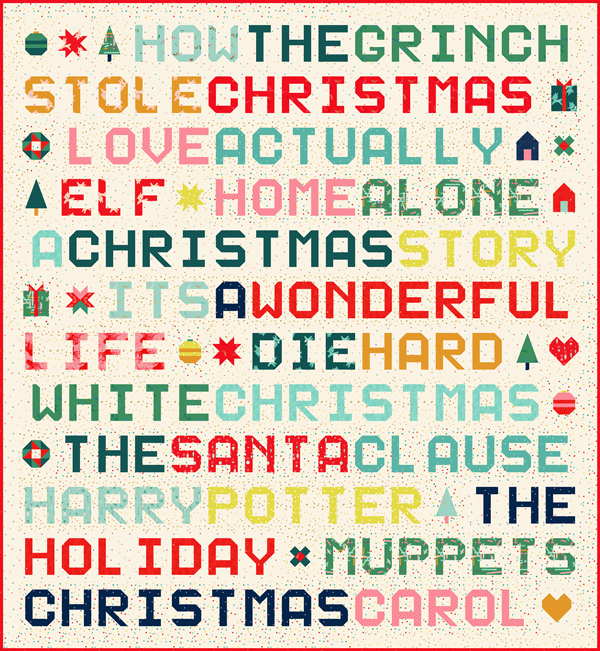 Moda Michelle is using Ruby Star Society's Jolly Basics and Jolly Darlings in a tribute to her favorite Christmas movies, which will finish at 81"x88".
WHEN
Look for Moda's words for that month, new filler block patterns, alternate project ideas, and more on the 25TH OF EVERY MONTH THROUGH NOVEMBER.
FABRICS
We don't have set fabric requirements for the QAL, similar to Moda Blockheads.  You would do well with F8's or FQ's; if you want one background fabric rather than scrappy, like shown in our quilt mockup, you'd want approx. 7-8 yards of that background.  This is the perfect project to build your stash, or to use things you've been holding onto!
Here's a preview of Lissa Alexander's scrappy fabrics, using a mix of small- and medium-scale Christmas prints: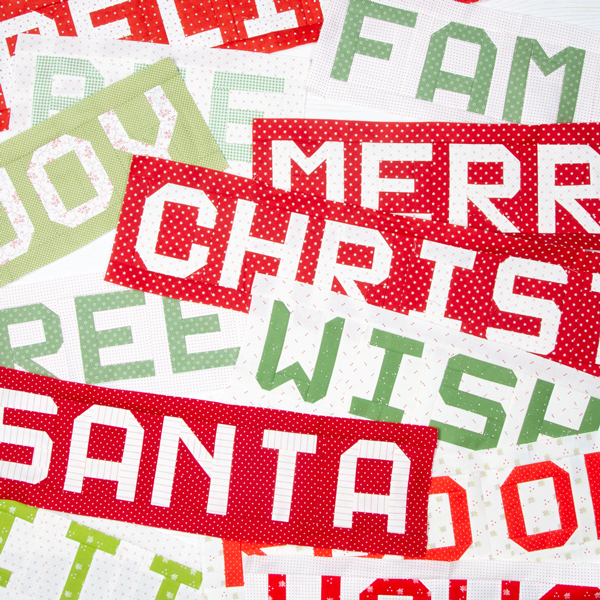 Moda's Lissa Alexander is sewing our main Letters to Santa quilt using scrappy red, green, and white prints.
Or, if you want to make the quilt exactly as shown in our Bella Solid color palette, you'll need the following colors:  9900 14 Christmas Green, 16 Christmas Red, 17 Country Red, 77 Dill, 123 Betty's Red, 133 Mint, 150 Kansas Red, 228 Fresh Grass & 200 Off-White for background).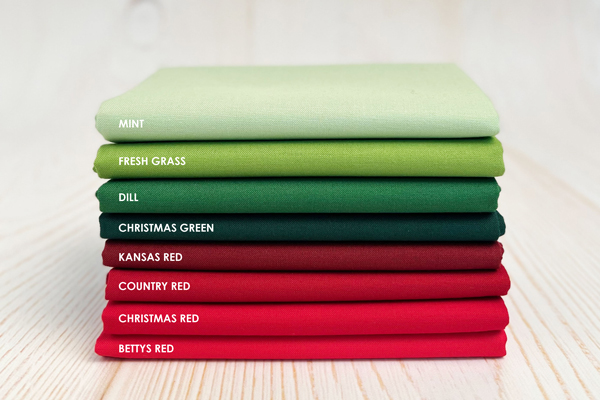 HOW
Each letter in the Mini Alphabet Quilt pattern finishes at 4"x5".  For borders & sashing, we've changed it up from the written pattern to work better for full words rather than individual letter blocks.  Here's a basic breakdown of how each word block will lay out (all sizes are FINISHED sizes; add 0.5" for cutting sizes).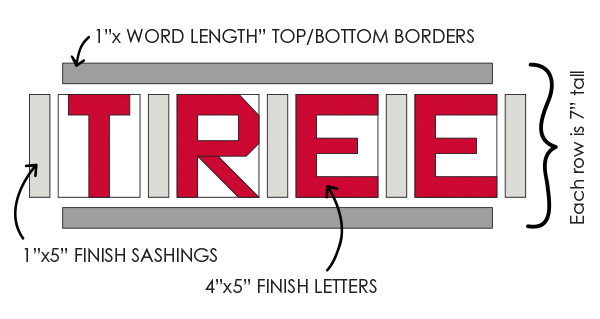 So, if you're working out the measurements for a new 4-letter word like TREE, the block formula for width would be:
1"*(# of sashings) + 4"*(# of letters)
For 'TREE', that would be 1"*5 sashings + 4"*4 letters = 5 + 16 = 21" long block (all rows/blocks finish 7" tall).
We'll share the setting info for each new word in our blog posts for the 25th of the month every month, plus complete finishing info in November.  You can certainly make this same quilt just following the directions in Lisa Bongean's pattern, but following our sashing instructions will make a little better use of your fabric for making full words rather than individual letters.  All of the filler blocks measure 5"x7" finished.
MORE INSPIRATION
We must give credit where it is due--the Moda team had a lot of inspiration from people who have made Christmas word quilts before us!  Here's a selection, many made during our previous Spell It with Moda sewalong using the larger size free download version of this lettering. (Ask for Spell It with Fabric at your local quilt shop if you prefer the larger size using 2.5" strips vs. this with 1.5" strips).
Thelma Cupcake made this gorgeous quilt that could fit right in with Letters to Santa!  We knew we wanted to have some fun with Christmas words, and--don't worry--made sure to reach out to Thelma before we pulled heavily from her layout concept.
We found this trio of Christmas quilts made in the shape of trees on the #SpellItWithModa hashtag on Instagram, all made by @SewFlyQuilts to put on their family's beds during the holidays.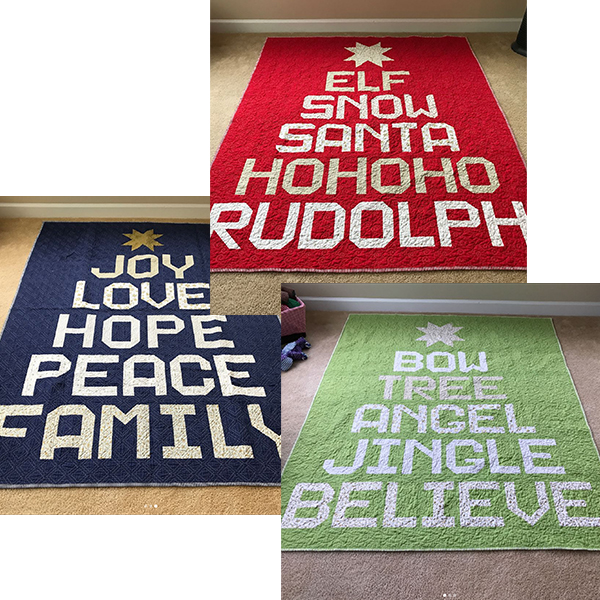 And of course, Susan Ache has used the larger Spell It With Fabric lettering to make a quilt combining 'Ho Ho Ho' around the borders of traditional blocks for an equally festive option in her book Countdown to Christmas (B1486)!
They may not all be Christmas-themed, but there's endless ideas and inspiration if you take a look through this previous sewalong on #SpellItWithModa on Instagram.
I WANT TO PLAY!
Here's a few assets we have put together for working out a quilt layout you love!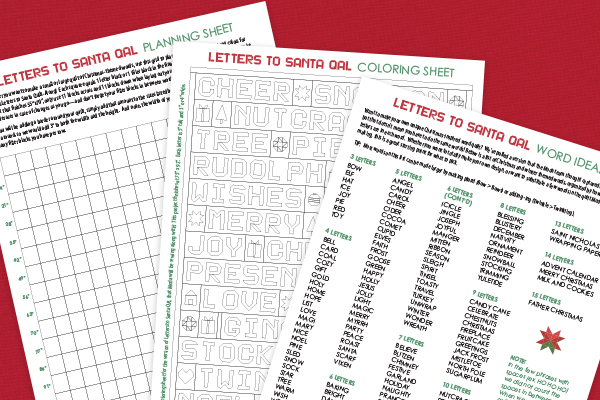 - Coloring Sheet for main Moda layout
Make sure to follow and post on #LetterstoSantaQAL on Instagram to keep up with all the updates and see what others are sewing up for the holidays, and to see any shops posting bundles or layouts!  We'll see you next Monday for the first batch of words!