Introducing the Pouch Club Series
Introducing the Pouch Club Series
We are so excited to share a brand new series kicking off in just a few short weeks called Pouch Club hosted by Chrissy Lux of Sew Lux Fabric!
In this new series on the Moda Blog, Chrissy will be walking us through making a different pouch each month from her collection of patterns. Whether you are new to pouch making or a master at installing a zipper, this series is for you! We will try out different blocks and piecing techniques. We will sew with a variety of interfacing materials and show you how to get perfect corners with zipper tabs. And you will love showing off your newly stitched projects to friends and family and enjoy gifting them as well! 
Our first group of projects has been announced (stay tuned for projects later in 2023 and beyond)!
There are several ways to join the Pouch Club fun ... 
Sew along online with us and share your finished projects on social media. (PDF patterns are available at Sew Lux Fabric.)
Ask your local shop! Lots of shops will be carrying paper patterns, kits and even offering classes. 
Mark your calendars for third Thursday each month for this series here on the Moda Blog:
June 15 - Candy Cutie Pouch
July 20 - Sunflower Pouch 
August 17 - Pencil Me In Pouch
September 14 - Triangle Pouch
October 19 - Autumn Breeze
Looking ahead to June's Project ...
A little more about our first project, the Candy Cutie Pouch. This is a fan favorite and requires just a Moda Mini Charm, a F8 lining fabric, some Soft & Stable (or batting) and a 10" or longer zipper! Grab your favorite Moda Candy or Jelly Roll strip leftovers and get ready to sew along with us in just a few weeks.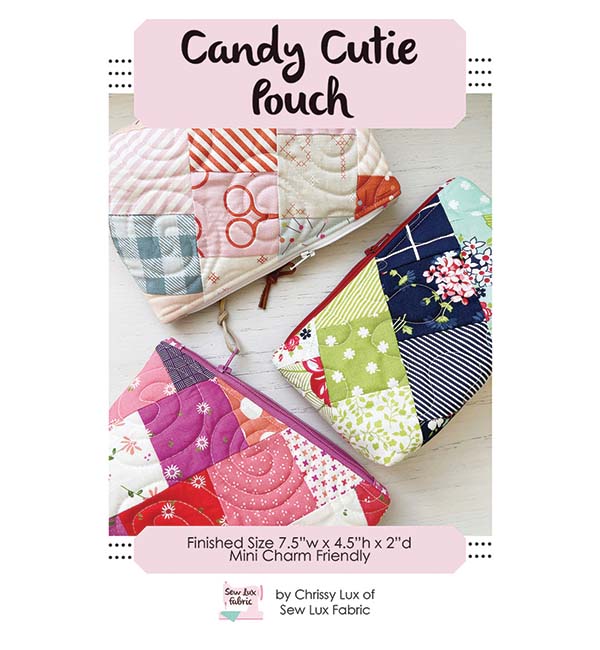 We can't wait to see all the different collections you will choose to use. We're pretty sure you won't be able to make just one! In the meantime, you can find Chrissy @sewlux on Instagram. See you soon!