Building A Business - Lisa Bongean
Building A Business - Lisa Bongean
Overnight successes are a myth.  It takes time to build something that matters, something that will last.  Lisa is celebrating her 20th year in business and she's still looking to the future, to what's next.
This might look like 10 acres of snow but it's the future home of Primitive Gatherings - coming in 2021.
I met Lisa more than ten years ago when we were both exhibitors at Quilt Market.  She had a big booth with wool, quilts, threads and all sorts of cool stuff so of course I went by to shop.  When I read that she was hosting a retreat in Menasha for shop owners, I teased that I would open a shop if that was a requirement to attend.  I will happily admit that part of my motivation was to visit her shop.  But I also wanted to pick her brain about business as there weren't many resources for what we were doing.  She said I was welcome to come, that her goal for the gathering was for women in our industry to share our knowledge and experiences, to help each other succeed.  What I remember most is Lisa's belief that other people's success did not come at her expense, or vice versa.  She truly believes that there is business out there for everyone - everyone who is willing to work for it.
I also learned that there are few people in this world who work as hard as Lisa does.  Her smarts and talent will take her only so far, really succeeding requires listening to the good advice of others, trusting her gut and putting in the work.
Lisa's Sentiments of Home designs.
So Lisa, did you start stitching when you were a wee, small child?
I learned to sew in a Home Economics class in school.  Junior high?  My mother didn't own a sewing machine so when I begged her to make homemade Christmas ornaments and such, I didn't have much luck.  I started cross-stitching while in high school, and I bough my first sewing machine about the same time.  I made small baby quilts, and then tied quilts with matching valances when I was a newlywed.  I also made Halloween costumes for my babies.  Then I stumbled upon my first "patchwork" quilt. 
While you're now a master at both, which came first for you - hand-stitching or machine-stitching?  Embroidery?
While I did some hand-stitching, most of the things I made were made by machine.  So machine-stitching came first for me.
This is a single star block Lisa made with her Farmhouse Flannels.
Did you do other kinds of art - painting, drawing, etc?
I designed sweatshirts and did floral arranging.  I liked making things, creating something.
Of the many creative things you do, is there one that speaks most to your heart?  Why?
It has to be working with our hand-dyed wools.  There is something unique about the look and feel of wool, from the color to the texture.  There are so many possibilities to what you can do with it.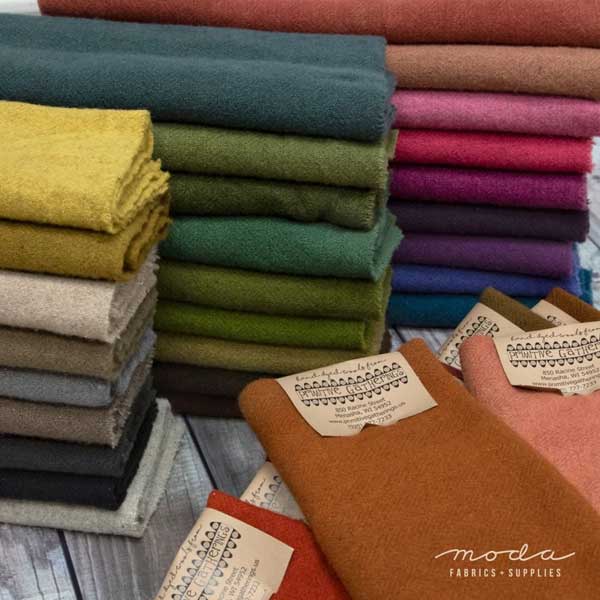 Primitive Gatherings Wool - these are new colors from Fall 2019.
Do you come from a family of makers? 
Yes!  There are tailors, artists, crocheters and all kinds of makers in my family. 
Did you start a pattern company first?
I was working at a quilt shop when I started Backyard Quilts. I wanted designs that appealed to me, and instructions that made sense to me.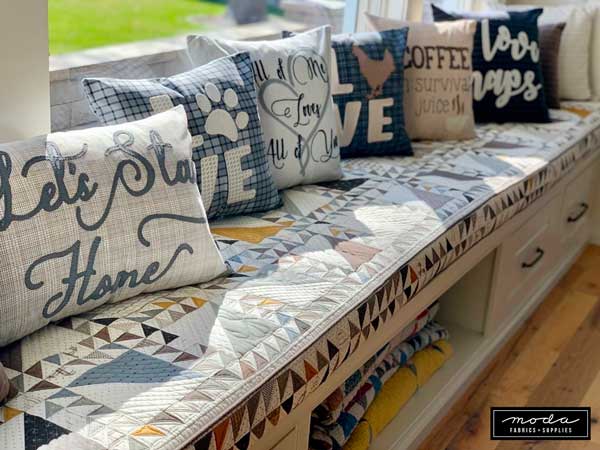 The pillows were made with Farmhouse Flannels and are in Lisa's Farmhouse Gatherings book.  There isn't a pattern for the window seat cushion.
When did Primitive Gatherings start?  How did it start?
I opened my shop because I had always dreamed of having a retail store.  I chose to keep the shop and pattern business separate in case the store didn't work out.  The name came about because I wanted a shop that encompassed more than quilting.  We have antiques, basket-making, rug-hooking, punchneedle, yarn, home decor and so on.  After my Father passed away, I decided that life was too short not to do what I loved full-time.  So I quit my job, bought a building and maxed out my credit cards buying fabric and merchandise to fill it.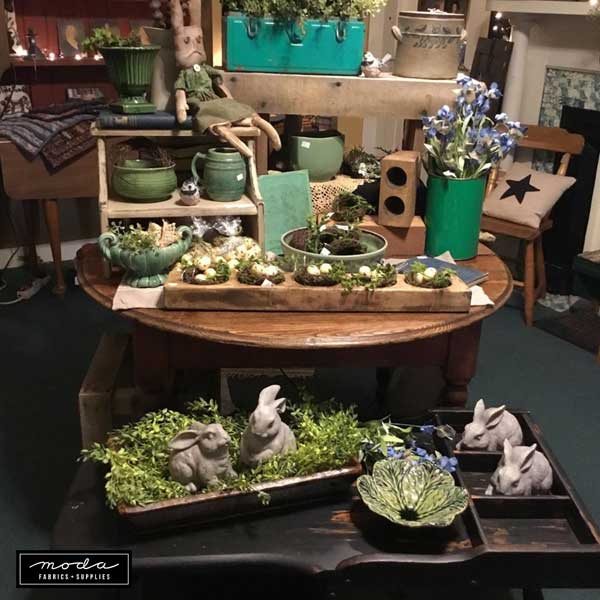 Spring at Primitive Gatherings in Menasha, Wisconsin.
From a business standpoint, what was the biggest challenge when it came to starting your business?
It's difficult to get support from a bank.  I felt like they didn't take me seriously.  I made me determined to prove them wrong.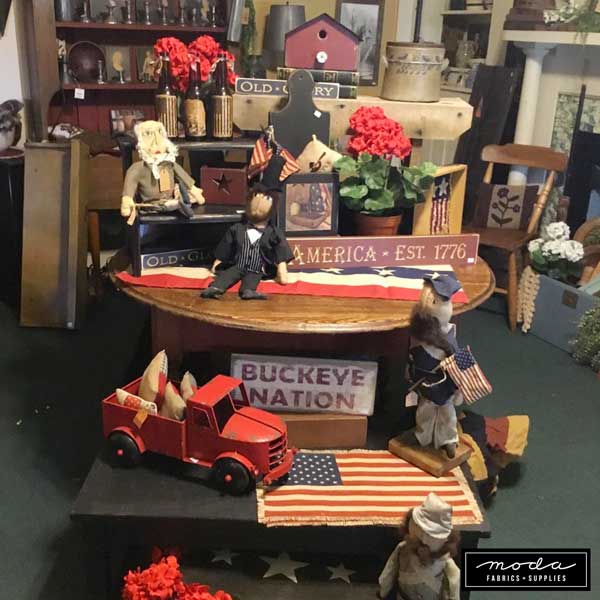 After sheltering-in-place, Lisa readied the shop for being open for business.  (And yes, she does have fabric but this picture is better.)
How scary was the process? 
I think the biggest thing was believing in myself.  I knew I was a hard worker, and I had a passion for what I was doing.  I think that is the main ingredient for success.  It keeps you focused when others doubt you.
No words.  This is Lisa's spectacular stitching on a wool appliqué quilt.
Did you always have a sense of what was going to work - be a best-seller - or was some of it guess-work?
Ha!  I just do what I love and I pay attention to what is going on.  What are the home decor trends?  Would that look good on my ed?  What is new, and what can be revived from the past?  What can be recycled or re-purposed with new, updated fabrics? You can't stand still, always do the same things.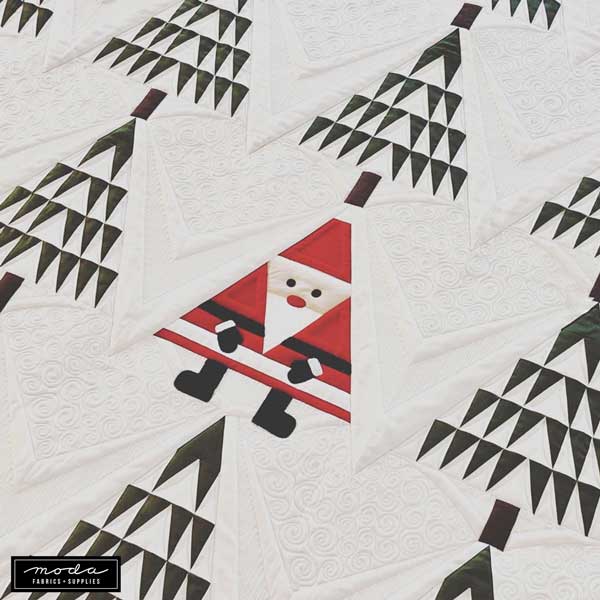 Lisa's Santa In the Pines quilt - this will be a Moda Kit available in July.  The pattern is only available in the kit.  The fabrics are Moda's Bella Solids.
When did you know Primitive Gatherings was gong to succeed - was there a moment, call or event when you realized you'd really succeeded.
When American Patchwork & Quilting named the shop as one of their Top Ten Shops in 2006, that was a big moment.  We'd been open for two years, and to get that kind of recognition was rewarding.
What is the best advice you've received about running your own business?
Do not try to do it all!  Do only those things that you do best - those things that only you can do.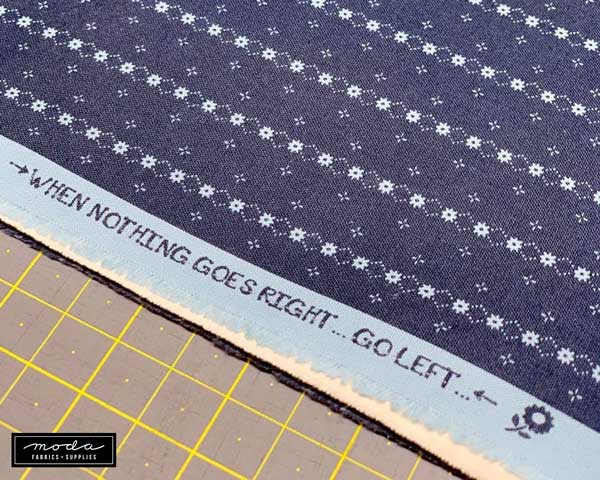 The selvage on Lisa's Indigo Gatherings collection - in shops now.
And what's the worst advice you've received? 
I don't know that I've ever received any.  Advice is advice, it's like an opinion, I can take it or leave it.  I've learned to pay better attention to the advice that will work for me and what I do. 
What's the best lesson you've learned over the years?
I don't compare myself to anyone else, and I don't try to do what they do. 
After all the work, what is the best part of your "job"?
Being able to sew and stitch every day is the best, it makes all the hard work worthwhile.  I also like eing able to connect with other stitchers and makers on social media, especially my followers.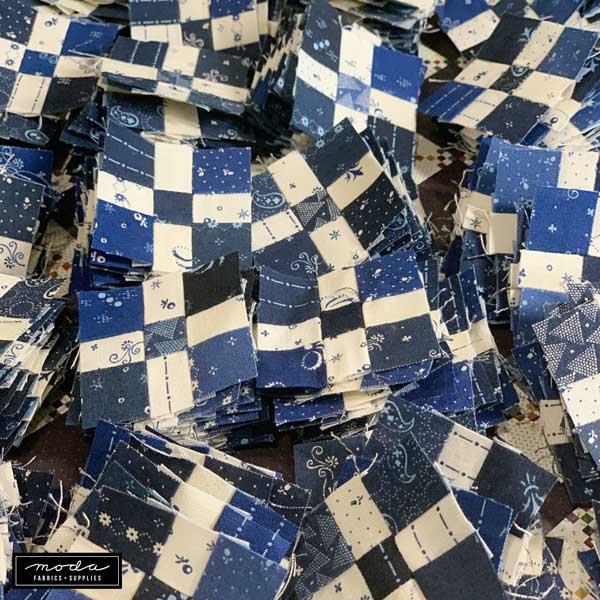 A whole lot of nine-patches made with Indigo Gatherings.
And you knew this was coming... what is the worst part of your job?
Dealing with unreasonable people.  I'll leave it at that.
What advice would you give to other small businesses about adapting and adjusting in the current economy?
My advice is simple - during hard times, people will usually not give up their hobby.  They will do without a lot of other things like vacations, going out to restaurants and new clothes, but they will continue to do the things that are their passion.  With that in mind, I make sure to have a wide range of designs, kits and products at different price points.  Keep things fresh with new samples.  If you don't have new samples, move things around so the shop and displays look new.  Be on every social media platform you can to sell product, not just to share.  If you can't do it, or don't want to, hire someone to do it for you.
And give things to your customers - everyone loves free stuff.
(At their annual after-Thanksgiving sale, there are always three to four new, exclusive and free patterns included with every purchase.)

When buying fabric, plan what you are going to do with it.  Make two or three projects, then cut the remaining yardage into FQ and F8 bundles of colorways for easy "pick-up" sales.  Shop owners think they cannot do this but it's what I have always done - always.  I buy the whole collection.  This is even easierto do now with smaller bolt put-ups of 8 or 10 yards.  Six bolts of this, twelve bolts of that doesn't make the same kind of statement in a shop that a 30 or 40 piece collection does.  And when you buy that collection, commit to it.  Plan for it, create displays for it and decorate around the theme of it.  If you don't like the whole collection, don't buy it.  I would rather have two whole lines of fabric than a little of this and a little of that.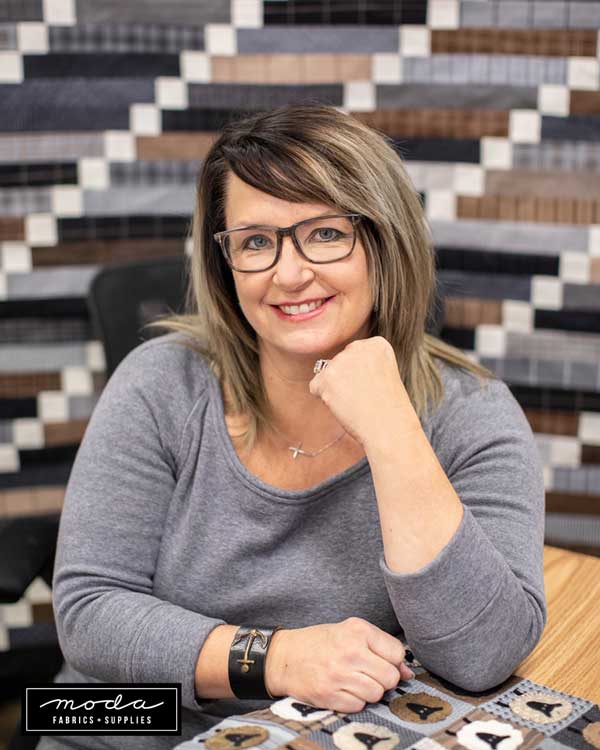 Lisa Bongean.
Thank you, Lisa! 
For more with Lisa - Lisa Bongean on Instagram / Lisa Bongean on Facebook / STITCH with Lisa Bongean on Facebook / Lisa Bongean's Blog.