Brimfield Awakening
During National Sewing Month, we're continuing our look at some of the folks who make sewing their business. Today, let's meet the team behind the popular and innovative EPP pattern company Brimfield Awakenings.
In 2014, Nisha Bouri was 600 miles from home at an Atlanta, Georgia, sewing retreat when she mentioned she was from the Washington, D.C. area. "So am I!" piped up Kim Martucci, who was sitting nearby. The pair started talking and hit it off. The following year they drove together to a second retreat and to QuiltCon in Savannah, Georgia. "It was a 10-hour drive and a great way to get to know each other," says Nisha.
"And most important, I learned that Nisha is good at riding shotgun and picking out good snacks," says Kim. 
In 2017, the duo employed their road-tripping skills to travel to Massachusetts and the renowned Brimfield (Massachusetts) Antiques Show. There, on the last day of the show, they found a vendor with garbage bags stuffed with vintage textiles. In one was the block that would serve as the inspiration for their bustling English Paper Piecing (EPP) and quilting business, Brimfield Awakening.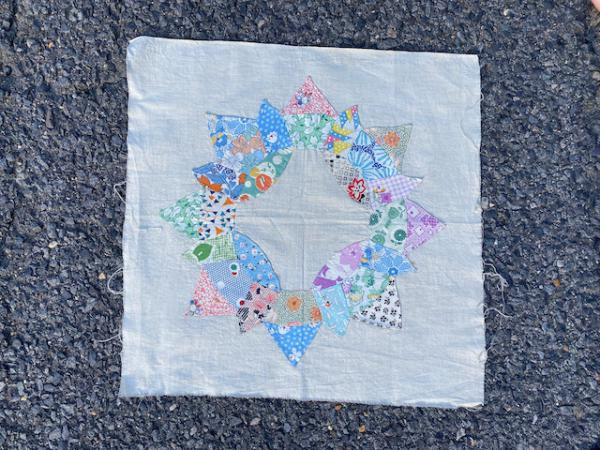 "We pulled it out and were instantly smitten and started reverse-image searching it, trying to find out the name of the block," says Kim, a former broadcast meteorologist. (Much later they learned it was Oriental Star, published by Virginia Snow Studio in 1932.) "Right away we decided we'd start a business."
"Initially, we were focused on recreating the block," says Nisha, who runs a management consulting business and is in graduate school. The original block was hand-pieced and then appliquéd to a backing, but Kim and Nisha were already deep into EPP and wanted to tweak the original block design. "A friend suggested we reach out to Paper Pieces in Paducah. We had a few conversations and that's how the paper and templates occurred."
The innovative result includes templates and perforated papers that make it possible to create a Brimfield block with as few as 20 pieces or as many as 37. This means that fabric choice and fussy cutting creates endless opportunities for personalizing the block. (Check the hashtag #brimfieldblock on Instagram for more than 3,000 examples.)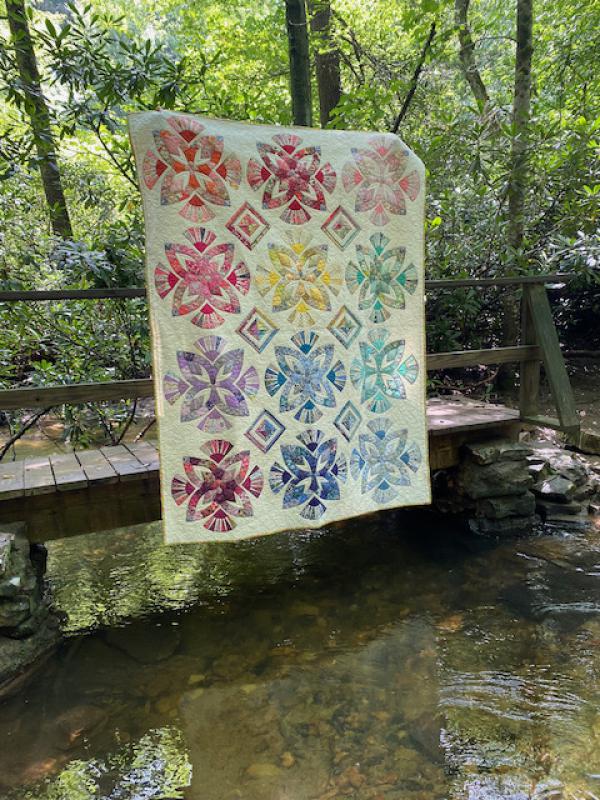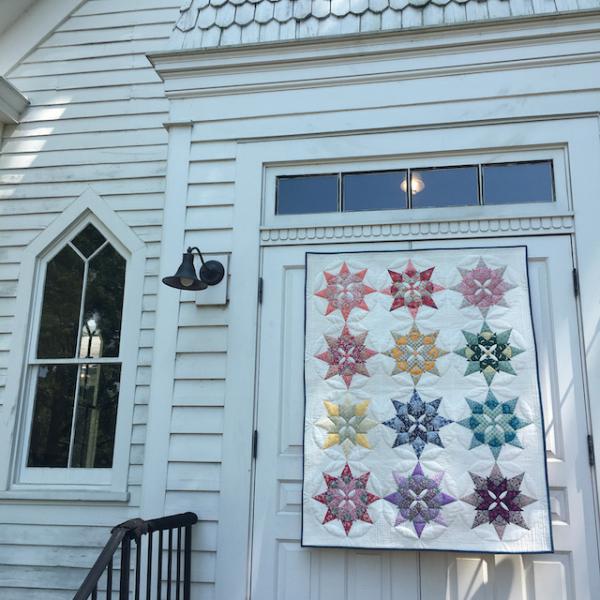 They've since followed up with additional blocks, including (Brimfield Meadows; Cleopatra's Wallpaper (quilted by Teresa Silva)—seen above; Brimfield Block Star (quilted by Carrie Hanson)—second above; and their newest, Sparkle. They offer notions and lots of tutorials through Instagram, Facebook, and YouTube. Readers of their newsletter participated in two sew-alongs for Foundation Paper Pieced quilts (beolow is their Fens FPP quilt in Crystal Manning's Ladybird fabric and the New England Motel FPP quilt) and Kim's demos for them are still available on Instagram TV. They've also shared their knowledge through classes in settings like QuiltCon and via trunk shows for guilds.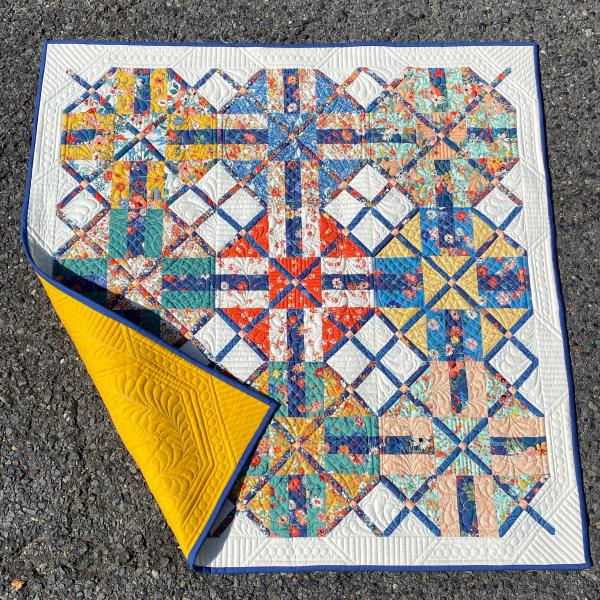 The initial reception to that first block surprised and delighted Kim and Nisha, who remember being at Quilt Market in the Paper Pieces booth when visitors told them they were trending on Instagram. "We didn't appreciate the power of social media before then," says Nisha. But it didn't take long before Kim was tapping into her television broadcasting skills and creating clips for their Instagram TV and Facebook feeds. "Brimfield has given me a creative and performative outlet," says Kim, who mixes "Mom dancing," heartfelt stories and social commentary with tutorials on fussy cutting and washing antique quilts.
While Nisha appears on camera only occasionally, her business acumen lends itself to back-end operations like contracts and negotiations. "It's the stuff that no one sees but is needed to be successful," she says. "Kim and I knew we had different backgrounds but neither of us expected how complementary they'd be in a creative business."  
They also share common values and run their business accordingly. "Doing the right thing is a core aspect of our business," says Nisha. Recently, for example, Kim asked neighbors to share their discarded shipping materials and she reuses them to ship Brimfield Awakening goods. "The packages may look ugly but reusing packaging makes me feel good since it isn't recyclable," she says.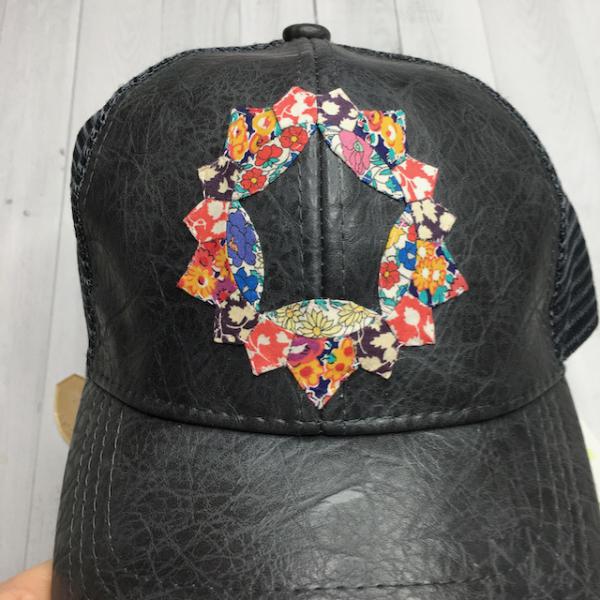 Running a small business is hectic, but both Nisha and Kim find working in the quilting industry gratifying." It's fun to see other people's creative processes, when they send us pictures of blocks [like the above Bitty Brimfield Star on a trucker hat by Katy Sakash] or share them on social media," says Nisha. "And people are quick to support and compliment one other's creativity. There's a generosity of spirit."
Follow Brimfield Awakening on Instagram @brimfieldawakening and Facebook. Sign up for their newsletter here.