Blockheads- Bonus Block 9
Blockheads- Bonus Block 9
Whether you are a quilt shop owner or an employee of Moda Fabrics, there seems always to be the same question or comment when you meet fellow quilters...
Oh, it must be so lovely to be able to sew all day.
That is rarely the case.  Working all day and squeezing in any quilting whenever you can. This is common for quilters everywhere, holding down a job, balancing family/work life, and having a hobby you love. The perk we do have is that we get to think about fabric and quilting all day.
We thought this week's BLOCKHEADS bonus block would be a perfect time to feature a few of the employees here that have been sewing along with Blockheads. ( there are more of the staff sewing along, but they were shy)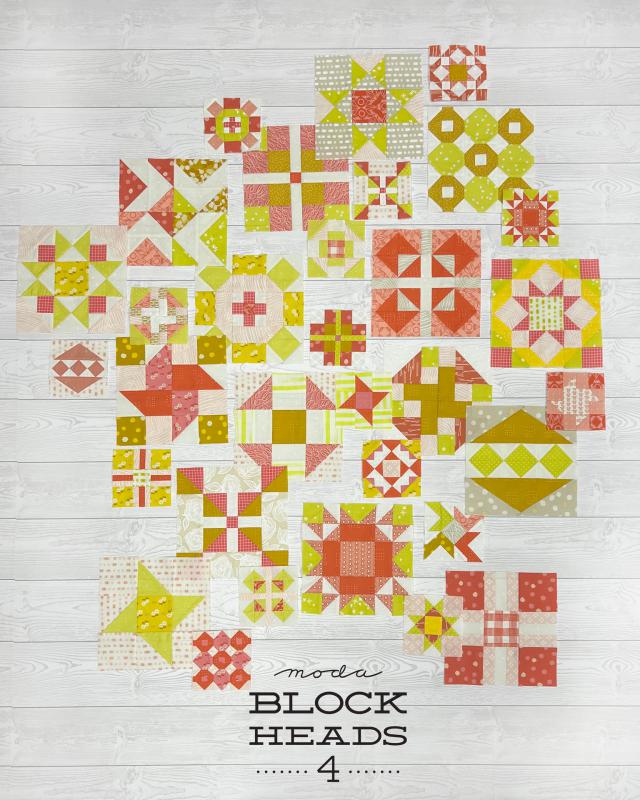 MEET ABBY
I am a graphic designer on the marketing team. I get to help the department showcase our products in the best light. It is so much fun! I have worked on everything from sell sheets to email blasts designs to print ads. I learned to sew at a young age because I was fortunate to grow up with a mom and grandma who both spent their free time quilting. I never adventured into the complex blocks they typically worked on, so Block Heads 4 has been an excellent learning experience for me. I have pieced blocks and used techniques I never have before. Block Heads 4 has pushed me and helped me grow my quilting skill set (especially with all those tiny 4-inch blocks). I love bright, happy colors, so when I saw First Light by Ruby Star Society, I knew I wanted to base my blockhead's quilt on their color palette. I added a few fabrics from other designers to make a small curated mix of sunshine.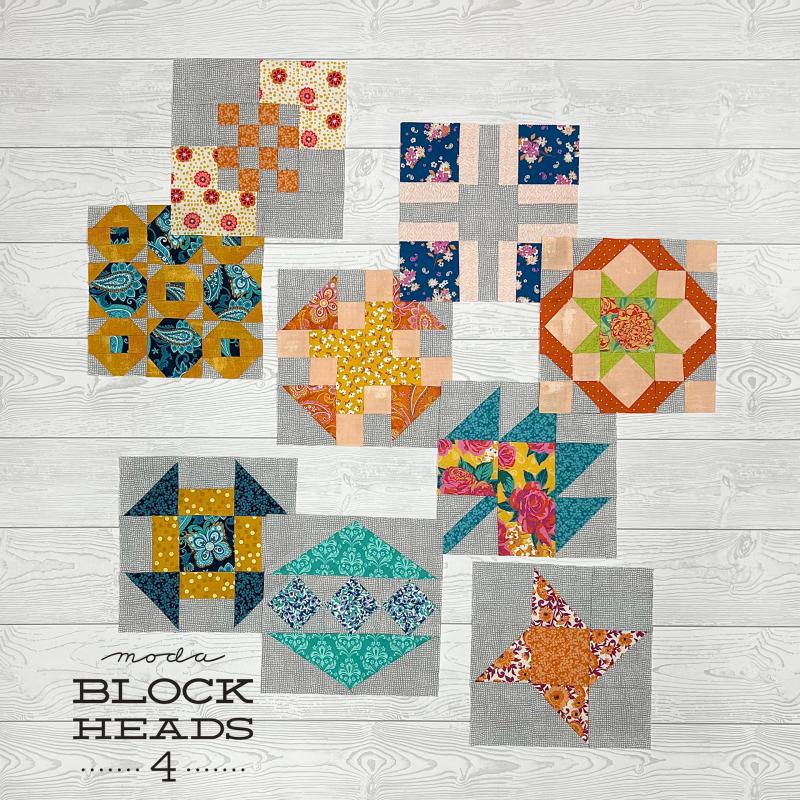 MEET ALISON
 I am originally from LA but have lived in several cities as a photojournalist for various newspapers. I spent several years in Ft. Worth before buying Fabric Expressions in Colorado. I returned to the Dallas/Ft. Worth area and joined the customer service team at United Notions/Moda Fabrics pre-pandemic, which was a tricky move to come to a new job and still be somewhat isolated.   I started quilting in 1997 and love everything about it. I am also a lefty, so I am passionate about learning and teaching other leftys. This is my first time joining the Blockheads, and I am having a great time trying to keep up.  I decided to challenge myself and pick a  collection that was not my comfort zone.  I am making my blocks with Crystal Manning's collections from Paisley Rose and Garden Society. Choosing a grey fabric for the background anchors the florals nicely. Again, completely out of my usual choices of fabric, but I love how the blocks are turning out.
MEET JESSE
I'm Jessie! I've been sewing my whole life since my mom taught me when I was little. I've been quilting for about the last 15 years. I work in Marketing and take pictures of ALL THE PRETTY THINGS here at Moda. (read: coolest. job. ever.) One of the first photo projects I worked on was BOLTS. I went into the warehouse and pulled tons of fabric bolts of whatever I liked and thought would mix well for pictures. And THAT is how my Blockheads 4 fabric palette happened.  It was such a fun combo that I just went with it!  I have been adding here and there as the QAL progresses, but that first trip through the aisles of bolts in the warehouse jump-started my BH4 fabric pull.  Now, have I been struggling a little to keep up? YES! But that's okay; it's still been fun to pick up a pattern or two and work along with everyone.
Each week some of the Moda Designers have been sharing a block in 9" and 4 1/2", but to make sure you have enough blocks to have some options, we have included some bonus blocks along the way. This week is Bonus Block 9-Galaxy. The block can be downloaded here, 
For the full listing/links to all the blocks so far, visit the Blockheads Archive page.
Do you have a local quilt store? If so, the next time you are in, be sure and tell them thanks for being there. They are probably burning the candle at both ends to run a business, make samples, take care of customers, and much more! After all, owning a quilt store does not mean they get to sew all day!
Appreciate you all!