BH4 - Block 5
Boo!  
This is Two of Five, my block for Blockheads 4.  It's Number 5!  The story behind the name is in the instructions.
Block Instructions - Blockheads 4 Block 5 - Two of Five
BONUS Block No. 2 - Mix and Match
I like staying organized when I'm piecing blocks, so I cut everything and match up the pieces that will be sewn together.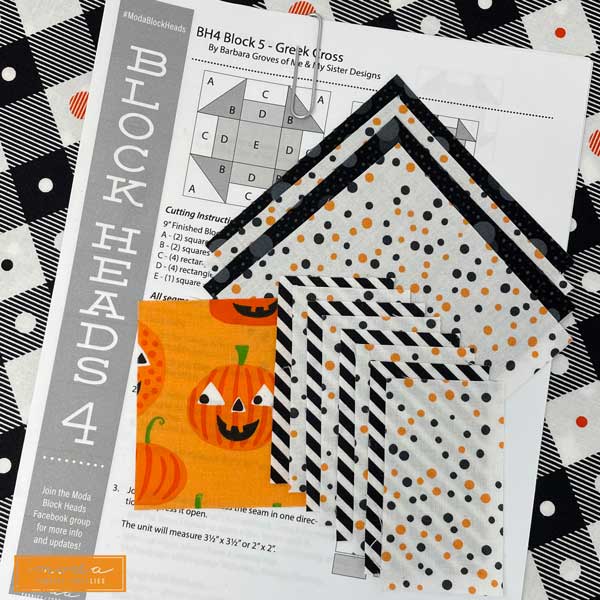 I do this when I'm piecing one block at a time, or fifty.  Or in this case - four.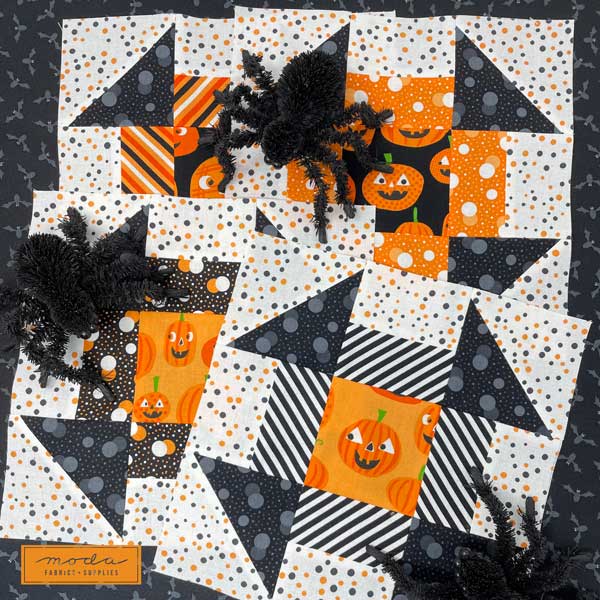 I wanted to make a quick project using this block and my Too Cute To Spook collection - it's arriving in stores soon.  So I made four blocks for a wall-hanging or table-topper.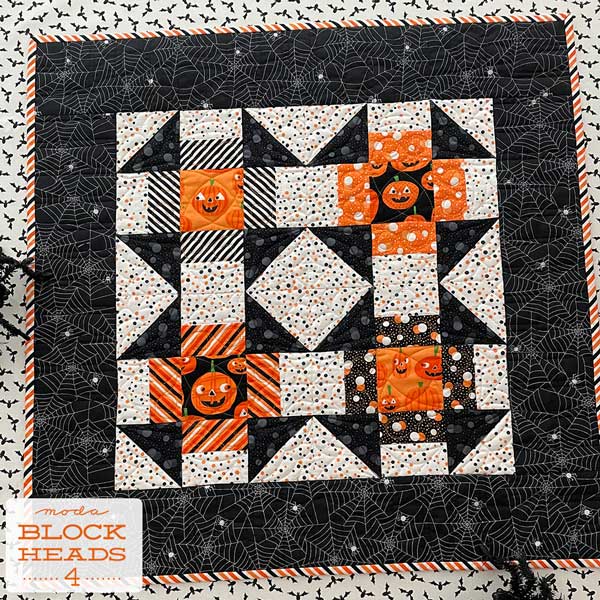 I sewed the four blocks together, added borders cut at 4" wide, then it was quilted and bound.  It would also make a cute pillow.
For the border, cut (3) strips - 4" x 42" wof.  From the first strip, cut (2) strips - 4" x 18½".  From the remaining two strips, cut (2) strips - 4" x 25½".  This little quilt finishes at 25½" x 25½".  (A bit less if you trim the edges after it's quilted.)
This is what you'll need of additional fabric: 
Border - 3/8 yard
Backing - 3/4 yard
Binding - 1/4 yard for straight of grain / 3/8 for bias binding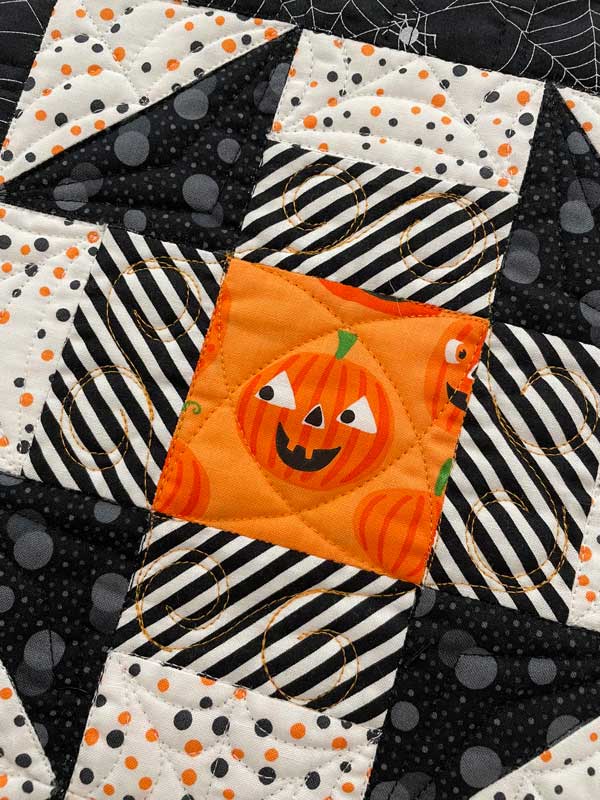 The machine-quilting was done by our long-time quilter and good friend, Sharon Elsberry.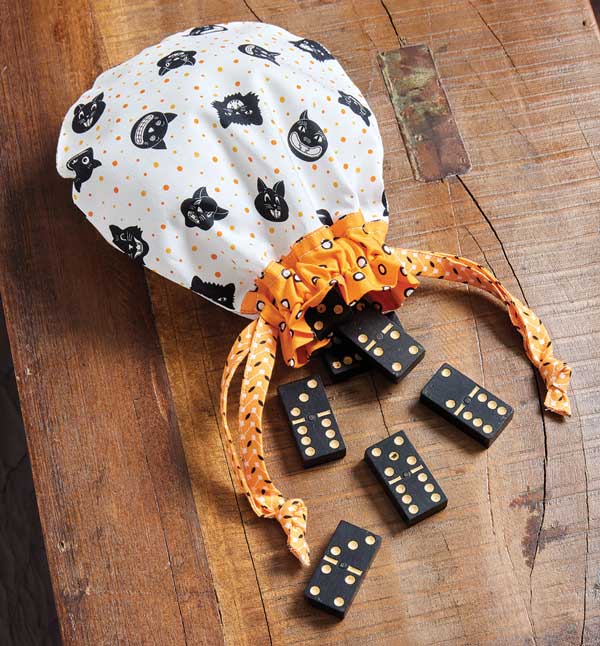 We really love this Too Cute To Spook collection, and Mary and I go back-and-forth on which prints are our favorites.  This Ditty Bag is in our It Take Two! book, six different small projects that can be made with just two fat quarters.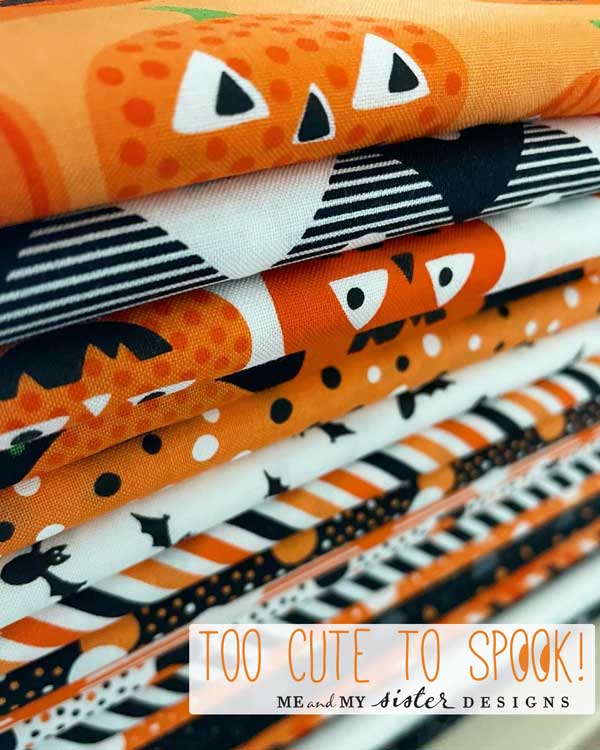 I want to shout-out to three of my Moda friends!  Tammy V is a Blockheads Designer this time around, and she made Two of Five using using Sincerely Yours by Sherri & Chelsi.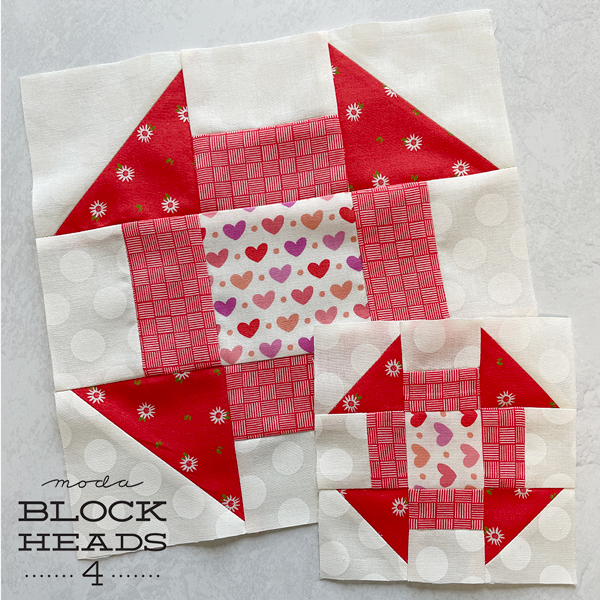 Since there hasn't been a Quilt Market in two years, I only know Abby O through work and e-mails.  (But we're looking forward to meeting her in Houston in October - fingers crossed!)
Abby is using a beautiful mix of fabrics from several designers and collections.  It's mostly Ruby Star Society, but I think that's a Gingiber fabric in the small block.
After working with her on a few things for Moda, I did get to meet Michelle at this year's QuiltCon in Phoenix.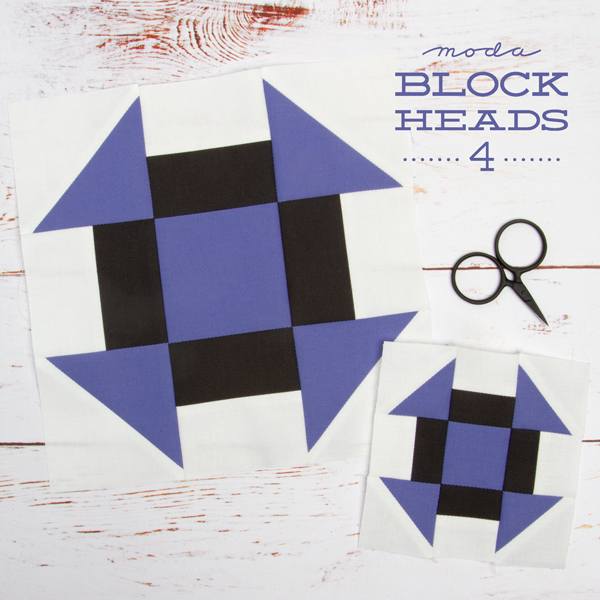 Michelle has a great eye for color, and she picks the best color palettes with Bella Solids.  
Did you get the instructions for the block?  If not Block Instructions - Blockheads 4 Block 5 - Two of Five
And Bonus Block No. 2 - Mix And Match!
One last Two of Five block to show you. 
I'm sewing along with Blockheads 4 and I'm using our coming-this-Fall collection, Picnic Pop! for the blocks.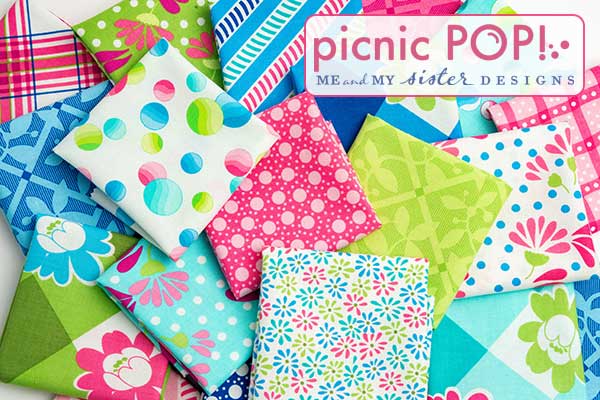 If you're on Instagram, you can see my progress - @meandmysisterdesigns.
Moda will be back next week with Block 6.    
Have a spook-tacular Blockheads Wednesday!
----------------------------------------------
If you want to make sure you don't miss anything, the three best places to check are: