BH4 - Block 4
Could it be I'm Falling in Love?  This block!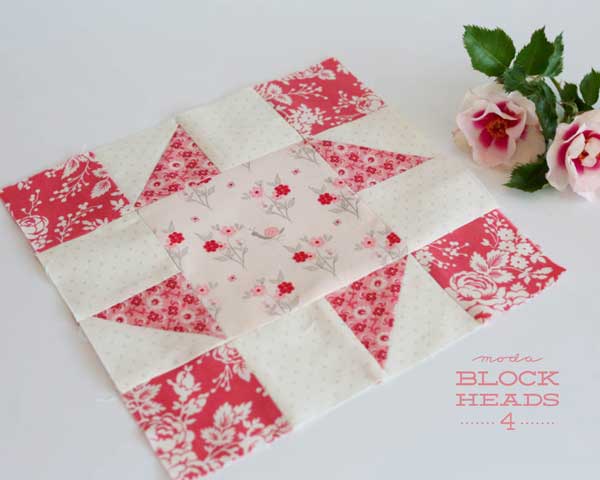 Mighty Love for this block!  
And this one.
These are Anne's blocks, made with her coming-in-August collection, The Flower Farm.  As pretty as it is in pictures, it's so much better in your hands.
The block is from one of our new Blockheads designers, Anne Sutton.  She's One of a Kind!  
Anne is sharing her block, tips and other Anne-treats on her blog - Bunny Hill Blog.
Instructions - Blockheads 4 Block 4 - Spinner
These blocks are by Moda Abby, made with a mix of fabrics, including Ruby Star Society's First Light collaborative collection.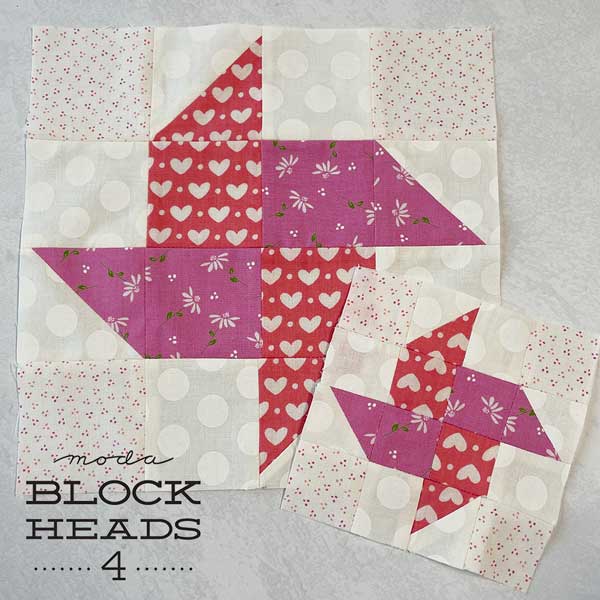 Moda's Tammy V made her Spinner blocks with Sherri & Chelsi's Sincerely Yours collection.  (Tammy is also a Blockheads Designer this time!)
While the piecing for this block is relatively simple, the challenge comes from choosing fabrics, and the value placement.
These are the first blocks Tammy pieced.  (Tammy said she could Love or Leave the blocks... they'll probably go on the back of the quilt.)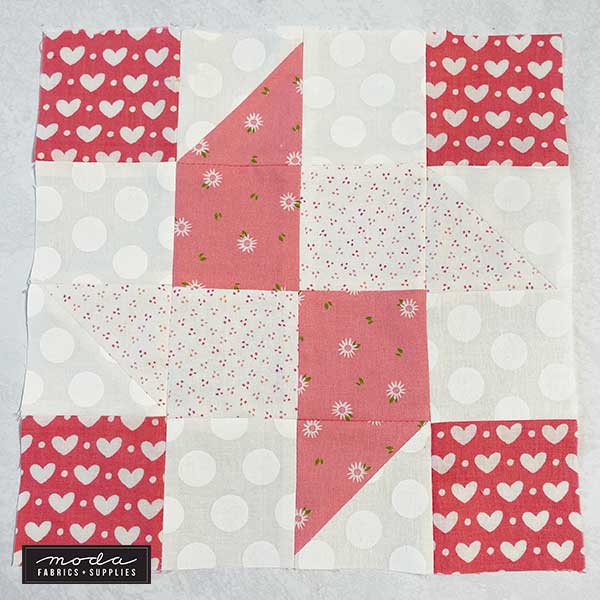 While she has Mighty Love for the fabrics, this combination didn't work for this block.  The light fabric used in the center of the block disappears.  When she went to remake the blocks, Tammy pulled out her secret weapon, a tool that tests for value and contrast.  And guess what, you already have one!
Your cell phone.  
Taking a picture of the block parts, or just the fabrics, will quickly show if there is enough contrast between fabrics, and if one or two of the fabrics doesn't have enough value to show up well.
What is "value"?  It is the lightness or darkness of a color, whereas contrast is the relationship between light and dark, how much of a difference there is between the two values.  (Basically, you'll know this when you see it.)
There is also a Layout Option to share today - it is Layout Option No. 3.  It is made with both sizes of blocks, and it can be easily made larger, if desired.
Blockheads 4 Mixed Block Layout
Using twenty-five large 9" blocks and twenty-four small 4½" blocks, this layout will make a quilt that finishes at 68" x 68".  The yardage and cutting for that size quilt is in the instructions.  There are a few notes about using this layout for a larger quilt, but yardage and cutting hasn't been calculated.  And the yardage does not include what is needed for the blocks. 
And because I Found Love with these little blocks... one more picture.
I'm Working My Way Back to You and the instructions for today's block - Blockheads 4 Block 4 - Spinner
If you're new, and you want to know how to join in, just start making blocks.  Everything we've shared so far can be found here - Blockheads 4 - Archive.
If you'd like to receive an e-mail on Wednesday with each new blog post, and the link to the instructions, you can sign up for that here - Inspiration+Resources Newsletter.
To receive the newsletter/e-mail, you need to sign up for it, we can't add you to the database.  
How Could I Let You Get Away without also mentioning the Blockheads Facebook group?  It's a big, supportive, lively group that is full of inspiration, ideas and some great tips.  That's What Girls Are Made For!  (And the handful of "guys" in the group too.)  The blocks are uploaded to the group's Files every Wednesday morning by 8:00 am CDT.
And that's it for today, for Block 4.
One last thing... Spinner.  I'm just old enough to remember The Spinners.  
So I might have worked in a few song titles.
It's what I do.