BH4- Block 16
Hi Y'all, Tammy V here from sunny and hot Dallas, Texas.
I was born and raised for 50 years in Indiana and will always call it home. I have always loved math and sewing. During my junior high years, I received the Math and Sewing awards in the same year. I then attended Purdue University and graduated with an engineering degree. I did my fair share of engineering jobs, and then, when I started a family, I was looking for something different to spend more time with my kids. I fell back in love with sewing by making dolls and assorted crafts and then pedaling my wares at craft shows and shops. A local quilt shop was for sale. I loved the shop and their fabric and did not even quilt. I bought the shop, hired someone to teach me how to quilt, and never looked back.
Several years later, my daughter graduated from college, started a family, and moved to Texas. I was in Texas 7 times in one year and thought maybe I should move there. One day I received a call from my Moda salesperson, MODAMARK, and he asked, " Are you still interested in moving to Texas?" Absolutely! 
I am now celebrating my tenth anniversary at Moda Fabrics. I have the best job and get to use my skills from past jobs here at Moda. It is funny how life does that to you, yet you don't even know the plan until it all falls into place. 
I am not a Moda fabric designer, but I get to work with all of them, so I was tickled to be invited to be a part of Blockheads.
So now that you know a little about me, let me share my Moda Blockheads block #16. 
Can you guess? download the pattern Indiana Puzzle
Everything about this block caters to my love of math and puzzles. The block looks difficult but breaking it down into sections makes it a breeze to put together, just the quilts I love making.
Some color options: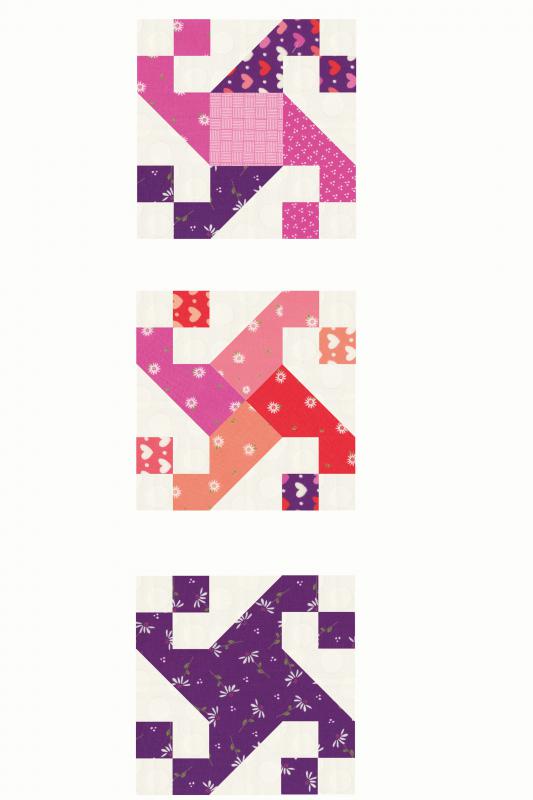 Just imagine mixing and matching a variety of these blocks together for a very complicated-looking quilt.
I wanted to share another Indiana Puzzle quilt that I made, published in Easy Quilts Magazine, Summer 2014 issue.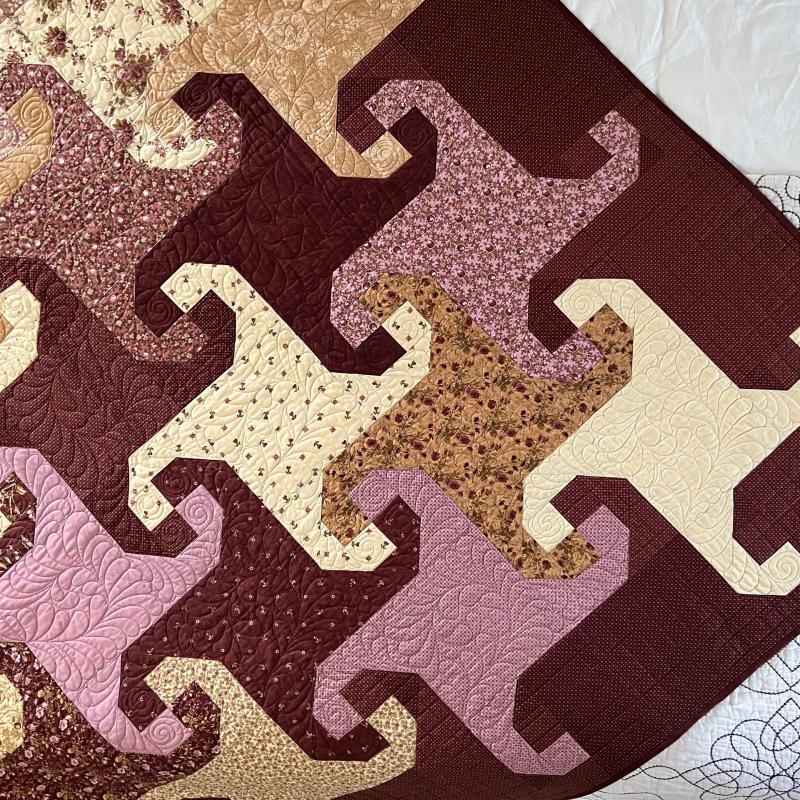 This block is sometimes called Snail trails, and here it is made a little different than today's block, but it still has four patches, triangles, and a square. I love how the blocks intertwine.  Get me started talking about Indiana  Puzzles, and I have a hard time stopping, so just one more bit of info.
Be on the lookout for a new book from Martingale that features Moda charm packs this fall.
Yes, I am in the book. Yes, I made a take on an Indiana Puzzle block, but it is different, and I can't wait to share it with you. 
Thank you for letting me share my story and my passion. If you want to hear more about Indiana or what is happening in my quilt world, follow me on Instagram @nithaystack
Have a good Wednesday, and stay safe.
- Tammy V
Check out the Block Heads Facebook Group and look for Block Heads 4 on Instagram - #modablockheads and #modablockheads4.