BH4- Block 11
Hi there!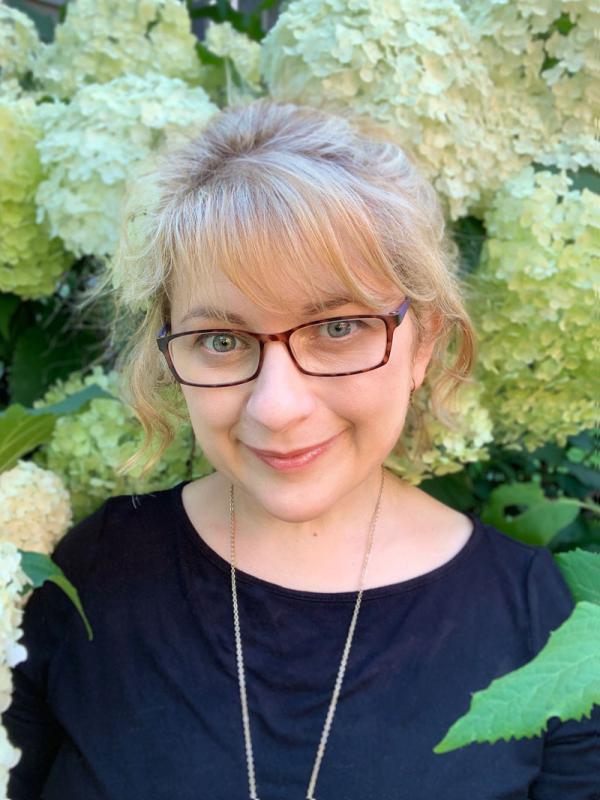 I'm Jackie MacDonald and I delight in creating artwork for Moda under my brand, Sweetfire Road. I am sharing a little about myself on today's Blockhead post. My block design is named Block-Berry and the instructions can be found on my website, the Blockheads Facebook page or the Archive section of Moda's blog. Picture of block shown below.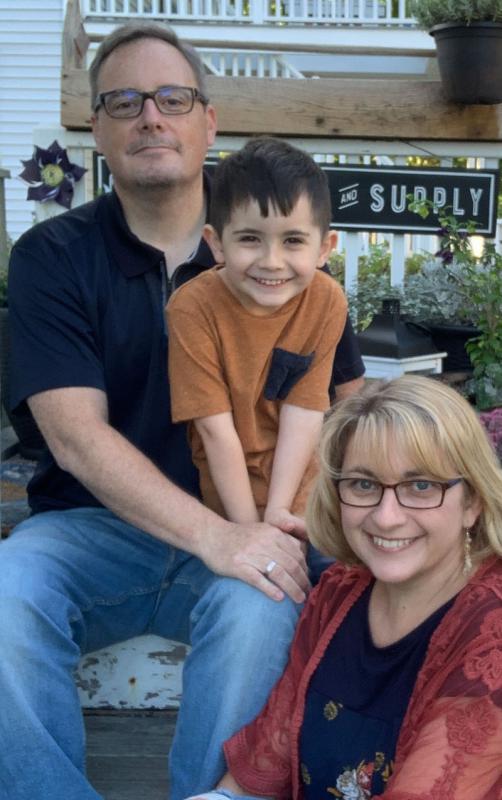 I love to tell stories with my fabric collections and I try my best to infuse them with the magic found in life's everyday moments.  My home is on the coast of Maine and my roots are in the countryside of Virginia... both inspire me with their own unique natural beauty.  My husband, Neil, and I have one wonderful little boy, Sam.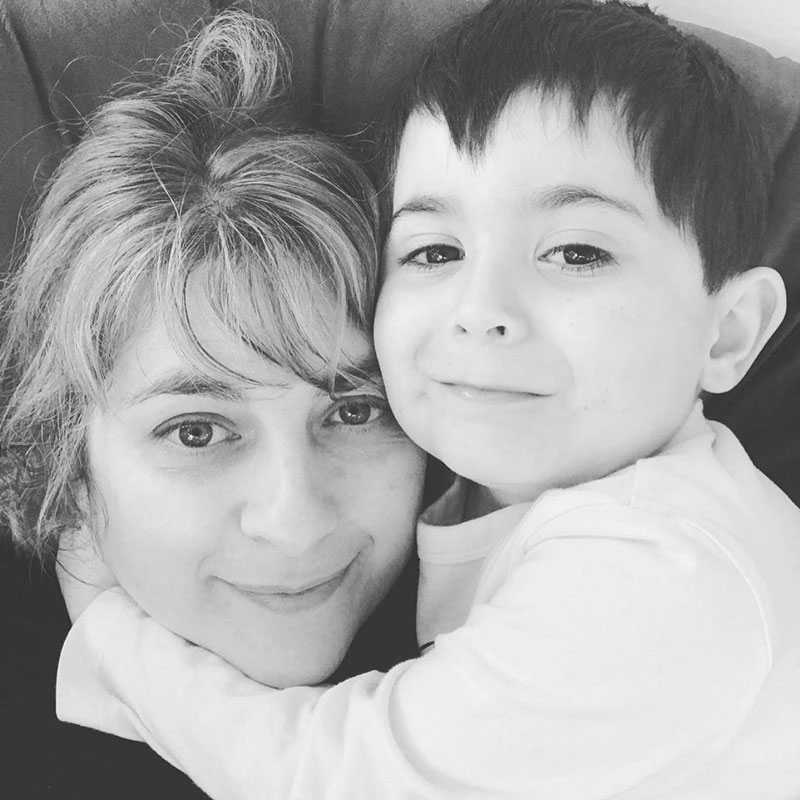 This is my very first quilt using my fabric collection, Midnight in the Garden, in stores now. I love everything about the process and learned so much. I am officially hooked.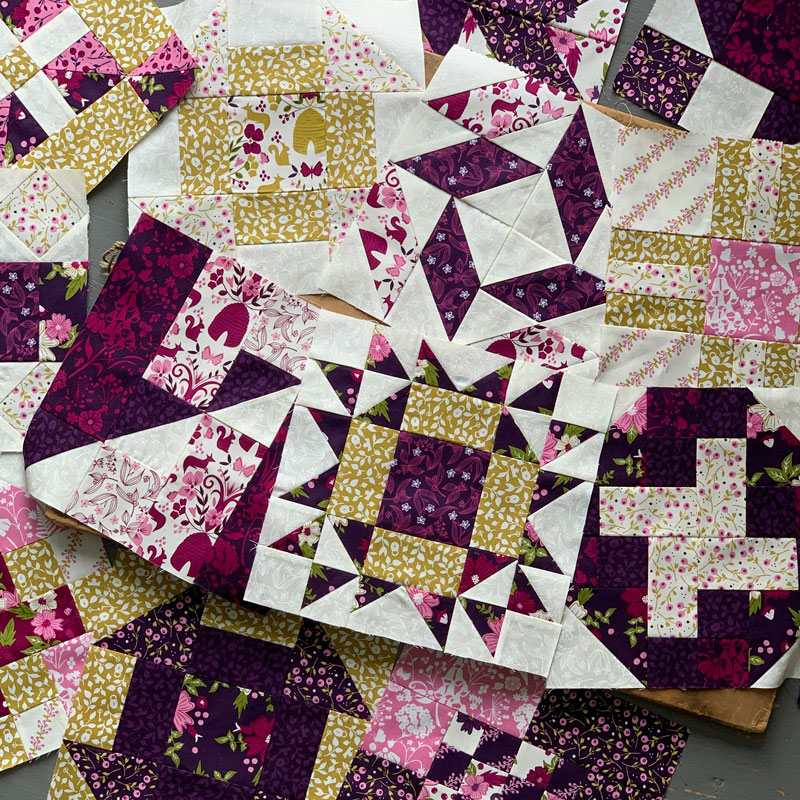 This is my first year participating in Blockheads and I have already learned so much.  I think my biggest takeaway is just how much more polished my quilting looks now.  It's such good practice for me and I've been encouraged to try new techniques with the many different blocks we've made.  Half square triangles, granny squares and nine-patches are my favorite blocks... I am still learning to make friends with flying geese!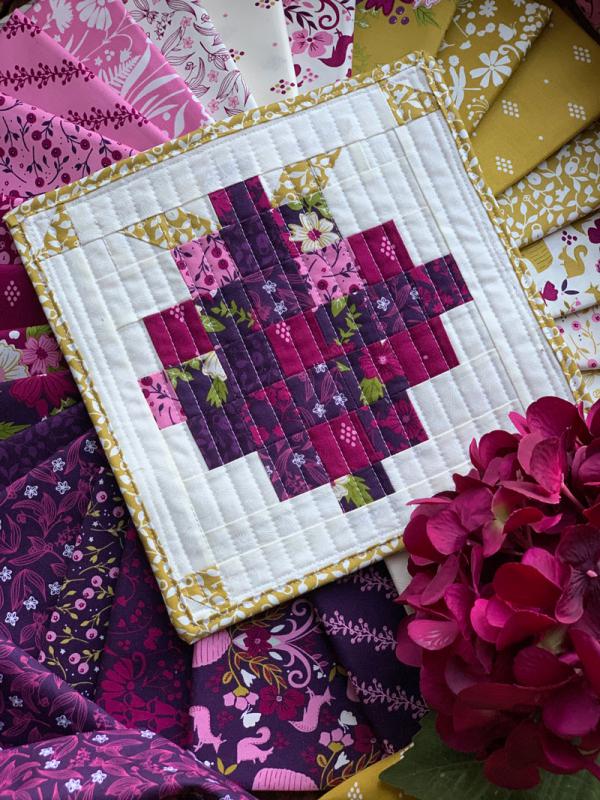 I made a sweet little Moda "block-berry" for my design submission.  I tried to make it beginner friendly as I am a beginner myself!  I couldn't resist quilting up my sample and hanging it in my office as a little piece of art.  I hope it adds some sweetness to your quilt.  I can't wait to see your all's versions of it!  I used fabric in pretty berry colors from my newest fabric collection for Moda, Wild Meadow, which will ship this coming September!
I warmly invite you to follow my art, my new fabric lines and me @sweetfireroad  And please take a moment to peek at my website for a glance at all of my Moda fabric collections... https://sweetfireroad.com ...While you're there, I would be delighted if you'd sign up for my newsletter.  It's the best way to hear about my future fabric collections, products, patterns and quilt alongs!  
Thank you all for your kindness and support!
Warmly,
Jackie
IG- @sweetfireroad
Blog/Website- SweetfireRoad
Designer Bio- Jackie MacDonald
If you're new, and you want to know how to join in, just start making blocks.  Everything we've shared so far can be found here - Blockheads 4 - Archive.
If you'd like to receive an e-mail on Wednesday with each new blog post, and the link to the instructions, you can sign up for that here - Inspiration+Resources Newsletter.
To receive the newsletter/e-mail, sign up here.
If you're on Facebook, be sure to check out the Blockheads Facebook group?  It's a big, supportive, lively group that is full of inspiration, ideas and some great tips.