BH3 - Answers & Layouts
Happy Friday!  Have you finished Crown And Star by Betsy Chutchian yet?  Have you picked a single size block, or are you mixing it up? 
I know.  So many questions.  But that's why we're here today - to answer some of your questions.  With the recent blog move, we're still working out the kinks replying to comments so that's what we're going to do today. 
Sign Up for Block Heads.  There's no sign-up needed.  But if you are signed up to receive new posts from the Designer blogs, that will definitely get the new blocks into your hands the fastest.  (See the list of Designers below.)
What size blocks to make?  That's entirely up to you.  Brigitte Heitland and Corey Yoder are making 6" blocks, Robin Pickens and Sherri McConnell are making 8" blocks and Betsy Chutchian is mixing it up.  So far.  As are Joanna Figueroa and Janet Clare.  Lisa Bongean?  Do you even need to ask?  She's making 4" blocks, and if the original instructions don't include that, she's doing the math. 
How many of each do you need to make?  Only one block total.  A few people are making two different sizes, and they may or may not have a plan.  I think that's the best part of this - sewing without a definite plan.  Let your creative spirit take you on a journey - figure it out as you go along. 
Can I mix and match sizes?  Absolutely!  (That's what I'm doing.)
How many blocks have an 8" size?  For the first round, all but one block can be made in an 8" size.  But not to worry, someone will figure out something that looks almost the same for that size.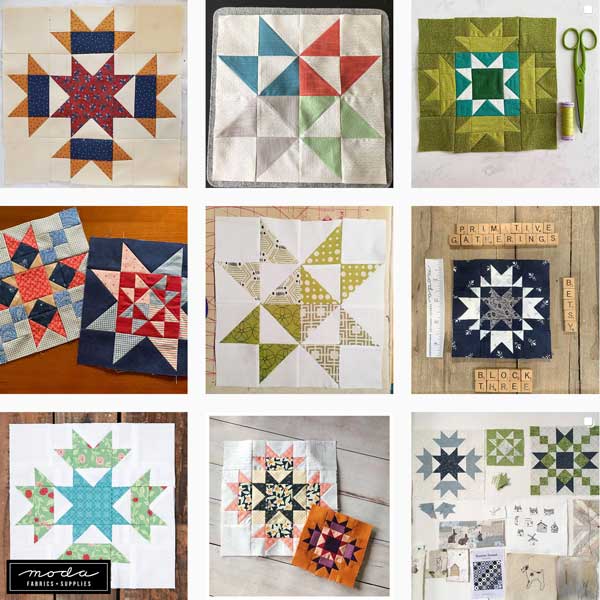 When are the blocks posted?  By 8:00 am CST.  But if you're signed up to receive an e-mail notification from the Designer blogs, it might be earlier.  A few have posted a bit early to help try to avoid "server error" messages.
Yeah, why is that happening?  As soon as the blog link is posted in the Block Heads Facebook Group, thousands of folks start clicking the link and there's a traffic jam.  And the traffic rarely moves faster than the slowest car.  If there's an advantage to having to wait, it's this - you'll get a lot of good ideas seeing what others have made.  There are also likely to be tips on piecing, pressing and color choices. 
What happens on Friday?  The block instructions are posted to the Block Heads Facebook group, and any of the Designers sharing an alternate block will post their blocks and instructions to their blogs.  (Another reason for that e-mail sign-up.)
Layout Options.  We have two to share today.  The first is a diagonal setting for mixed-sizes of blocks, and the second is a General Layout for single-size blocks in a straight setting.
Here is the list of the fourteen Block Heads 3 Designers :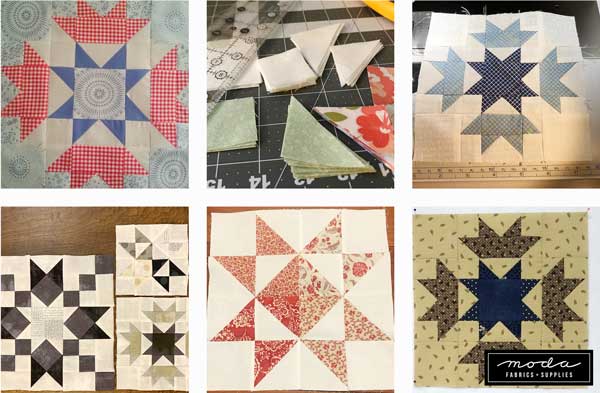 That's it for today. 
Thank you Natalie for the terrific Layout Options, and to all the Block Heads making blocks!  The images are from #modablockheads3 on Instagram.  (Also check out #modablockheads.)
If you're on Facebook - Moda Block Heads Facebook Group.
Have a terrific weekend!