Behind the Scenes at Creativity Shell
Behind the Scenes at Creativity Shell
Earlier this month you read about Love Bugs, the cute and cuddly creatures that Moda and the Creativity Shell are encouraging you to make and share with at-risk children. (You can learn more about this here.)  
Now it's time to learn a bit more about Shelancia Daniel, the powerhouse creative director of Creativity Shell. Interviewing people can sometimes be challenging, but with one question Shelancia was off and running and I was typing at full speed to catch up. She's a woman with a million ideas and the energy needed to see them to fruition.
She's also a problem solver and able to draw on her varied background to bring help and hope to children who are experiencing homelessness, human trafficking, and other issues that affect their mental health. She's resided in California, New York, and Texas, as well as in Canada and in Lagos, on the African continent.
Shelancia graduated high school early and chose to go to the International Academy of Design in Toronto, Canada, where she studied costume design. "I was book smart but working hands-on was a challenge," she says. "I learned so much about myself." She worked in theater and film and eventually started making custom bras for women with large busts, as well as for women who had medical issues requiring specialty undergarments.   
In 2010, she moved with her family (she and her husband have three children) to Lagos for four years on an expatriate assignment for her husband's job. There she earned a bachelor's degree in finance through virtual learning and volunteered with local nonprofits dedicated to helping impoverished women thrive. And finally, after returning to the U.S., she earned a masters' degree in Educational Psychology with a focus on creativity, cognition, innovation, and development from Texas A&M.
Shelancia's ability to make connections led her to a woman who worked at a residential shelter for sex-trafficked youth. There she met children so young she thought one of them was the daughter of a resident. "It felt like a kick in the face," she says. "How did I not know about this?" Rather than bringing the children clothing, she decided to teach them to sew. Her goal was the same as it is for all the activities—sewing, cooking, woodworking, and more— that take place at the Creativity Shell: introducing children to gratifying practical skills that improve their problem-solving and decision-making abilities and build self-esteem.
The children who take classes under the auspices of the Creativity Shell include those in foster care (60% of children rescued from sex trafficking come from foster care); homeless children, children with autism, and children living in poverty. Some children are able to pay for classes, while others are paid for through donations.
There's always something new happening at the Creativity Shell, as Shelancia and the staff see another need and strive to meet it. Instead of asking homeless children to come to a building for sewing classes, they got a grant to outfit two buses with sewing machines and took the classes to the kids. (The buses, nicknamed Jerry and Sherry, even had a wedding and their "offspring," a baby bus named Berry Jam, was outfitted for cooking classes.)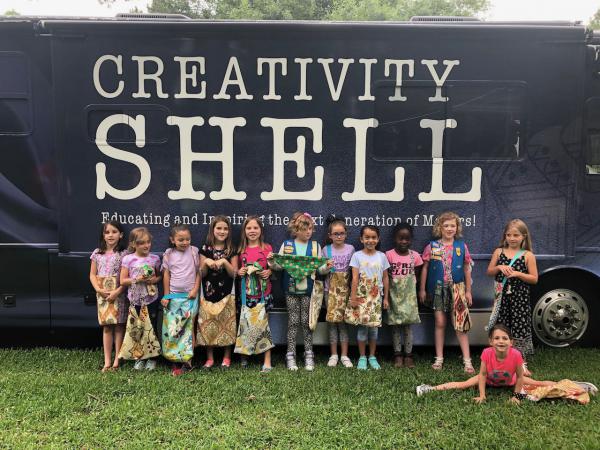 The cooking program is working with the juvenile justice system to create meal kits that families can order and incorporates items available at food banks. Twice a year in Houston (in pre-Covid times and hopefully again, soon) Creativity Shell sponsored a Munchkin Market, where kids could sell the things they made, learning not only the skills needed to make the items, but the math and marketing skills needed to price and sell them.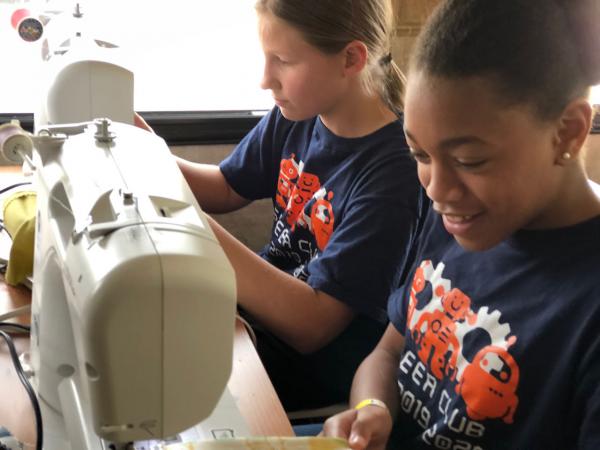 The staff is constantly adjusting their offerings based on what they learn about the populations they work with. Kids who are sex-trafficked may hurt themselves, so rotary cutters and pins are no-nos. A group of Burmese, Congolese, and Sudanese kids had a great time sewing pillowcases and super-hero capes, but hated making lotions or bath bombs. Shelancia eventually realized it was because they thought she perceived them as dirty. Once the suggestion was made that the kids donate the hygiene items, they loved making them.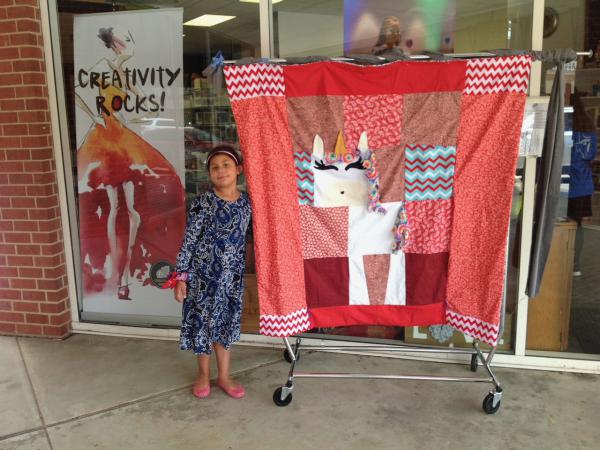 "Depending on the group we're working with, they need different things," says Shelancia. "There's no playbook for what we're doing." But that certainly doesn't stop her and her staff and volunteers from trying. Helping kids be their best selves, despite deeply challenging circumstances, provides the motivation.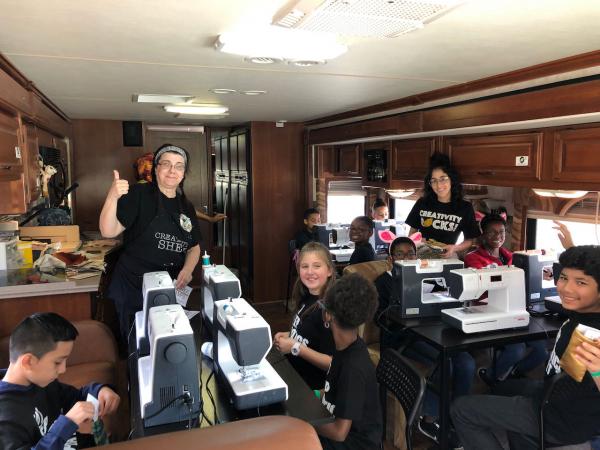 While the Creativity Shell partners with local government and other non-profits, donations are important to their ability to meet the needs of those they serve. Shelancia is grateful to Moda for its partnership and for bringing Love Bugs and an awareness of children's mental health to quilters everywhere (If you're interested in shops with information and/or Love Bug kits, click here. And she's a strong believer in working with all kinds of people, who come from a variety of belief systems. "This is such a personal passion of mine," she says. "Instead of fighting and arguing, I say let's get together and work on this or that. I look for the potential in people."
To learn more about the Creativity Shell, click
here
.
To donate to the Creativity Shell, to help them reach their mission of improving children's mental health through sewing, cooking, and other classes and activities, click here.
We'll share more with Shelancia and her staff as we continue working together.