Teething Scarf
Hi! Lisa Calle of Vintage Modern Quilts here today with an easy tutorial for a drool scarf - perfect for teething babies! Terrycloth, flannel, or jersey knit all make great lining fabrics for this project. I used an old onesie for mine.
1 layer cake square
10" square of jersey or lightweight terry cloth
1" piece of Velcro (or preferred closure method like snaps)
Print out the templates in the Printer Friendly file at the end of this post. Trace the templates onto the fabric as indicated. Be sure to transfer all marks indicated on the templates.
Match up the right sides of the scarf pieces, taking care to align them at the marked points.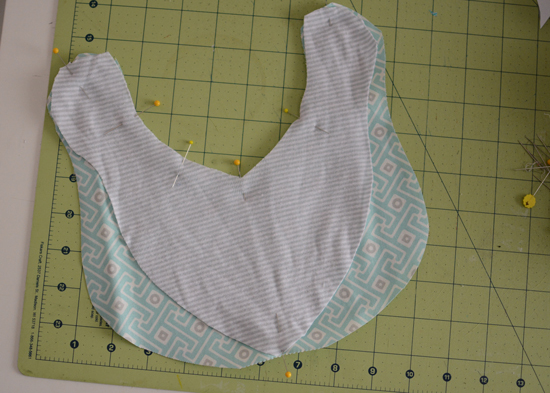 Pin along  the edges, gathering in the fullness at the bottom of the scarf.
Sew a 1/4" seam along the edges, starting and stopped at the points indicated on the template. Trim any loose threads and turn scarf right side out. Top stitch along the edge of the scarf, taking care to close the opening.
Attach Velcro at marked points.

1 sweet and stylish drool-soaking scarf!
Lisa Calle
{vintagemodernquilts.com}